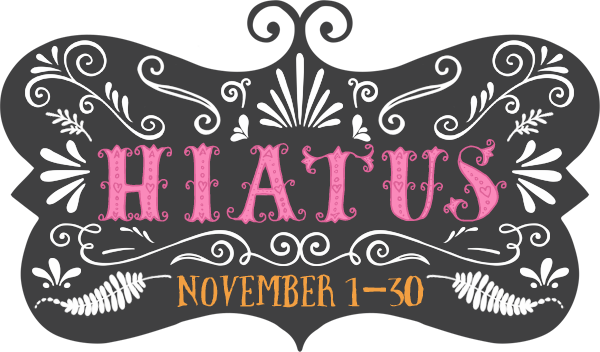 Hi everyone! No, your eyes aren't deceiving you. Pop! Goes The Reader will be going on a short, one month hiatus from November 1st-November 30th. Although the announcement might seem sudden, I can assure you that the choice is anything but. While I could name any number of different factors that contributed to this decision – a month-long reading slump, the recent controversies or the current climate of the book blogging community – the simple truth is that I need a break.
Never fear, however. Just because all will be quiet here on the blog does not mean that there won't be a lot going on behind the scenes! In fact, I'll be spending most of my 'time off' preparing for the month of December. That's right – Cool Yule is back! For those of you who aren't aware, Cool Yule is a seasonal feature here on Pop! Goes The Reader that occurs throughout the month of December during which I share Christmas-themed reviews, recipes, and other holiday-related posts. Most exciting of all, this year promises to be better than ever before! Alongside the regular posts, fifteen+ authors will be helping me to celebrate the spirit of the season and spread a little holiday cheer in 'Tis The Season, a special, all-new event which I'll be discussing in greater detail toward the end of the month. This is a personal project that is very close to my heart and I'm so thankful to all those who have already signed up and agreed to share their time and their immense talent with me. Who knows; maybe your heart will grow three sizes this Christmas!
There is one more piece of news I have to share: In spite of my hiatus, I will be sharing one more post on Monday, November 3rd when I'll be helping to reveal the cover of Dawn Ius' Anne & Henry, an exciting, upcoming 2015 release from Simon & Schuster. This novel is a contemporary retelling of the tumultuous relationship between Henry VIII and Anne Boleyn and, speaking as a recovering Tudor addict, is a story I've been dying to read ever since I first read the synopsis. This is one cover reveal you won't want to miss!
I'll see you in December! Until then, you can always find me on Twitter (@Pop_Reader) or email me at [email protected]!