First of all, I would like to say a big 'Thank You!' to Gillian over at Writer Of Wrongs whose own introductory 'getting to know you' Birthday Post inspired this one. I'm using a similar format with her gracious permission. This post wouldn't have been possible without her!
So, today is my birthday! I'm officially twenty-six. Now there's only four more years until the big 3-0. I guess you could say it's all downhill from here. 😉 Just kidding! In truth, I've never made much of a fuss about my birthday. That said, if there's one thing I've wanted to do more on Pop! Goes The Reader recently, it's open up and be a little more personal with my readers. With that in mind, here are fourteen things you (might) not know about me!
1) I Adore Musicals.
Singin' In The Rain. Oklahoma. Seven Brides For Seven Brothers. My Fair Lady. Musicals are the first films I remember watching as a child and remain some of my favourites to this day. Sometimes it's nice to believe that all of life's problems can be fixed with a few costume changes and a choreographed dance. As a child I was so obsessed with my favourite musical, Singin' In The Rain, that I became convinced that Gene Kelly and I were distantly related. Aside from looking alike, we have the same crescent moon-shaped scar on our cheek in the exact same spot. In truth? I still like to believe it's true.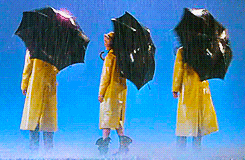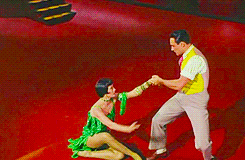 (©)
2) I'm In A Committed Relationship With My DVR
I've often joked that I'm a self-professed television addict and frankly this might be putting it mildly. Based on my viewing schedule of currently airing programs, over the course of an average week I can watch upwards of twenty hours of television over the course of seven days. Yes, I'm serious. Hey, the first step to recovery is admitting you have a problem, right? Some of my favourite television shows include Boardwalk Empire, Buffy The Vampire Slayer, Chuck, Dawson's Creek, Deadwood, Friday Night Lights, Homeland, Justified, Luther, Mad Men, Six Feet Under, The Sopranos, Southland, Top Chef, Veronica Mars and The Wire. I will talk your ear off for hours about any and all of these shows given half the chance.
3) I Have The Cutest Cat In The World
Okay, so I might be a little biased.
But seriously. Just look at him!


4) I'm An Only Child
No, I never wished I had siblings. No, I was never lonely. Why are these always the first two questions people ask?
5) I Was Named After a Literary Character
My middle name is 'Anne' and I was named after Anne Shirley from Lucy Maud Montgomery's beloved Anne of Green Gables series. For this reason I like to believe I was destined to become a great reader from the womb. Now if only I could find my Gilbert…
6) I'm A Feminist
No, I don't hate all men. No, I'm not a lesbian (though there would be nothing wrong with that if I were). No, I do not believe that all women are perfect creatures above reproach or criticism. No, I'm not a vicious harpy determined to shriek my views at the first poor, unfortunate soul to make eye contact with me. For a long time now 'Feminism' has been a dirty word associated with a series of troubling, and even worse infuriating, connotations that have little to do with the actual movement. For me, feminism means advocating for the equal treatment and respect of women. Period. It's really not that difficult a concept to grasp. We're not there yet. But I believe we will be. Someday. For a more eloquent, thoughtful reflection on the subject, I highly recommend you read Beth Revis' wonderful article "I'm Not A Feminist, But…", to which I will simply respond with a resounding 'Amen!'
7) Marilyn Monroe Is My Favourite Actress
By that I don't mean 'I've seen one of her films and consider myself a die-hard fan.' I've been a fan of Marilyn's work for well over ten years now, and am fascinated with her both as an artist and an individual. I have watched her entire filmography innumerable times and have read each and every book I could find on the subject. I firmly believe she's talented actress and a misjudged figure who isn't given the respect, credit and admiration she rightfully deserves. My favourite Marilyn film is Some Like It Hot, followed closely by Don't Bother To Knock.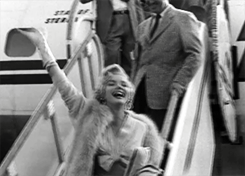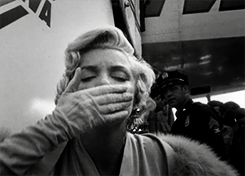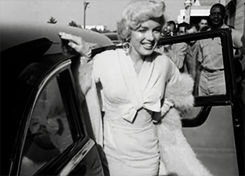 (©)
8) I Hate Talking About Myself
Which made this entire experience rather uncomfortable. Anyway, enough about me. Tell me a little more about yourself… 😉
9) I'm Canadian
Which means I'm genetically predisposed to find any and all hockey players attractive.
10) I'm A Disney Fanatic
I love reading about it. I love listening to it. I love watching it. (In fact, forcing me to choose a favourite Disney film would inspire an irreversible existential crisis) But most of all, I love visiting it. For me, there is no happier place on earth than Walt Disney World. Nothing will bring a smile to my face or a tear to my eye faster than stepping through the gates of the Magic Kingdom. I try to visit every other year, when possible, and I'm perpetually planning my next trip. My next goal? To participate in Walt Disney World's Princess Half-Marathon in February 2015.
11) Marcus Flutie Is My Book Boyfriend
Yes, I realize I might have to fight Anna over this one. Sure, I've experienced a number of literary flirtations over the years, but there will only ever be one Marcus Flutie. Having spent my formative years reading Megan McCafferty's Jessica Darling series, I grew up with these characters and this series still acts as the yardstick by which I measure most other young adult stories. You, yes, you, Marcus Flutie, have stolen my heart and never returned it. And I couldn't be happier about it.
12) I'm A Sucker For A Happy Ending
More specifically, I'm a Nora Roberts fanatic. I own every single book the woman has ever published, often in more than one format. She's my go-to author when I'm looking for something relatively light and comforting. My favourite Nora Roberts' series is The Bride Quartet.
13) I Have A Mind Like A Steel Trap
I can quote verbatim a number of my favourite films from start to finish including (but not limited to) The Great Race, Clue, Clueless, 10 Things I Hate About You, Ghostbusters and Die Hard. Don't tell me I don't have marketable skills!
14) Book Blogging Is The Best Thing I've Ever Done
Last though certainly not least (and stolen shamefully from Gillian). When I first launched Pop! Goes The Reader back in June 2013, I never could have imagined what it would come to mean to me. While I've had a number of memorable experiences and opportunities along the way, none are quite so important as the friends I've been lucky enough to make. Blogging is a difficult, time consuming, labour intensive pastime and is certainly not without its bumps and frustrations along the way. These ladies make it all worth it. A giant hug and all the cookies they can eat to Alexa, Anna, April, Ashley, Betty, Bree, Estelle, Gaby, Gillian, Ginger, Giselle, Giselle, Hannah, Jamie, Jana, Jenna, Jenni, Magan, Rachelia and every single person who made me feel welcome in their own way. Thank you for your kindness, warm acceptance and, most importantly, your friendship. You've made the last ten months one of the best, most fun and special periods in my life.

To celebrate my birthday and give a little something back to a community that has already given so much to me, I've decided to hold a little giveaway. Hey, it's my birthday and I'll give away gifts if I want to! 😉 More specifically, I will be giving away not one, not two, but eight books! Yes, I said eight. Not a fan of the contemporary genre? I promise you will be after reading these!
Each of the books below has had a significant impact on my life, and I believe have helped to change me for the better. While there are a number of others I would also have loved to include (Wintergirls, Attachments, Ask The Passengers, Something Like Normal, Side Effects May Vary, To All The Boys I've Loved Before, etc) the eight titles below are the closest ones to my heart. Thoughtful, unique, inspiring and heartwarming, I can only hope this collection of novels will bring someone else as much happiness as they have brought me.


For this giveaway two winners will be chosen:
» One winner will win the entire set of eight books
» One winner will win their choice of any one book from this selection
So what are you waiting for? Go enter!
a Rafflecopter giveaway