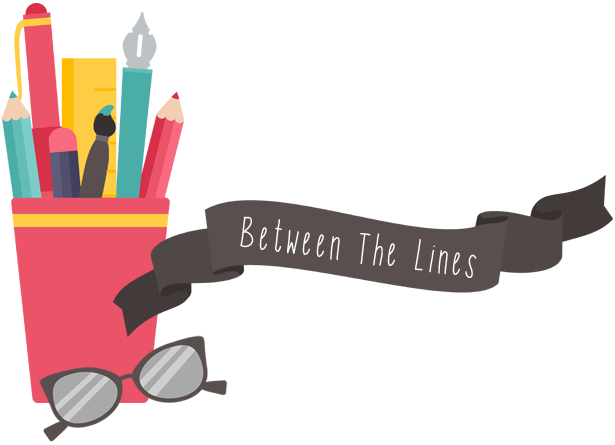 "Between The Lines" is a sporadic feature on Pop! Goes The Reader in which authors and other industry professionals provide further insight into the writing and publishing process, whether it be in the form of interviews, guest posts, etc. So, sit back, relax, and enjoy as we read between the lines.
Hi everyone! Today I couldn't be more excited to welcome debut author, Kathleen Hale, to Pop! Goes The Reader. When I was first approached about interviewing Kathleen as part of the 2014 Debut Author Bash as hosted by YA Reads, I was thrilled. From my Four Star Review back in January to my Fanart in August, I've made no secret of the fact that I adore No One Else Can Have You and I'm always happy to lend her work my support. But you're not here to hear to what I have to say – Let's get on with the interview!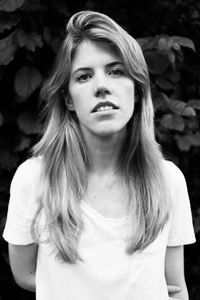 About Kathleen Hale

Kathleen Hale is the author of two novels: No One Else Can Have You, and Nothing Bad is Going to Happen. (The latter is forthcoming from HarperCollins in 2015) Her non-fiction has been published in The Guardian and Vice, among other places. One of her personal essays, "Quit Everything," will be featured in the anthology Never Can Say Goodbye, forthcoming from Simon & Schuster this fall.

The Interview…
1. First, tell us a little more about yourself. If you could describe yourself in only five words, what would they be?
Sensitive, loving baby with fangs.
2. Did you always know you wanted to be an writer? If not, what did you dream of becoming?
When I was very young I wanted to be a farmer. I wanted that to mean living in a purple house and raising skunks.
3. When you're not writing, what do you like to do in your spare time?
I watch a lot of TV and arrange a lot of intimate dinners with friends. I knit. I eat. My favorite foods are peanut butter and french fries.
4. What was your favourite book as a child?
Harriet the Spy.
5. What book(s) and/or authors do you feel have inspired and influenced your life and your work in a positive manner?
Lynda Barry's Cruddy and John Irving's The Hotel New Hampshire. They taught me that plots can be messy because lives are messy, and not to shy away from violence just because I'm a girl.
6. What book(s) can currently be found on your bedside table?
Far From the Tree by Andrew Solomon, This Is The Story of a Happy Marriage by Ann Patchett, and Bad Feminist by Roxane Gay.
7. If you could describe your novel, No One Else Can Have You, in only five words, what would they be?
Weird teen girl hunts murderer.
8. No One Else Can Have You is a quirky, off the wall mystery that has been compared to everything from Twin Peaks to Fargo. What inspired you to write this particular story?
Twin Peaks and Fargo.
9. Who was the easiest character to write? Who was the most difficult?
They were all pretty loud in my head but Colt was probably the trickiest, because I'd never really met anyone like him before.
10. Kippy's narrative voice is one of the strongest and most unusual I've encountered in my history of reading young adult fiction. How easy or difficult was it to write from the perspective of a teenager?
Does it say bad things about me if I tell you that it was the most natural thing I've ever done? I was twenty-four years old when I started writing No One Else Can Have You, but my teen years remained pretty bright in my memory, and I guess after a while Kippy's voice became a rhythm to me, a sort of chant that I could slip into. She started to drive me a little nuts, to be honest. That's why I had to beat the shit out of her later in the book. That chapter was therapy for me.
11. Tell us a little more about your writing process. Do you have a particular routine? Is there a time of day or writing space in which you best like to work?
It varies but right now I get up and I do it every day. My goal is 1500 words, and if I don't hit that, my rule is that I have to make up the balance the next day. I have a to-do list that I check off. "200 words of this," "800 words of that," etc. I try to get going as soon as I wake up but even so I'm still writing at 7 or 8 pm sometimes.
12. Do you like to listen to music when you write? If so, is there a song or songs that you feel best capture the mood and feeling of No One Else Can Have You?
Sometimes I do! Right now I'm very into "This is Not a Song," and "Volcanoes" by Islands. But when I was writing No One Else Can Have You, I listened to Florence + the Machine, "Dog Days Are Over" on repeat.
13. Are you a 'plotter' or a 'pantser'? Do you like to plan out each stage of your narrative beforehand, or do you prefer to write scenes as they come to you?
Both. I honestly can't imagine writing without both. Because some days you wanna scheme and some days you wanna riff. Personally I like to allow myself that freedom. As long as I'm hitting my word count, I don't monitor my methods.
14. It has often been said that an author should write what they know. How much, or how little, of No One Else Can Have You is comprised of your own personal experience?
So much of it comes straight from memory, or at least my version of it. There are friendships that tear at you more than they build you up, and I explore that here by looking at the grief of losing someone who was your best friend, but not a good friend. Falling in love can be clunky and uncomfortable – I go there. My personal experiences with mental illness come through, too. Characters in my book are flawed and human and don't know how to react to certain things. I've seen all of that. I've been that. Life is gross and hilarious and occasionally poignant. I wanted to strive to hit those notes.
15. No One Else Can Have You is a Full Fathom Five novel, a product of James Frey's controversial book packaging company. What would you say to those who have chosen not to purchase or read novels packaged by Full Fathom Five because of their concerns about the company's practices and/or the treatment of its authors?
Regardless of what they think about the treatment toward Full Fathom Five authors, I would say that by refraining from buying the books, they are also doing zilch to help the author. Full Fathom Five is basically a high rolling agent — they play the middle man between authors and publishers, and, at least in my case, I wrote the book myself. Therefore, every packaging company has already made the money it has gambled to make upon selling an individual's book to a publisher, and any further sales could therefore allow packaged authors to get to a point, either financially, or in terms of simple self-confidence, where they could begin selling independently. Isn't that what readers want? Especially those readers who rail against James Frey?
But I feel like the real answer is: Look, the publishing world is a jungle. As a young author, you need to make the deals you can to build a career. The system is a mess but if you deny yourself the pleasure of a good read because you are suspicious of the publisher, you'll never read a good book again
16. No One Else Can Have You is your debut publication. If you could give one piece of advice to debut authors everywhere, what would it be?
Don't read Goodreads! (Related: Call me if you need to!)
17. What has been your favourite part of the publishing process thus far? What has been the most difficult?
Seeing the cover and the dedication page, and my mother's reaction to the dedication page, I was like AGGGGGHHHHHHHHHHHHHHHHHHHHHHHHHHHHHHHHHHHHHHHHHHHYAYAYAYAYAYYYYEEEEEEEE
Seeing my first really mean Goodreads review I was like UNNNNNNNNNNNNNNNNNGGGGGGGHHHHHHHHHHHrrrrrrrrrrrrrrrrrrrrrrrrrrrrrrrrrrrrrrrERRRRRRRRRRRegh
18. Nothing Bad Is Going To Happen, the companion novel to No One Else Can Have You, is slated for publication in 2015. What can we expect next from Kippy Bushman?
It's sexier and more violent than the first one. Fist bump to everyone this appeals to.

Let's Have A Little Fun…
1. Your fascination with other people's pets (#NotMyDog) has been well documented on Instagram (@HaleKathleen). If you could be any breed of dog, which would you choose?
BE? Oh god. I guess a Great Dane. They command a lot of respect and don't require much exercise. (That said, call me if you wanna talk about the type of dog I'd like to own. I could go back and forth for hours.)
2. If you could have dinner with any three people, living or deceased, who would you choose?
HAHAHAHA, but what if they were corpses, serious? What if they thrashed and shit because they were confused and didn't know the rules and didn't want to be there??
Okay, okay, I'll play along. Jane Goodall, (young) Patricia Highsmith, and my fiance, Simon, because I am introverted and he always makes me feel more powerful.
Hopefully the evening would end with Jane going back to her monkeys and Highsmith instigating some kind of threesome with the rest of us. Apparently she brought snails with her everywhere and loved breaking up relationships, so that part could be interesting.
3. If you could have any super power, which would you choose?
Freezing time. There's so much to do and we're all dying so fast. The caveat, of course, would have to be that I didn't age while frozen, because that would defeat the purpose.
4. They're making a film adaptation of No One Else Can Have You tomorrow. Who do you cast as Kippy, Ruth, Davey, and some of the other colourful residents of Friendship?
I've said it before and I'll say it again: Tavi Gevinson as Kippy Bushman
Ruth: Winona Ryder circa Heathers
Davey: This guy. (Cue porn music)
Colt: That guy who plays Jax on Sons of Anarchy unnngggh
Libby: Amanda Seyfried circa Mean Girls
Dom: Chevy Chase circa National Lampoon Vacation
Miss Rosa: This.

Either/Or…
1. Early bird or night owl?
Night owl. Toot.
2. Vampire or Werewolf?
Vampire! Because immortality and I look at sucking blood as a kind of loving indoctrination into the club. Seems nice.
3. Sloths or Armadillos?
Ew. Armadillos have been known to carry leprosy, so obviously sloths. COME ON.
4. Taxidermy or Tarot Cards?
This is the hardest so far. I guess tarot cards. Decor-wise, my home is all set.
5. Nicholas Cage or Christopher Walken?
Do you mean sexually? If so, Christopher Walken. No matter how drunk and wrinkly he gets, I wanna sit on his lap. But man do I respect Nicholas Cage for doing every fucking thing thrown his way. I'm not sure if he's got gambling debt or what, but the guy is a workhorse.

As an added bonus, Kathleen has been kind enough to offer a giveaway! One lucky winner will receive a signed hardcover copy of No One Else Can Have You complete with original doodles drawn by the author herself. This giveaway will be open to residents of both the U.S. and Canada and will run from September 19th – October 10th. Trust me when I tell you that this is one prize you don't want to miss. Every book that Kathleen signs is utterly unique and something special to behold. But you don't have to take my word for it. Here are two pictures of my own copy of No One Else Can Have You that Kathleen was gracious enough to sign for me.
So what are you waiting for? Go enter already!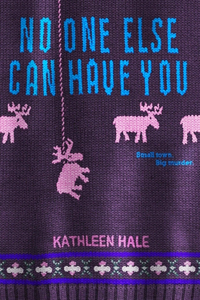 Title No One Else Can Have You
Author Kathleen Hale
Pages 380 Pages
Genre Young Adult, Contemporary, Mystery, Thriller, Horror
Publisher HarperTeen
To Be Published January 7th, 2014
Find It On Goodreads
Small towns are nothing if not friendly. Friendship, Wisconsin (population: 688) is no different. Around here, everyone wears a smile. And no one ever locks their doors. Until, that is, high school sweetheart Ruth Fried is found murdered. Strung up like a scarecrow in the middle of a cornfield.

Unfortunately, Friendship's police are more adept at looking for lost pets than catching killers. So Ruth's best friend, Kippy Bushman, armed with only her tenacious Midwestern spirit and Ruth's secret diary (which Ruth's mother had asked her to read in order to redact any, you know, sex parts), sets out to find the murderer. But in a quiet town like Friendship — where no one is a suspect — anyone could be the killer.