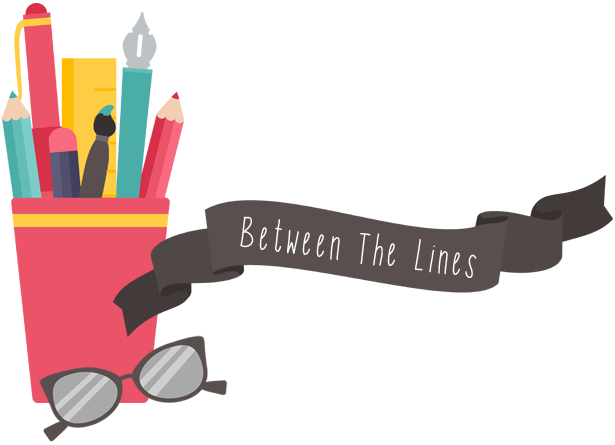 "Between The Lines" is a sporadic feature on Pop! Goes The Reader in which authors and other industry professionals provide further insight into the writing and publishing process, whether it be in the form of interviews, guest posts, etc. So, sit back, relax, and enjoy as we read between the lines.
Hi everyone! Today I'm so pleased to welcome author Una LaMarche to Pop! Goes The Reader! Earlier this week I reviewed LaMarche's latest release, Like No Other, a thoughtful, complex coming of age story in which the love between two star-crossed lovers acts as the catalyst for a monumental journey of self-discovery and personal growth. When Penguin Canada invited me to participate in a blog tour for Like No Other, I couldn't have been more excited. Intrigued by the novel's diverse cast and the growing dialogue about the role of diversity in novels aimed at a young adult audience (#WeNeedDiverseBooks), I asked whether Una would be interested in weighing in on the topic, and thankfully she kind enough to oblige. Read on to learn a little more about Una's thoughts on the role of diversity in young adult fiction and how this relates to her experience in writing Like No Other, a book that I have no doubt will be gracing a number of 'Best of 2014' lists this year (I know it'll be on mine)! I would like to thank Una for taking the time to write this wonderful piece, and I encourage everyone to check out Like No Other as soon as they possibly can. I promise you won't regret it.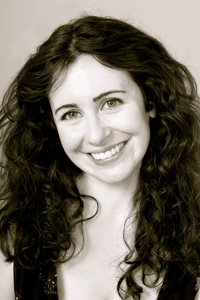 About Una LaMarche

Hi again, I'm Una. Not Uma, no matter what my arch nemesis Thurman would have you believe. I've written two young adult novels, Five Summers and Like No Other, as well as a forthcoming comic essay collection called Unabrow, which is based on some of my more questionable life choices (and, yes, a very real, extremely impressive unibrow that I didn't realize I could remove until I was fourteen years old). When I'm not making ill-advised purchases of 1990s nostalgia items on Etsy, I have been known to write for The New York Observer and The Huffington Post.

I live in Brooklyn, New York with my husband, son, and collection of chocolate-glazed mini donuts. If you read one of my books, somewhere up in heaven, a dance circle will form and an angel will successfully jump over its own leg.
Let me start by saying that I think all books, from board books for toddlers to young adult to popular fiction, should be more diverse, across all platforms — race, sexual orientation and gender identity, socioeconomic status, disability, you name it. It shocks me sometimes that there are so few. Malinda Lo, an author and cofounder of the Diversity in YA Tumblr, recently analyzed the Young Adult Library Services Association's 2014 list of Best Fiction for Young Adults and found that 85% of main characters were white and 87% of them were straight. I do think the tide is turning, and that more and more books are and will be written by authors and about characters from diverse backgrounds, but I don't think anyone could argue we're not moving frustratingly slowly.
That said, I didn't set out to write a purposefully diverse book when I started conceptualizing Like No Other; I was just inspired by my neighborhood. I've lived in Brooklyn since I was eight, and in Prospect Heights, which is right next to Crown Heights, where the book is set, for nine years. I consider myself lucky to live in an area of America that, while it still has more than its share of whites and one-percenters, is truly multicultural and which tends to attract people who want to be able to live as their true selves, whatever form those selves might take.
Growing up, I always saw ultra-Orthodox and Hasidic families walking down the street or at the Botanic Garden. We never interacted, but they were still a part of my daily life; they lived right next door, in a manner of speaking. So when I decided I wanted to write a forbidden love story set in contemporary Brooklyn, I immediately thought of the strict and insular Hasidic community as the primary obstacle between these two teens in love. I don't necessarily mean that as a criticism of Hasidic beliefs, by the way, but I do think religion is one of the only things left that continues to completely divide us, and I wanted to explore that. I decided to make Devorah, my female protagonist, come from that world because for women the rules are much more inflexible, and so the stakes are much higher for her.
Jaxon — the outsider who sparks with Devorah after a chance meeting brings them together — is black for a number of reasons, first and foremost because he probably would be in real life. Crown Heights is whiter than its ever been, but it's historically a neighborhood of African-Americans and West Indian-Americans. I also wanted to use the Crown Heights Riots of 1991 as a cultural backdrop for the tension between Jaxon and Devorah's communities.
I want to stress that I certainly don't feel like any kind of hero for writing Like No Other. I'm still writing what I know in a certain sense, as a girl who grew up in a reasonably diverse Brooklyn neighborhood, blocks from Crown Heights, who watched the West Indian Day Parade year after year and ran into Hasidic families on the street. And I'll admit, there's a part of me that's afraid someone will come up to me and say, "You got it wrong. You have no right." I think there's a fear among authors, the assumption that they'll be raked across the coals for trying to creatively inhabit a skin they don't live in. And in some cases, for people who write from an insensitive or uninformed place, perhaps that's true. But mostly, I don't think it's a very good excuse. If you live in a diverse place, reflect it. If you don't, why not set your story in one that is, or bring your community into the 21st century on the page if not in reality?
The only way to promote diversity in YA is to write it. End of — get ready for a very intended pun! — story.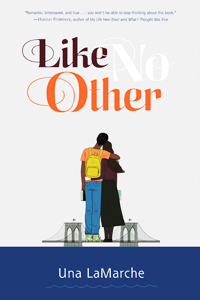 Title Like No Other
Author Una LaMarche
Pages 352 Pages
Genre Young Adult, Contemporary, Realistic Fiction, Romance
Publisher Razorbill
To Be Published July 24th, 2014
Find It On Goodreads
Fate brought them together. Will life tear them apart?

Devorah is a consummate good girl who has never challenged the ways of her strict Hasidic upbringing.

Jaxon is a fun-loving, book-smart nerd who has never been comfortable around girls (unless you count his four younger sisters).

They've spent their entire lives in Brooklyn, on opposite sides of the same street. Their paths never crossed…until one day, they did.

When a hurricane strikes the Northeast, the pair becomes stranded in an elevator together, where fate leaves them no choice but to make an otherwise risky connection.

Though their relation is strictly forbidden, Devorah and Jax arrange secret meetings and risk everything to be together. But how far can they go? Just how much are they willing to give up?

In the timeless tradition of West Side Story and Crossing Delancey, this thoroughly modern take on romance will inspire laughter, tears, and the belief that love can happen when and where you least expect it.