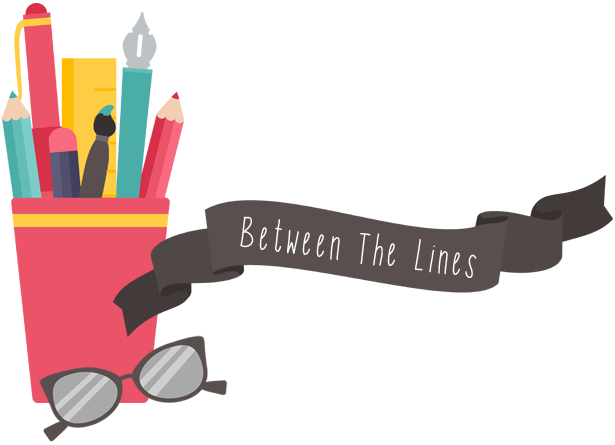 "Between The Lines" is a sporadic feature on Pop! Goes The Reader in which authors and other industry professionals provide further insight into the writing and publishing process, whether it be in the form of interviews, guest posts, etc. So, sit back, relax, and enjoy as we read between the lines.
Hi everyone! Today I am very excited to welcome my friend and debut author, Amy Finnegan, to Pop! Goes The Reader! I've long been a supporter of Amy and her work and was even lucky enough to help reveal the cover of her novel back in March. So, when I was approached about participating in the blog tour for the release of Amy's 2014 young adult debut, Not In The Script, I couldn't have been more thrilled! In today's interview, Amy has a lot of interesting insight to share about the history and inspiration behind Not In The Script and weighs in on everything from Persuasion to Harry Potter. I would like to thank Amy once again for being kind enough to answer my questions and urge you all to purchase a copy of her debut, Not In The Script, which is available now in a bookstore near you. I promise you won't regret it!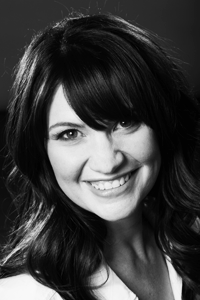 About Amy Finnegan

Amy Finnegan writes her own stories because she enjoys falling in love over and over again, and thinks everyone deserves a happy ending. She likes to travel the world — usually to locations where her favorite books take place — and owes her unquenchable thirst for reading to Jane Austen and J.K. Rowling. Her debut novel, Not In The Script, came about after hearing several years of behind-the-scenes stories from her industry veteran brother. She's also been lucky enough to visit dozens of film sets and sit in on major productions such as Parks and Recreation and Parenthood.

The Interview…
1. First, tell us a little more about yourself. If you could describe yourself in only five words, what would they be?
Mother, Writer, Reader, Traveler, Movie-goer.
2. Did you always know you wanted to be an writer? If not, what did you dream of becoming?
Most authors I know started writing when they were very young — usually at least by their middle school years — but I didn't start working on my first novel until I was thirty! I was in my twenties when I really began to love reading, and it wasn't long before I realized that I couldn't stop thinking about the books I liked. And then I noticed that my mind was actually inventing stories…and soon, I was having conversations with people who didn't exist. So when that happened, I knew I had to choose between two options: either see a doctor or write a novel.
But my wildest, fondest dream when I was a child was to be a secretary. I am at least living the typing part of that epic fantasy.
3. What was your favourite book as a child?
Picture Book: Sylvester and the Magic Pebble by William Steig
Novel: James and the Giant Peach by Roald Dahl
4. What book(s) and/or authors do you feel have inspired and influenced your life and your work in a positive manner?
Jane Austen! I'm huge fan of historical novels, especially novels like Austen's that were contemporary in her day. I love the way she writes wit, sarcasm, romance, folly, heartbreak, regret, longing…all of it. Her characters are real people to me, as if I've known them all of my life.
And I credit J.K. Rowling for making me fall in love with reading like I never had before. The Harry Potter series genuinely changed my life. I wouldn't be writing today if I had never picked up those "children's books" that made me so crazy about storytelling that I wanted to be a storyteller myself. I've never connected so well with an imaginary world, and I doubt I ever will.
5. What book(s) can currently be found on your bedside table?
Blackmore by Julianne Donaldson, Evidence of Things Not Seen by Lindsey Lane (I recently finished both of these), Mortal Heart by Robin LaFevers (up next), and Illusions of Fate by Kiersten White (which I'm right in the middle of and loving).
6. If you could describe your novel, Not In The Script, in only five words, what would they be?
Realistic teens in extraordinary circumstances.
7. Not In The Script explores the glamorous (and not so glamorous) world of entertainment and celebrity. What inspired you to write this particular story?
I have a brother who has an incredibly amazing job: He works for Fox on their studio lot in Hollywood. Over the years, his behind-the-scenes stories about filmmaking have lit up my writer's brain like bulbs on a Christmas tree, and one thing in particular that he said that inspired an important aspect of Not In The Script. He told me about a film he was working on in which the villain of the story was played by one of the nicest guys he'd ever met (the actor would play basketball or just hang out with my brother during breaks, and he'd often talk about his family and friends), and the hero of the story was played by a skirt-chasing jerk with a filthy mouth. And then my brother said something like, "You wouldn't believe how common that scenario is in this business".
That's when I went home and actually started writing. Additional concepts came into place quickly, but this was the spark that started a fire in me and became a central theme in the novel.
8. The burgeoning romance between Emma and Jake is one of the central focal points of the novel. Who is your fictional 'OTP' (One True Pairing')?
Clark and Lana from Smallville. Forget Superman cannon, Clark belongs with his first love (And if she doesn't get him, then I do).
9. Who was the easiest character to write? Who was the most difficult?
Jake was the easiest to write because he entered my mind fully formed, and then I had to dream up a plot and a princess for him! Oddly enough, my connection to the male lead is always stronger in the novels I write, which is why I chose to write this story in an alternating, first person point of view. Third person wouldn't have felt close enough for me, and telling the entire story from Emma's point of view wouldn't feel true to the story, especially since it began with Jake!
Rachel was the hardest for me to write because I know people like her who are all about take, take, take, with very little thought about what others need…and yet I still care about them and want to maintain our relationship long past the point when I should step away from them. It was difficult to portray Rachel's relationship with Emma because their friendship is already dissolving when the story begins, but Emma is still holding on because of what it was in the past. However, the pacing would've suffered if I had used several flashbacks to show readers when things were better between them, and I wanted to use any "extra room" in the story to portray the much healthier relationship Jake has with his friends, which I had a lot of fun with! We all need friends like Jake's!
10. How easy or difficult was it to write from the perspective of teenagers? Why young adult literature?
I have a young adult voice; it's how I think and how I view the world. I love pop culture, contemporary music, humor, and the innocence of a slow-burn relationship. Those are the romances that last the longest (I met my best-friend-turned-husband twenty-four years ago, and I'm still crazy about him). I love writing young adult lit because I can get away with all of that and not worry that readers will think the story is too immature for them. Also young adult books are usually WAY more enjoyable for me to read because I have enough grown-up stuff to deal with in real life. Bring on the fun!
11. Tell us a little more about your writing process. Do you have a particular routine? Is there a time of day or writing space in which you best like to work?
When I don't have a looming deadline, I try to only work during the six hours that my kids are in school. And I write in an office with no windows. I'm too easily distracted.
12. Are you a 'plotter' or a 'pantser'? Do you like to plan out each stage of your narrative beforehand, or do you prefer to write scenes as they come to you?
I like to pretend that I'm a plotter, but I'm a pantser at heart. I'll generally have about 30-50 pages of notes before I really get started on a novel, but the story goes in wildly different directions from those notes as the personalities of the characters develop. And wherever they lead me, I follow. They're pretty good at finding trouble on their own.
13. Not In The Script is your debut publication. If you could give one piece of advice to debut authors everywhere, what would it be?
Get to know your readers! I've already made some great friends in the YA lit world, and readers are the ones who make all of the hard work feel worth it! And for aspiring authors, I have this advice: 1) READ! 2) Keep writing. 3) And never, never, never give up!
14. Are you working on any new projects at the moment? What we can expect next from Amy Finnegan?
I'm currently revising what I hope will be the first novel in a historical fantasy series. The only "fantasy" element is that it takes place in a country that doesn't actually exist. All I will say is that I'm about to take my fourth trip to the UK where I've been doing some incredibly fun research!

Let's Have A Little Fun…
1. If you could have dinner with any three people, living or deceased, who would you choose?
My first editor, my current editor, and my agent. Because I'd really like to celebrate with them right now!
2. If you could have any super power, which would you choose?
Invisibility, for sure. It's the curse of a writer, but I love to people-watch and eavesdrop. I just don't like to look like a creeper.
3. Do you like to listen to music when you write? If so, is there a song or songs that you feel best capture the mood and feeling of Not In The Script?
I listen to music off and on while I write, but almost always when I'm preparing to write a scene. I use certain songs to get me into a desired mood — happy, sad, flirtatious, etc. There are two songs in particular that I think of as theme songs for Not In The Script: Hanging by a Moment by Lifehouse, and Iris by the Goo Goo Dolls. In my mind, those songs belong to Jake and Emma.
I have a Spotify playlist for the novel, as well as one on YouTube.

Either/Or…
1. Early bird or night owl?
Definitely a night owl. It's 1:00 AM as I'm writing this.
2. Vampire or Werewolf?
I'm actually tired of both at the moment, so…The Great Pumpkin! (What's so wrong with him being a love interest?)
3. Scripted or Reality Television?
It depends on the show, but overall, I prefer scripted. Primarily because more and more "reality" shows are at least semi-scripted for maximum drama, and I just don't believe a lot of them anymore.
4. Northanger Abbey or Persuasion?
PERSUASION! I can't begin to describe how much I love that novel. It's a master class for how to write "longing."
5. Hermione Granger or Luna Lovegood?
Do! Not! Make! Me! Choose! Between! Them!!

As an added bonus, Amy has been kind enough to offer a giveaway in celebration of the release of Not In The Script! So what are you waiting for? Go enter already!
Title Not In The Script
Author Amy Finnegan
Pages 392 Pages
Genre Young Adult, Contemporary, Romance
Publisher Bloomsbury Children's
To Be Published October 7th, 2014
Find It On Goodreads
Millions of people witnessed Emma Taylor's first kiss — a kiss that needed twelve takes and four camera angles to get right. After spending nearly all of her teen years performing on cue, Emma wonders if any part of her life is real anymore…particularly her relationships.

Jake Elliott's face is on magazine ads around the world, but his lucrative modeling deals were a poor substitute for what he had to leave behind. Now acting is offering Jake everything he wants: close proximity to home; an opportunity to finally start school; and plenty of time with the smart and irresistible Emma Taylor…if she would just give him a chance.

When Jake takes Emma behind the scenes of his real life, she begins to see how genuine he is, but on-set relationships always end badly. Don't they? Toss in Hollywood's most notorious heartthrob and a resident diva who may or may not be as evil as she seems, and the production of Coyote Hills heats up in unexpected — and romantic — ways.