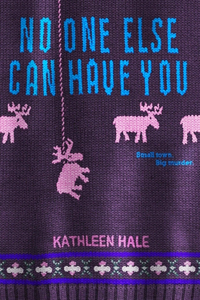 Title No One Else Can Have You
Author Kathleen Hale
Published January 7th, 2014 by HarperTeen
Pages 384 Pages
Intended Target Audience Young Adult
Genre & Keywords Contemporary, Mystery, Thriller, Horror
Part of a Series? No
Source & Format Received an Advanced Reader Copy from the publisher for review (Thanks, HarperTeen!), eBook
Find It On Goodreads ● Amazon.com ● Chapters

Small towns are nothing if not friendly. Friendship, Wisconsin (population: 688) is no different. Around here, everyone wears a smile. And no one ever locks their doors. Until, that is, high school sweetheart Ruth Fried is found murdered. Strung up like a scarecrow in the middle of a cornfield.
Unfortunately, Friendship's police are more adept at looking for lost pets than catching killers. So Ruth's best friend, Kippy Bushman, armed with only her tenacious Midwestern spirit and Ruth's secret diary (which Ruth's mother had asked her to read in order to redact any, you know, sex parts), sets out to find the murderer. But in a quiet town like Friendship — where no one is a suspect — anyone could be the killer.

"In a place where no one else seemed to understand anything except how to gut a buck and go to church and be over-the-top nice without ever really bonding, Ruth and I made each other feel less lonely."
The town of Friendship, Wisconsin (Population: 688) is a quiet, simple place. In a locale where hunting is heroic, locking one's doors is a foreign concept and everyone is on a first and last name basis, the biggest concern for its residents is how to escape becoming permanently ensnared in the clutches of a life spent wallowing in sleepy mediocrity and boredom. All that changes, however, when the body of eighteen-year-old high school junior Ruth Fried is discovered strung up like a scarecrow in a cornfield with her mouth and throat filled with straw and her lips stitched shut. As fear and suspicion mount and all trust is lost, Friendship and its residents are thrown into turmoil. This is especially true in the case of the best friend of the deceased, sixteen-year-old Kippy Bushman. While few are surprised when Ruth's boyfriend, football phenom and resident trouble-maker, Colt Widdacombe, is identified as her murderer, Kippy is unable to take the sheriff department's pronouncement at face value. Determined to get to the bottom of her best friend's murder no matter what the cost, Kippy enlists the help of Ruth's twenty-one-year-old brother, Davey, to aid in her own personal investigation. As Kippy will soon discover nestled within the pages of her friend's diary, however, Ruth had more than her fair share of secrets and little, if anything, in Friendship, Wisconsin is quite as it appears to be.
"…As we drive back, I am relieved by this sadness creeping in. Fall used to be my favourite season. All that happy red, bright and scattered everywhere. Now I look around and all I see is death, moving across the leaves like a fire."
Let me preface this review by saying the following: No One Else Can Have You will not be the right book for everyone. This book is different. This book is strange. This book is – Dare I say it? – Quirky. I've spoken to a number of fellow bloggers who were unable to finish it, who didn't understand its purpose, or who simply didn't care for Hale's narrative style. The response to this book has been as polarizing as it has been passionate, and for once I find myself in the role of the proverbial odd man out as I champion a novel that has been met with skepticism by some of my peers. But here's the thing: Kathleen Hale's No One Else Can Have You felt like it was written just for me. You see, I am strange. I am quirky and awkward. I'm the sort of person who will cheerfully respond "Thanks!" when someone calls me weird. That isn't to say that this makes me special in any way, but it might explain why I responded as positively to this novel as I did. While comparisons to the Coen Brother's 1996 Fargo are not unwarranted, I was reminded of another cult classic as I read Hale's charming debut novel. Not since David Lynch's Twin Peaks have I been so confounded and enthralled by a murder mystery set against the backdrop of a small town and its weird and wonderful eccentricities. A surreal satire that was unlike anything I had read in recent memory, Kathleen Hale's No One Else Can Have You is an ambitious, courageous, creative debut that is as haunting as it is hilarious and as endearing as it is extraordinary.
"There's a lot I can't put into words. And I guess in a way I looked to Ruth to fill the space, to be my everything, and probably that wasn't okay. I never wanted to kiss her like she sometimes joked about. But in a way it was like we were two girls clinging to each other, trying not to drown."
Let's begin by discussing the elephant in the room. In what is likely in part a result of the backlash against the popularity of characters like Bella Swan of the Twilight series, often referred to more simply as 'Mary Sues', characters who are essentially blank slates onto which one can project their own feelings and desires, readers have begun to express a greater longing for characters with discernible flaws and weaknesses. Which brings me to the controversy surrounding some of the content in No One Else Can Have You. One of the primary concerns I've seen a number of bloggers address in their reviews are the rather questionable or otherwise offensive views expressed by a number of characters throughout the course of the novel. There have been accusations of slut shaming (i.e. References to Lisa Staake, the sheriff's daughter, as a 'hoochie mama' and 'blonde rabbit in heat'), the trivialization of serious issues (i.e. References to Davy's post-traumatic stress disorder as a 'postwar flip-out') and other derogatory statements (i.e Colt's reference to Kippy as a 'stuck up virgin' and to himself as a 'faggot crybaby') Now, let me be clear: Do I agree with or condone the viewpoints expressed by some of the characters in this novel? Absolutely not. That said, I don't seek out books that will simply regurgitate my own value system back to me. Frankly, that would be both painfully boring and repetitive. Lamentable though it might be, the truth is that teenagers aren't perfect. They say and do thoughtless, vulgar, callous and often cruel things. It isn't outside the realm of possibility to hear a teenager express one or even all of these sentiments. And while this doesn't make it okay or mean that we should stop trying to combat such derogatory and offensive behaviour, that doesn't mean that we should pretend it doesn't exist, either. To lament the lack of realism in fiction only to complain when the result is disagreeable or hard to swallow seems disingenuous to me. This isn't to say that other readers aren't entitled to their own feelings on the matter because they differ from my own or that they don't have the right to be offended. Of course they do! The beauty of literature is that a number of people can read the same novel and respond to it in a variety of different ways. I recognize that certain issues might act as triggers for sensitive readers and that some might find said comments inexcusable no matter what the character's age. In this particular instance, however, I believe that context is key to better understand how and why the characters act as they do, and the characters' ages, as well as their upbringing and surroundings, go a long way to explain, if not condone, their behaviour.
"Anyway, I've never really understood the whole candlelit-vigil thing. Some of the seniors put a few together after the school shootings down south, and from what I can gather it's usually just a bunch of girls weeping with all their might on purpose. The whole idea of people, like, weeping while holding fire seems irresponsible to me. Whenever I imagine vigils, I think of a hundred ponytails bursting into flames."
Which brings us to our protagonist. Much like the novel itself, I predict that sixteen-year-old Kippy Bushman will be a polarizing figure. Awkward, anxious, and a little infantile, Kippy is what I would call an 'acquired taste'. While I have little doubt that some readers will find her antics contrived or uncomfortable to read about, I was able to form a close connection to her character and could intimately relate to her experiences and behaviour. The best part of all? Kippy in no way felt like a fictional character. She's awkward. She's strange. She makes mistakes. She doesn't always do the right thing. She dresses strangely. She's a broken, vulnerable, imperfect, thoroughly unconventional protagonist who stole my heart from the outset. Having lost her mother to brain cancer as a child only to lose her best friend, Ruth, years later, Kippy has developed a unique set of coping mechanisms in order to process and make sense of her grief. From troll dolls to animal attacks, Batman to Harriet Tubman, Kippy fixates on a number of different passions which, while helping with the grieving process, also have the unfortunate result of alienating her from the rest of her peers. Her latest preoccupation? Diane Sawyer. The reporter quickly becomes an object of fascination for Kippy, and allows her to focus not on Ruth's death, but on a proactive solution in order to solve the mystery of her murder. Likely because of the unimaginable loss and sorrow she has been forced to confront at a relatively young age, Kippy seems to have stagnated, suffering from a form of arrested development. As a result, Kippy can often come across as quite immature. She's a young sixteen and her behaviour is often more akin to that of a child than a teenager. This immaturity, at least in part, falls squarely at her father's door. A psychologist and counsellor at the local middle school, Dom attempts to support Kippy with positive affirmations and attempts to treat her as a respected equal. Unfortunately, these attempts, however well-intentioned, are more often than not unsuccessful. Dom's behaviour often seems condescending rather than respectful and he unintentionally infantilizes Kippy with child-like nicknames ('Porcupine', 'Cactus', 'Kipster', etc). As much as I loved Kippy's father and their interactions together (There was one scene in which Kippy requests a salad, a simple request that quickly turns comedic, that I particularly enjoyed), what I most appreciated about their relationship was how it developed over the course of the story. Kippy learns to step outside of her father's shadow and forge her own identity.
"Kippy Bushman," he says, taking the cookies from me. A buzz cut looks good on him. "How are you?"
I feel like I should know the answer to this by now, but I shrug. Davey's face is wet, either from crying or people's sloppy kisses. I look again at his hand. This morning I watched a Diane Sawyer interview where there wasn't one awkward pause. The trick is to pose good questions.
"So how was being in the war?" I ask.
I'm always saying the wrong thing."
Two words: Davey Fried. Ladies and gentlemen, I have a new Book Boyfriend. While the twenty-one-year-old combat veteran suffering from post traumatic stress disorder after serving in Afghanistan played a relatively small role in the grand scheme of things, I looked forward to each and every appearance Davey made over the course of the novel. I appreciated that Kathleen Hale did not allow the romance, however adorable, to monopolize the overall story, but rather used it as a means of counterbalancing the otherwise macabre elements of the story. Davey himself is a contradiction in terms. A hardened, cynical man who has been forced to grow up far too quickly who's confused and haunted by all he has been forced to do during the course of his service, Davey is also a lost child, hiding behind a thin veil of bravado and arrogance. What endeared me most to his character, however, was not this dichotomy is his nature, but rather his treatment of Kippy. At no time does he demean or mock her as many of the other residents of Friendship are want to do. He respects her contributions to their quest to uncover the truth behind Ruth's murder and often leans on her for emotional support. And he likes her utility belt, too! What more could a girl ask for?
"The idea that local police are trying to figure this out is pretty crazy. I mean, you'd think they'd get the FBI. I'm not saying Friendship cops are stupid, just that they're not used to something this serious. It feels like most of the time they're either staking out the dam for radical Islamic terrorists or perpetuating false rumors about razor blades in apples. The only time I ever really saw them hustle was when I got my hand stuck in the tampon dispenser. The whole squad turned up, Jaws of Life and everything."
The area in which this novel arguably shines most is in the strength and individuality of Kathleen Hale's narrative voice. Told primarily from the first person perspective of the protagonist, Kippy, the author also chose to intersperse other unique forms of communiqué throughout the text such as newspaper articles, Facebook messages, emails and entries from the Sheriff's log book and Ruth's diary. This allowed the reader a unique perspective into the events of the novel and was an imaginative addition to what might otherwise have been a straightforward mystery. Sharp, satirical and clever, No One Else Can Have You is like an offbeat combination of Fargo, Twin Peaks and Drop Dead Gorgeous with the additional benefit of the author's own unique outlook. A native of Wisconsin herself, Hale brings the quaint and peculiar town of Friendship to life in such a way as to delight and enchant me exceeding. When even the sternest of words is delivered alongside a jocular "You Betcha" or "Dontcha Know" and the local police cars are adorned with smiley faces, it's difficult not to be charmed by this strange little place. While I can't speak to the veracity of the author's portrayal of Wisconsin having never been there myself, I was thoroughly entertained by the world which Hale fashioned. In regard to the mystery aspect of the novel, although I was able to discern the identity of Ruth's murderer with little trouble, this in no way detracted from my overall enjoyment of the story. Rather, I was more interested in learning the killer's motivation and watching Kippy conduct her investigation, which was full of a number of unexpected twists and turns along the way. That isn't to say that it's all quirky shenanigans and eccentric citizens in No One Else Can Have You, however. Silly and satirical though this novel may at times be with its bumbling lawmen and oversexed solicitors, Hale also knows instinctively when to write in a more earnest, meditative tone when the text calls for it. This was nowhere more evident than in the author's portrayal of Kippy's grief over Ruth's death, which is heart-wrenching. Hale reminds us of the individual and deeply personal nature of the grieving process and forces us to follow along as Kippy struggles to make sense of the nonsensical cruelty of our mortality, her pain like an open, throbbing wound.
"It occurs to me that there are just too many distractions – too many people who are mean or vindictive without being all the way evil…It still feels like I'm missing something. And, like, maybe no matter how hard I investigate, I'll never find one real murderer among all these decoys. There's just so many different kinds of bad."
To make a long story short (too late!): It's because of books like this that I love to read as much as I do. Were I ever to complete one of the numerous works in progress I have languishing on my own computer, I could only hope it were half as creative and inspiring as this one. Kathleen Hale's No One Else Can Have You was unlike anything I had ever read before and I'm so grateful I was able to experience it firsthand. A captivating mystery with a quirky cast of characters and darkly droll sensibility, Hale's satirical debut novel crackles with an individuality and vivacity that stole both my breath and my heart. No One Else Can Have You is a dark, disturbing thrill ride that will make you laugh, cry and bite your nails as the mystery reaches its feverish crescendo. While I recognize that this novel might not be the right fit for everyone, I strongly urge you to read it and decide for yourself. Whether you love it or hate it, this is one story you won't be able to forget any time soon. You Betcha'!
Please Note: All quotations included in this review have been taken from an advanced reader copy and therefore might be subject to change.

Overall Rating



Still not sure this is the right book for you? Why not listen to what some other bloggers had to say about it?
● Jen @ YA Romantics wrote "In sum, I think reader reactions to No One Else Can Have You will vary greatly. If you're unsure, I'd advise you to try a few pages and see what you think. You'll either find a rare YA comic gem, or you'll save yourself a lot of readerly aggravation, you betcha." (Read the rest of the review Here!)
● Jessie @ Ageless Pages Reviews wrote "When you try to combine Pretty Little Liars and Fargo into a darkly humorous YA satire, you know that's a lot for a debut author, or any author really, to attempt. It was a tough sell from the start and No One Else Can Have You never really made it out of the gate." (Read the rest of the review Here!)
● Faye @ The Social Potato wrote "All in all, I thought this was a brilliant work. I didn't find it cliché and I definitely didn't find it boring. It may be unconventional, but this character-driven mystery book was a thrilling ride all the way, and I absolutely recommend it to those who want something new and out of the box." (Read the rest of the review Here!)