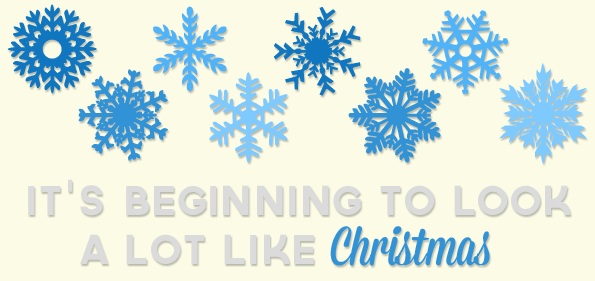 It's November 1st! So, you know what that means – It's time to begin preparing for Christmas! For those of you who don't know, I'm what one might call a Christmas fanatic. I eat, sleep, and breathe the holiday all year 'round, and not simply for one or two months out of the year. There are few things that bring me more joy than giving gifts to others, and consequently there is little I feel more passionate about, that cheers me up faster or that I love talking about more than Christmas. Because Canadian Thanksgiving is celebrated in early October, I begin preparing for the holiday in earnest the instant that Halloween ends. It's not unusual to find me putting up the first of our four Christmas trees in the middle of November, or beginning to play one of my hundreds of Christmas albums. *Whispers* I may or may not be listening to Kelly Clarkson's new Christmas album, Wrapped in Red as we speak! 😉
What does this mean for Pop! Goes The Reader? From Christmas-themed book reviews, special, holiday-themed editions of Do! Judge A Book By Its Cover and Rabbit Ears, and a currently unnamed, secret project with the lovely Ginger over at GReads!, it's safe to say that Pop! Goes The Reader will be full of Christmas cheer this season.
In order to prepare for y'all for what's to come in December, I've decided to share a small selection of what I'm planning to read and review this Christmas! Hopefully you'll find a title or two that interests you, and you can read right alongside me 😀 As an added bonus, the majority of these titles are currently retailing for $6.00 or less on Amazon.com in Kindle edition, which means that now might be the perfect time to stock up!
Title Silver Bells
Author Diana Palmer
Pages 480 pages
Genre Contemporary, Romance, Holiday, Christmas, Western
Published September 25th, 2012 by Harlequin HQN
Find It On Goodreads ● Amazon.com
Man of Ice

After a less than magical one-night stand, cynical Dawson Rutherford needs the help of the woman he considers seduced him. Barrie Bell, still reeling from their encounter, is ambivalent about aiding his scheme. She's kept a secret from Dawson…one that could free them both to love again!

Heart of Ice

Knowing she dislikes him down to his arrogant bones, Egan Winthrop invites Kati James to his ranch to research her next novel. He assumes she knows everything about love. But when passion flares between them, Egan is surprised at how Kati's heat just might be able to melt his heart of ice….
Title A Proposal for Christmas
Author Linda Lael Miller and Lindsay McKenna
Pages 480 pages
Genre Contemporary, Romance, Holiday, Christmas
Published September 24th, 2013 by Harlequin HQN
Find It On Goodreads ● Amazon.com
State Secrets by Linda Lael Miller

Even to Secret Service agent David Goddard, Holly Llewellyn's life remained a mystery. Tangled in the controversy swirling around them, David wondered, was it her secrets that fascinated him…or Holly herself?

The Five Days of Christmas by Lindsay McKenna

Morgan Trayhern's toughest mercenary, Colt Hamlin, is looking to lie low this Christmas, but he may just have a change of heart when his matchmaking boss puts him in the path of Montana's prettiest widow.
Title Starry Night
Author Debbie Macomber
Pages 256 pages
Genre Contemporary, Romance, Holiday, Christmas
Published October 8th, 2013 by Ballantine Books
Find It On Goodreads ● Amazon.com
Carrie Slayton, a big-city society-page columnist, longs to write more serious news stories. So her editor hands her a challenge: She can cover any topic she wants, but only if she first scores the paper an interview with Finn Dalton, the notoriously reclusive author.

Living in the remote Alaskan wilderness, Finn has written a megabestselling memoir about surviving in the wild. But he stubbornly declines to speak to anyone in the press, and no one even knows exactly where he lives.

Digging deep into Finn's past, Carrie develops a theory on his whereabouts. It is the holidays, but her career is at stake, so she forsakes her family celebrations and flies out to snowy Alaska. When she finally finds Finn, she discovers a man both more charismatic and more stubborn than she even expected. And soon she is torn between pursuing the story of a lifetime and following her heart.
Title Echo Bay Christmas
Author Gina Robinson
Pages 299 pages
Genre Contemporary, Romance, Holiday, Christmas
Published September 17th, 2013 by Gina Robinson
Find It On Goodreads ● Amazon.com
Some memories are too painful to face

Tara Clark is spending her first Christmas at her grandparents' resort lodge since her brother died near there in a snowboarding accident on Christmas Eve ten years ago. When her matchmaking grandma sets her up with tiny Echo Bay's newest resident–none other than her ex-fiancé Ryan Sanders–not even a record snowfall can dampen the rekindling of a love that wouldn't die.

Some loves are too strong to deny

When Ryan Sanders returns to the small town he grew up in, his life feels nearly complete. But as the snow piles up in the week before Christmas, and his ex-fiancée Tara shows up, Ryan has to face the truth that he has never really gotten over her. And with Christmas Eve fast approaching, all he wants for Christmas is Tara.
Title Coming Home for Christmas
Author Jenny Hale
Pages 304 pages
Genre Contemporary, Romance, Holiday, Christmas
Published October 4th, 2013 by Bookouture
Find It On Goodreads ● Amazon.com
Allie Richfield loves Christmas, so when she lands a job as House Manager for the amazing Ashford Estate — which includes organizing the Marley family festivities — she is in her element. With a budget bigger than her life savings and a team of staff, how hard can it be?

As one-by-one she meets the Marleys, she's about to find out…

Allie's new boss, Robert, might be gorgeous, but he's also colder than the snow outside and refuses to come home for Christmas. Robert's playboy brother, Kip, flirts with her relentlessly; and his sister, Sloane, arrives home with baggage — both the divorce-kind and the Louis Vuitton kind. Their ninety-two year old grandmother, Pippa, spends her day grumbling at everybody from her mobility scooter.

With Robert intending to sell Ashford, it's the Marley's last chance to create some happy memories in their family home—and Allie is determined to make it happen… even if it takes a little Christmas magic! With the festive spirit in full swing, she might even discover a little happiness of her own…
Title Sleigh Bells in the Snow
Author Sarah Morgan
Pages 384 pages
Genre Contemporary, Romance, Holiday, Christmas
Published October 29th, 2013 by Harlequin HQN
Find It On Goodreads ● Amazon.com
Once upon a time, Christmas was Kayla Green's favorite time of year. Now all the workaholic wants for Christmas is for it to be over — as fast as possible! So when duty calls her to snowy Vermont to close a deal with a new client, Kayla is grateful for an excuse to avoid the holidays for another year.

Jackson O'Neil left a thriving business behind to return home and salvage his family's resort — it's in his blood, and he can't let it fail. Now that he's got marketing whiz Kayla Green working with him to put Snow Crystal on the map, success is on the horizon. The fact they strike enough sparks off each other to power all the Christmas lights in Vermont is just an added bonus.

Kayla might be an expert at her job, but she's out of her depth with Jackson—he makes her crave the happy-ever-after she once dreamed of, and it's terrifying. As the snowflakes continue to swirl, will the woman who doesn't believe in the magic of Christmas finally fall under its spell?
Title A Seaside Christmas
Author Sherryl Woods
Pages 288 pages
Genre Contemporary, Romance, Holiday, Christmas
Published September 24th, 2013 by Harlequin MIRA
Find It On Goodreads ● Amazon.com
As the only child of a single mom, Jenny Collins wanted nothing more than to be part of a large, rambunctious family like the O'Briens. Ironically, though, when her mother married into that family, Jenny found herself feeling more like an outsider than ever.

Now, after years in Nashville as an established songwriter, Jenny's drawn back to Chesapeake Shores to collaborate on a Christmas production, and to make peace with the past. As if that's not challenging enough, Caleb Green, the singer who broke her heart, has followed her to town, determined to win her back.

With the help of a little O'Brien holiday magic, will Jenny and Caleb find a way to make sweet music forever?
Title White Christmas
Author Diana Palmer
Pages 368 pages
Genre Contemporary, Romance, Holiday, Christmas
Published September 24th, 2013 by Harlequin HQNPaperbacks
Find It On Goodreads
Woman Hater

Everyone in Nicole White's office described their boss' mysterious older brother as a real woman hater. So when Nicki had to tag along with her ailing employer to his brother's Montana home, she was prepared for the worst. To her surprise, what she found was a man more roughly masculine than any she'd ever met. But Winthrop Christopher's distrust of women ran straight to the bone. Nicki knew she should steer clear of him, but she couldn't hide the feelings he stirred in her. Could she ever teach him to love again?

The Humbug Man

Montana rancher Tate Hollister was the grouchiest widower Maggie Jeffries had ever met. But, as the holiday season progressed, Maggie discovered that Tate wasn't completely immune to the Christmas spirit. In fact, his loving embrace might just be the gift of a lifetime…
Title It Happened Under The Mistletoe
Author Valerie Bowman
Pages 81 pages
Genre Historical Romance, Holiday, Christmas
Published October 29th, 2013 by St. Martin's Paperbacks
Find It On Goodreads ● Amazon.com
When Oliver Townsende escapes to his friend's house for a Christmas party, he intends to avoid the hordes of marriage-minded misses who have been dogging his steps in London ever since he inherited a dukedom. He soon learns a bit of Yuletide peace and quiet is too much to ask for. When he encounters Miss Cerian Blake, who's dodging her own unwanted set of admirers, the two decide to join forces and fake an infatuation to keep their suitors at bay. But when a bough of mistletoe becomes involved, will their Christmastime prank turn into a love to last all seasons?
So, what are you planning to read this holiday season? Is there a novel I've forgotten to include that I just have to read? If so, please let me know in the comments! I would love to hear from you 😀 Still searching for the perfect Christmas-themed title to add to your to-be-read list this December? Be sure to check out Ginger's post over at GReads!, where you'll find some more wonderful suggestions!