'Tis The Season: Authors Talk Holidays is a special seasonal feature on Pop! Goes The Reader in which some of my favourite authors help me to celebrate the spirit of the season and spread a little holiday cheer. So, pour yourself a cup of hot chocolate and snuggle in by the fireside as they answer the question: "What does the holiday season mean to you?" You can find a complete list of the participants and their scheduled guest post dates Here!
About Amy Spalding

Amy Spalding grew up in St. Louis, but now lives in the better weather of Los Angeles. She received a B.A. in Advertising & Marketing Communications from Webster University, an M.A. in Media Studies from The New School, and currently manages digital media planning for an advertising agency specializing in indie film. Amy studied longform improv at the Upright Citizens Brigade Theatre, and can be seen performing around L.A. Amy is the author of Kissing Ted Callahan (And Other Guys), The Reece Malcolm List, Ink Is Thicker Than Water, and the forthcoming The New Guy (And Other Senior Year Distractions), coming in 2016.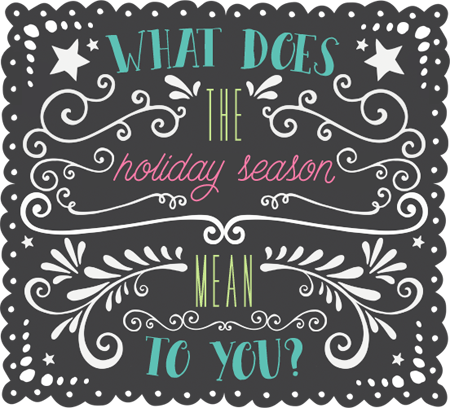 Have Yourself A Merry Little Christmas
My favorite movie to watch during the holidays is Meet Me In St. Louis, which I'd remembered from childhood as a Christmas movie. The film actually covers a full year in the lives of the Smith family, leading up to the 1904 World's Fair. But I'm probably not alone in remembering it this way, and that's because of this song:
OK, I know, I know! It is not the cheeriest song. In fact, it may be the least cheery Christmas song out there (unless you're someone who takes the events of "Grandma Got Run Over by a Reindeer" very seriously). But the truth is that as an adult, I haven't necessarily thought of the holidays as super cheery.
This will be my first Christmas without my father, who passed away in May. However, his illness was a long one, so every Christmas for over a decade now has felt a little like a Christmas without my father. The pain and fatigue he suffered due to Multiple Sclerosis kept him from fully enjoying the festivities, and so even though I wanted to be home for the holidays every year, I couldn't pretend that they weren't also filled with sadness too.
You — if you're me, at least — feel guilty if you don't feel like a nonstop cheer machine over the holidays, especially when you're the one who flew in. I felt a responsibility to be not only having but making it a good time. No one pushed that on me, but I still wanted to be that person. Even though I have never been that person. I am overdramatic and sarcastic and moody. (Really, I'm a delight, as I recently insisted to a nurse while in a morphine haze. I'm doubtful that he believed me.)
And then I rediscovered "Have Yourself a Merry Little Christmas," via an article online. It discussed the original version and the updated ones that have changed "until then we'll have to muddle through somehow" to "hang a shining star upon the highest bough" for jolliness' sake. Oh, but that original version! That's what it feels like, the wonder of the holiday mixed in with reality and nostalgia and longing. It feels like what I feel like, though better sung. It feels real and honest.
And so I felt safe in my mess of feelings, in feeling sad during glad tidings, in still feeling excited to celebrate the holiday with family and friends. That was the permission the song seemed to allow me. It can feel as if there's so much pressure from late November through the start of the new year to be celebratory and jolly. I felt great letting go of that to just be my usual self.
So, friends, I hope your holidays are wonderful, but I also promise you that they don't have to be. There's no pressure! Have the best time, or don't, and either way, we'll muddle through. Somehow. I'll be celebrating the season, for the first time since I left the Midwest over ten years ago, in the relative warmth of Los Angeles. (I'll have you know that 60 degrees in L.A. feels very close to freezing, and we are all very brave.)
Title The New Guy
Author Amy Spalding
Pages 320 Pages
Target Audience & Genre Young Adult, Contemporary, Realistic Fiction, Romance
To Be Published April 5th, 2016 by Poppy
Find It On Goodreads ● Amazon.com ● Chapters
A ridiculously cute, formerly famous, new guy dropping into your life? It's practically every girl's dream.

But not Jules McCallister-Morgan's.

I realize that on paper I look like your standard type-A, neurotic, overachiever. And maybe I am. But I didn't get to be the editor of my school's long-revered newspaper by just showing up*. I have one main goal for my senior year — early acceptance into my first choice Ivy League college — and I will not be deterred by best friends, moms who think I could stand to "live a little," or boys.

At least, that was the plan before I knew about Alex Powell**.

And before Alex Powell betrayed me***.

I know what you're thinking: Calm down, Jules. But you don't understand. This stuff matters. This is my life. And I'm not going down without a fight.

* Okay, I sort of did. But it's a sore subject.

** I mean, I guess everyone knows about Alex Powell? Two years ago, you couldn't go anywhere without hearing about viral video boy band sensation Chaos 4 All. Two years ago, Alex Powell was famous.

*** Some people think I'm overreacting. But this. Means. War.