'Tis The Season: Authors Talk Holidays is a special seasonal feature on Pop! Goes The Reader in which some of my favourite authors help me to celebrate the spirit of the season and spread a little holiday cheer. So, pour yourself a cup of hot chocolate and snuggle in by the fireside as they answer the question: "What does the holiday season mean to you?" You can find a complete list of the participants and their scheduled guest post dates Here!
About Ashley Herring Blake

Ashley Herring Blake used to write songs and now she writes books. She reads them a lot too. She likes coffee, her boys, moody music, anything with pumpkin in it, stuff hued in Tiffany blue, scarves, and walks. She doesn't like olives or soggy asparagus or humidity, and has not a lick of visual artistic talent. Ashley lives in Nashville, TN with her witty husband and two boisterous little boys. Previous jobs include songwriter and performer (though she made about enough money to cover the gas to the gigs), barista, Applied Behavioral Analysis therapist, teacher, and mommyhood. Suffer Love, a YA contemporary novel that follows two teens as they wade through an intense relationship complicated by their parents' infidelities, is her first novel and will be published by Houghton Mifflin Harcourt BFYR in 2016.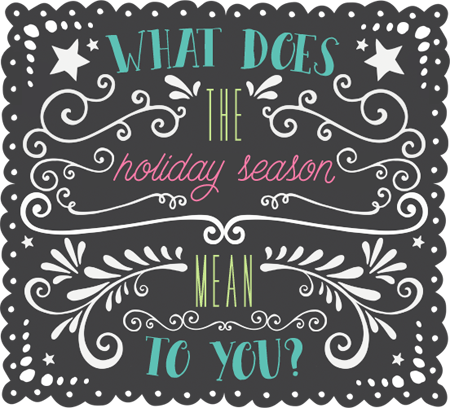 I'm going to be honest here. It took me a very long time to figure out what to write about for this post. I'd start something, get about a hundred words in, and scrap it. This happened about three different times. I started to wonder whether I had anything of consequence to say about the holidays. For the past couple of years, Christmas has been a somewhat precarious season for me for many reasons. But this is the first year I'm heading into the holidays embracing my agnosticism, and I'll admit it's left me a little unbalanced.
Historically, Christmas has been one of my favorite times of the year. Yes, it held a lot of meaning for me when I was a Christian, but I also loved the secular aspects, the snowmen and the pumpkin pie and the parties and the expectation and movies and music. But for several years, it's been a mix of pain and beauty, questions and certainties, stress and enjoyment.
So, when writing this post, I had to be honest with myself — I'm not exactly sure what the holidays mean to me right now. I have no parents, no childhood home to go home to, no religious connection, and a seemingly endless line of holiday obligations that simply stress me out.
Well. This is super cheery, Ashley, thanks for this uplifting post.
Hold on, hold on, I'm getting there.
As you can see, I need something. Something to link me to my kids and husband (aka, the Christmas Elf) and the meaning they are sure to find, the enjoyment they are sure to have. And what I have realized is this: No matter my religious status, my level of stress, my experience with grief, the season has always held a sort of wonder. It has nothing to do with a religion, at least not for me. It has nothing to do with commitments and gift-giving and decorations. It is all of these things and none of these things. It is the homemade Christmas cookies with icing smeared on messily by my four year-old and it is Judy Garland singing "Have Yourself a Merry Little Christmas," a song that encompasses the sad hopefulness I've come to associate with Christmas more often than not. It is the space opening up in my heart when hanging ornaments on the tree. It is the pure joy in my kids' eyes as my husband hangs lights outside. There's simply something about this time of year. I can't put a finger on it. I can't connect it to a religion or gifts or a certain tradition. I can only think of one word that summarizes what I feel, what pushes me to continually look forward to this season even when I'm not altogether sure what this season means to me personally.
Magic.
I think we can all relate to that, no matter where we are or what holiday we celebrate during this time, even if we celebrate none. That untouchable, indescribable thing that is happiness and hope and love and joy all rolled into one. Maybe it has nothing to do with Christmas or any other holiday during this time. When I strip everything down, what remains are the experiences that connect us as humans.
So I don't know what Christmas is all about. But I do know there's something hidden in between all the unknown meanings and that something is enough for me. A thread from one heart that is looking for more to another. And maybe that is what Christmas means to me this year. The possibility of more. Of unity. Of happiness.
The possibility of magic.
Title Suffer Love
Author Ashley Herring Blake
Pages 360 Pages
Target Audience & Genre Young Adult, Contemporary, Realistic Fiction, Romance
To Be Published May 3rd, 2016 by HMH Books for Young Readers
Find It On Goodreads ● Amazon.com ● Chapters
Seventeen-year old Hadley St. Clair's life changed the day she came home to a front door covered in slips of paper, each of them shouting the ugly truth about her father and his year-long affair. Now, Hadley just wants her father to leave her alone. In fact, she wants everyone to stop expecting her to slip back into her old life, where a father is someone she can trust and romance is something that happens to real people, not just to characters in fairy tales. She knows how to handle herself – trust no one and feel nothing. She falls into a steady routine of ignoring her parents and messing around with nameless boys who help her forget.

Then she meets Sam, the new boy with a broken family and a little sister who adores him. Despite her efforts to shut him out, something in Sam feels familiar and even exciting. She might be willing to take a risk for a guy like him. Sam wants Hadley just as much as she wants him, even though he knows he shouldn't. Because Sam has a secret that could ruin everything; a secret he's been keeping since the day somebody taped dozens of papers to the St. Clair's front door.