'Tis The Season: Authors Talk Holidays is a special seasonal feature on Pop! Goes The Reader in which some of my favourite authors help me to celebrate the spirit of the season and spread a little holiday cheer. So, pour yourself a cup of hot chocolate and snuggle in by the fireside as they answer the question: "What does the holiday season mean to you?" You can find a complete list of the participants and their scheduled guest post dates Here!
About Ashley Herring Blake

Hi, I'm Ashley. I'm a former songwriter-barista-teacher and now I'm trying to be a writer. My debut novel Suffer Love (Houghton Mifflin Harcourt) is out spring of 2016. It's packed full of lots of gloomy heartbreak and kissing as well as an angry boy who likes to bake coffee cake, a girl named after the unfortunate wife of a philandering literary genius, and, naturally, a teacup pig. I live in Nashville, TN with my husband (aka, the Christmas Elf) and two boys where I drink a lot of coffee and take a lot of walks and scheme ways to bake the world's best pumpkin chocolate chip cookie.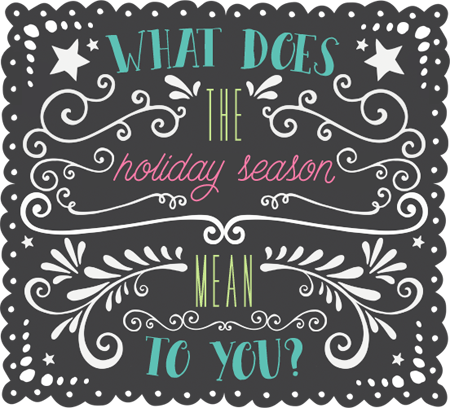 Every year, sometime after the turkey and stuffing has finally digested and right before the calendar rolls into December, an elf comes to live at my house. This elf is thirty-three years old, has a beard and an affinity for strong coffee and Vanderbilt sports, and exhibits more self-control in the face of warm homemade cookies than I've ever been able to muster. He also wears a band on his left ring finger as a symbol of his lifetime commitment to me.
Yes. I'm married to a Christmas elf.
No. His name is not Buddy.
My husband starts talking about Christmas in July. He's not one of those people who keeps little Santa figurines on his mantle all year round or anything, but he looks forward to this time of year almost as much as our five and three year old sons. After Thanksgiving, we drag out bins upon bins upon bins of our Christmas decorations and get to work coating the house in green and red and gold. Now, for the other eleven months of the year, the décor in our house is almost 100% Ashley. But in December? Nope. All Christmas-Elf-Husband. I'll walk through the house, setting a snowman here and a peppermint candle there, and by the time I circle back around, everything is in a different spot and Husband is rearranging furniture to make room for his Christmas village.
He stacks our dozens of Christmas movies neatly in our entertainment center. He listens exclusively to Christmas music. He burns holly-scented candles and is on a never-ending mission to find the perfect ugly Christmas sweater. He bakes cookies. He schedules outings to holiday symphonies and turns off all the lights at night so he can gaze wistfully at the Christmas tree while Bing croons in the background. We have full conversations consisting of nothing but Christmas movie quotes, stemming mostly from Home Alone and Christmas Vacation.
Basically, I live at the North Pole for thirty days every year.
Now, considering I can sometimes be — oh, how do I say this — a curmudgeonly curmudgeon who curmudges, one would think this would drive me crazy.
But it doesn't.
For most of the year, I gravitate towards the gloomy side of things. Life is serious, y'all. It is packed full of people and inanimate objects hell-bent on foiling all of my plans for endless happiness and ease. I'm not saying that I sit in dark rooms listening to sad music all day (at least, not most days), but I'm a pessimist. I just am. It's taken me a few years — and many painful and wonderful experiences — to be able to admit this about myself.
My Christmas Elf? So not a pessimist.
Even after seven years of living with me, he's still pretty darn cheerful. Throw in some silver bells and A Charlie Brown Christmas and he's practically euphoric. And I love this. I love how he allows the simplest holiday song to make him happy. Sometimes, I think certain people – ahem — fight happiness. We believe we don't deserve it. We fear it, because its occurrence can only be temporary and will one day leave us bereft and broken when it goes away. So when it does come, we hold it like a delicate piece of bone-fine china — one tight squeeze and the whole thing will shatter.
When I was little, my family didn't have a ton of Christmas traditions. Chocolate-covered cherries and parental bickering while we trimmed the tree. Gifts from Santa left unwrapped by the fireplace. Grandparents and breakfast casserole and luminaries and me hounding my dad to wrap our bushes in white lights until he relented. Still, it always felt like magic hovered in the air and if I reached out I could run my hands through it. I grew older and my parent divorced. I grew even older and my parents passed away, far too young. Some of that magic got lost in the business of adulthood and shopping, shopping, shopping and travel and that one more thing I needed to do before I could really rest.
Now, even older and probably not that much wiser, my Christmas Elf and his childlike joy, his determination to create new traditions for our kids and make sure they can reach out and sweep their little fingers through some magic, reminds me that it's okay to be happy. It's okay to let go. It's okay to not be the number one crafty-soccer-baked-goods-and-homemade-dinners-every-night mom. It's okay to be silly and clap my hands and giggle like I'm four years old again. My children will not grow up to be lazy blobs if they watch The Polar Express fifty times in a row. Life will not end if tacky Christmas decorations clutter our house for thirty days.
If I let them, the holidays can be hectic; nothing but a green and red blur of appointments and debit card swipes. So for me, Christmas is about taking a deep breath. It's about listening to the million little things around me that are whispering,
Slow down.
Soften.
See.
And yes, sometimes, it's simply about laughing at my Christmas Elf as he figures out the most efficient way to watch all thirty-one of our Christmas movies.
And you know what?
That makes me very happy.
Title Suffer Love
Author Ashley Herring Blake
Pages N/A
Genre Young Adult, Contemporary, Realistic Fiction
Publisher HMH Books for Young Readers
To Be Published 2016
Find It On Goodreads
Seventeen-year old Hadley St. Clair's life changed the day she came home to a front door covered in slips of paper, each of them shouting the ugly truth about her father and his year-long affair. Now, Hadley just wants her father to leave her alone. In fact, she wants everyone to stop expecting her to slip back into her old life, where a father is someone she can trust and romance is something that happens to real people, not just to characters in fairy tales. She knows how to handle herself – trust no one and feel nothing. She falls into a steady routine of ignoring her parents and messing around with nameless boys who help her forget.

Then she meets Sam, the new boy with a broken family and a little sister who adores him. Despite her efforts to shut him out, something in Sam feels familiar and even exciting. She might be willing to take a risk for a guy like him. Sam wants Hadley just as much as she wants him, even though he knows he shouldn't. Because Sam has a secret that could ruin everything; a secret he's been keeping since the day somebody taped dozens of papers to the St. Clair's front door.