'Tis The Season: Authors Talk Holidays is a special seasonal feature on Pop! Goes The Reader in which some of my favourite authors help me to celebrate the spirit of the season and spread a little holiday cheer. So, pour yourself a cup of hot chocolate and snuggle in by the fireside as they answer the question: "What does the holiday season mean to you?" You can find a complete list of the participants and their scheduled guest post dates Here!
About Brooks Benjamin

In sixth grade, Brooks Benjamin formed a New Kids On The Block tribute dance crew called the New Kidz. He wasn't that good at dancing back then. But now he's got a new crew — his wife and their dog. They live in Tennessee, where he teaches reading and writing and occasionally busts out a few dance moves. He's still not much better at it. His first novel, My Seventh-Grade Life In Tights will be released by Delacorte/Random House in Spring 2016.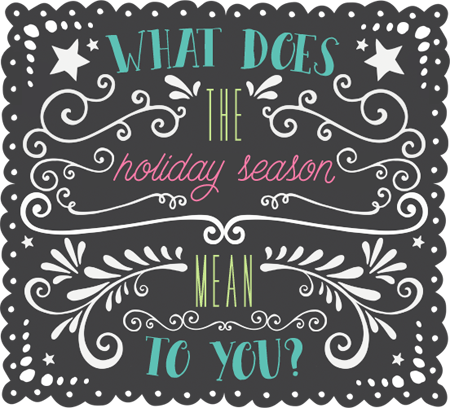 My sixth sense isn't the sixth one at all. It's actually a copy of the fourth.
Smell.
Just that one sense pasted right back into the lineup. That's me. Two senses of smell. Some might read that and say I kind of got ripped off. But I don't think of it that way. I like having a nose that can pick up hints of things others can't catch. Especially during the holidays when we're inundated with different scents. Because sometimes I'll snag a whiff of something that'll yank this little pull-cord inside my head. My body will go warm and everything around me seems to slow down for a moment. And during that time, I fall. Deeper and deeper into some memory I have that's connected to that scent. Memories of my mom, my dad, my grandmother, or my grandfather. People who are gone forever, connected to me and my life by the thinnest thread of a memory.
Like vanilla . . .
It takes me back to my mom. Mom would occasionally go on these cleaning sprees where she'd spend all day vacuuming and dusting. Sometimes she'd wake up at two or three in the morning and clean again, topping it all off by spraying the house down with this sweet vanilla scent. I learned later on that she was bipolar. My dad taught me that her sprees were just her way of coping. Through watching him, I began to understand that it was simply a part of her and that there was no reason to love her any less because of it. To me, the smell of vanilla meant acceptance. It meant understanding. And it always will.
Or a fireplace . . .
This one takes me back to my dad. He loved building fires. If the temperature was below fifty, he'd use it as an excuse to go downstairs and get one started. A roaring fire in our house was special. It was a time when we'd actually sit together and talk. We'd listen. We'd share. It wasn't very often when we'd take time to do something together, but when fall rolled around (that was Dad's favorite season) and the fires became a regular moment in our house, we always would. To me, a fire meant us. A fire meant family. And it always will.
Or wool . . .
Wool takes me back to my grandmother. She had the thermal conditioning of a flagpole. Her insulator of choice was always wool. She loved it when we visited her. When we came over, her tiny house would be filled with the scent of just-brewed tea (she was a very strong believer in tea time), freshly baked bread, and her pair of googly-eyed pugs. But it's the wool I remember. Because that's what I caught when I hugged her. She didn't have much. But what she did own, she was always willing to share. To me, that scent of wool meant tradition. It meant appreciation. And it always will.
And cigars . . .
This takes me back to my grandfather. I'd spend the night at his house nearly every weekend. He'd always have a fresh carton of ice cream ready for us while we binge watched his entire catalog of musicals on VHS. And while we watched, he'd smoke a cigar. It'd sink into my clothes and hair and when I went back home, the first thing my parents would make me do is shower. But I always loved that smell. Because to me, the smell of cigars meant relaxation. It meant sharing. And it always will.
So, no. I may not have that traditional sixth sense.
But that's okay.
The one I have in place of it serves me well. It keeps me tethered to the past in the most wonderful way. The holidays will never stop being an incredibly difficult time for me. But I'm slowly making my new family. Right now it's small, but powerful. Jackie and I may never have a house filled with kids, parents, aunts, or uncles during the holidays. But we'll remember what once was and use that to fill our house with new memories. A sensory fuel that will capture every moment we want to remember. And those new memories will mean the world to me. They'll mean hope. They'll mean compassion. They'll mean love.
And they always will.
Title My Seventh-Grade Life In Tights
Author Brooks Benjamin
Pages 304 Pages
Target Audience & Genre Middle Grade, Contemporary, Realistic Fiction
To Be Published April 12th, 2016 by Delacorte/Random House
Find It On Goodreads ● Amazon.com ● Chapters
Live It.

All Dillon wants is to be a real dancer. And if he wins a summer scholarship at Dance-Splosion, he's on his way. The problem? His dad wants him to play football. And Dillon's freestyle crew, the Dizzee Freekz, says that dance studios are for sellouts. His friends want Dillon to kill it at the audition — so he can turn around and tell the studio just how wrong their rules and creativity-strangling ways are.

Work It.
At first, Dillon's willing to go along with his crew's plan, even convincing one of the snobbiest girls at school to work with him on his technique. But as Dillon's dancing improves, he wonders: what if studios aren't the enemy? And what if he actually has a shot at winning the scholarship?

Bring It.
Dillon's life is about to get crazy…on and off the dance floor.