'Tis The Season: Authors Talk Holidays is a special seasonal feature on Pop! Goes The Reader in which some of my favourite authors help me to celebrate the spirit of the season and spread a little holiday cheer. So, pour yourself a cup of hot chocolate and snuggle in by the fireside as they answer the question: "What does the holiday season mean to you?" You can find a complete list of the participants and their scheduled guest post dates Here!
About Claire Legrand

Claire Legrand used to be a musician until she realized she couldn't stop thinking about the stories in her head. Now she is a full-time writer living in Princeton, New Jersey. She is the author of The Cavendish Home For Boys And Girls, The Year Of Shadows, Winterspell and its prequel, Summerfall, and the upcoming Some Kind Of Happiness. She is also one of four authors behind The Cabinet Of Curiosities.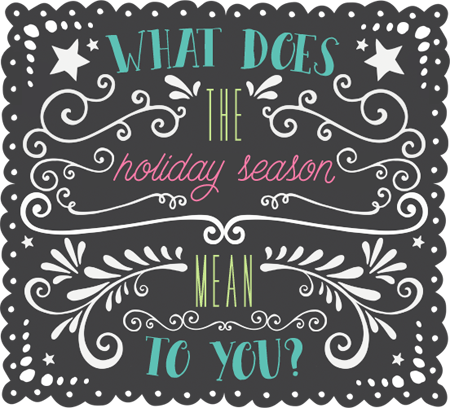 It took me a while to figure out what to write about for this post, because the holiday season means a lot of things to me:
There's the annual white elephant gift exchange at my grandparents' house, during which my younger cousins will inevitably burst into humiliated, furious tears because they ended up with a roll of Santa-print toilet paper and not, like, an actual cool present.
Then there's snuggling up with my mom on the couch to watch our favorite Christmas movie, White Christmas. We drink hot chocolate, sing along with every song, gush over the gorgeous 1950s wardrobe, and of course cry at the end when the snow finally falls and the gang saves General Waverly's ski lodge.
And of course there's that warm-and-fuzzy rush when my family and I all gather by the tree, the Charlie Brown Christmas soundtrack playing in the background, and they open their gifts from me. The joy on their faces makes the stress of the holiday season worth it.
While thinking about all of this, however, more than anything else I kept coming back to The Nutcracker.
As most of you know, I wrote Winterspell, a Nutcracker re-telling. I hesitated to write about The Nutcracker again for this post because I've talked about the ballet many, many, many times over the last couple of years. I didn't want readers of Jen's wonderful blog (Hi, Jen!) to think I was writing about it yet again because I was just jumping at another chance to promote my book.
But the truth is, The Nutcracker sums up what Christmas secretly meant for me as a child. Of course I loved the conventional parts of the holiday — baking and watching the movies and listening to the music and driving around to look at Christmas lights.
More than that, though? I loved the mystery of Christmas. The magic of it, and the possibility.
I started watching The Nutcracker on PBS when I was very young. Every year they showed what is still my favorite Nutcracker — the Pacific Northwest Ballet's Stowell/Sendak production, which PNB sadly retired last year. The PNB adapted their production for film in 1986, and it's wonderful and bizarre and unsettling, and you should all watch it and then come tell me about it so we can talk about how strangely attractive Drosselmeyer is.* (No? That's just me?)
Anyway, the story captivated me — the weirdness of it, how gorgeous and even scary it can be. Drosselmeyer swooping into the Christmas party in his swirling cloak, bearing gifts and promises of adventure. Clara falling in love with an ugly little toy whose beauty only she could see. Clara sneaking downstairs at midnight, the windows black and snow-dusted, the darkened Christmas tree casting strange shadows across the floor. And the music! Familiar and extravagant and more than a little bit sinister.
As much as I loved my cozy family Christmases, I yearned for a holiday like Clara's — one of adventure and danger and romance, all of it glittering with the snow that we so seldom saw in Texas. I would watch and re-watch The Nutcracker countless times every holiday season, and go to bed every Christmas Eve with my heart pounding. I wasn't excited about Santa Claus and Grandma's house. No, I was full of hope that something magical would wake me in up the middle of the night — a toy who was secretly a prince in disguise, a cloaked magician, sparkling fairies. Maybe even giant rats…as long as I was the one to vanquish them (while wearing a fabulous dress, of course).
It was my secret fantasy to be just as brave and adventurous as Clara, to fight a battle in a gigantic ballroom, to step through a door into a kingdom silver with snow. I never shared this dream with my parents or my brother or my friends. I kept it hidden safely in my heart, and every Christmas season, I felt like maybe this would be the year. My adventure would finally begin.
Even now, listening to or watching The Nutcracker fills me with that same sense of wonder and excitement that came to define the holiday season for me as a child. Even now, quite grown up and far beyond my I-hope-giant-rats-wake-me-up-in-the-middle-of-the-night phase, the holiday season never officially begins until I listen to The Nutcracker and pull out my copy of the Stowell/Sendak production.
As Clara and her prince whirl across my television screen, I arrange my collection of nutcrackers around the house, hang my Clara ornament on the tree, and once again feel what I did as a kid: With Tchaikovsky's sparkling music filling the air, anything is possible.
* If you're interested in watching the Stowell/Sendak production of The Nutcracker, you can purchase it from the PNB Shop, as well as on Amazon, iTunes, Barnes & Noble, Target, and lots of other places. (But consider buying from PNB to support their company!)
Title Some Kind Of Happiness
Author Claire Legrand
Pages 304 Pages
Target Audience & Genre Middle Grade, Fantasy, Magical Realism
To Be Published May 17th, 2016 by Simon & Schuster Books for Young Readers
Find It On Goodreads ● Amazon.com ● Chapters
Things Finley Hart Doesn't Want To Talk About:

• Her parents, who are having problems. (But they pretend like they're not.)
• Being sent to her grandparents' house for the summer.
• Never having met said grandparents.
• Her blue days — when life feels overwhelming, and it's hard to keep her head up. (This happens a lot.)

Finley's only retreat is the Everwood, a forest kingdom that exists in the pages of her notebook. Until she discovers the endless woods behind her grandparents' house and realizes the Everwood is real – and holds more mysteries than she'd ever imagined, including a family of pirates that she isn't allowed to talk to, trees covered in ash, and a strange old wizard living in a house made of bones.

With the help of her cousins, Finley sets out on a mission to save the dying Everwood and uncover its secrets. But as the mysteries pile up and the frightening sadness inside her grows, Finley realizes that if she wants to save the Everwood, she'll first have to save herself.