'Tis The Season: Authors Talk Holidays is a special seasonal feature on Pop! Goes The Reader in which some of my favourite authors help me to celebrate the spirit of the season and spread a little holiday cheer. So, pour yourself a cup of hot chocolate and snuggle in by the fireside as they answer the question: "What does the holiday season mean to you?" You can find a complete list of the participants and their scheduled guest post dates Here!
About Darcy Woods

Young adult author Darcy Woods had three big loves in grade school: Reading, writing, and pizza day. Some things never change. She lives in Michigan with her madly supportive husband, two tuxedo cats (who overdress for everything) and a closet full of neatly organized shoes. Once upon a time, she served in a US Army aviation unit and threw live grenades. Now she throws words.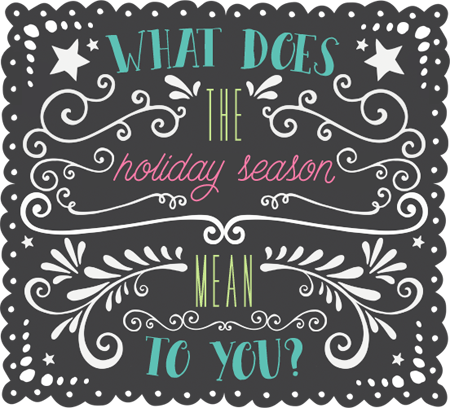 Christmas carols are a nonnegotiable in my family. It's part of what strings us together, like twinkle lights on the proverbial tree — we shine brighter as a collective singing whole. And yet about 0.005% of us actually possess a hangnail of musical ability. So why do we have this tradition?
Well, first you need to understand…
My people are Quirky. It's a very dominant gene that doesn't believe in skipping generations. Which means my double helixes never stood a chance — a fact I went from ruing in my early years, to tackle hugging in my adulthood.
Consequently, my family has cultivated certain oddities traditions over the decades. No, I'm not talking about the year it was mandated that ONLY homemade gifts would be exchanged. Hey, man, it was the 70s and my uncle was into some "far out" ideas. But one can only summon so much enthusiasm for lopsided wooden blocks rendered useless for building. Come to think of it, this was also the Christmas my tiny mother got a lovingly hand-stitched nightgown. The size of Alaska. But I digress…
The singular tradition that's withstood the test of time is, you guessed it, the Yencich Family Christmas Eve sing-along. I remember this ritual from as far back as my mind could hold memories. My aunts and uncles would herd all my cousins and me into my grandparent's bedroom. Where we awaited Santa's magnificent arrival — always heralded by my grandpa's harmonica playing (he's the one boasting the 0.005% musical talent).
I later learned this mass exodus was just an excuse to get us out of the living room so the remaining family could deliver Santa's gifts under the tree. Which apparently made them quite thirsty. A thirst cured only by a 12 oz. cold and frosty. Because #Priorities.
Meanwhile, the rest of us waited, jacked up on sugar cookies and the promise of Christmas Yet To Come. So we passed the time by singing carols. You're familiar with the Greek myth of the Sirens? Creatures whose voices were so achingly beautiful, entranced sailors would crash upon the rocky shore? Hi. We are the anti-Sirens. Sailors would voluntarily crash upon the rocky shore, just to make us stop.
No matter.
We sing anyway, year after year, sour note after sour note — Jingle Bells, Rudolf, Silent Night (a particularly cringe-worthy selection). My favorite is The Twelve Days of Christmas because no one can ever remember the order of the stuff. Six swans-a-swimming or seven geese-a-laying? *Shrugs* Basically the song gets rewritten every year depending on who sings with the most out-of-tune authority. But five golden rings? Ha! That one we've mastered with Pavarotti vibrato — sweeping arm movements and everything.
But somewhere amidst the cracking glass and floundering lyrics, a magical thing occurs. We are JOYOUSLY happy. We embrace the fact that we suck. Revel in it, actually. Because our voices overlap, not in glorious harmony, but in something far greater — the harmony of spirit. It's the unity that comes when you do something with your whole heart. Does it always sound pretty? Um, no. But how often is what's on the outside ever a true reflection of the beauty within?
Sometimes in life, we have to listen past the imperfect notes (or words or actions) to appreciate the transcendent melody that joins us all.
So what does the holiday season mean to me? Quite simply this:
Find the song in your heart…and sing it.
Title Summer Of Supernovas
Author Darcy Woods
Pages 352 Pages
Target Audience & Genre Young Adult, Contemporary, Realistic Fiction, Romance
To Be Published May 10th, 2016 by Crown BFYR
Find It On Goodreads ● Amazon.com ● Chapters
As the daughter of an expert astrologer, Wilamena Carlisle knows that the truth lies within the stars. So when she discovers a rare planetary alignment, she is forced to tackle her worst astrological fear – The Fifth House of Relationships and Love. But Wil must decide whether a cosmically doomed love is worth rejecting her mother's legacy, when she falls for a sensitive guitar player hailing from the wrong side of the chart.

Debut author Darcy Woods explores love in all its complexities and how to best honor the loved ones who have passed before us, in a novel packed with both humor and heart.