'Tis The Season: Authors Talk Holidays is a special seasonal feature on Pop! Goes The Reader in which some of my favourite authors help me to celebrate the spirit of the season and spread a little holiday cheer. So, pour yourself a cup of hot chocolate and snuggle in by the fireside as they answer the question: "What does the holiday season mean to you?" You can find a complete list of the participants and their scheduled guest post dates Here!
About David Arnold

Hi. I'm David.

I write stories and songs. I live in Lexington, Kentucky, with my (lovely) wife and our (boisterous) son. Previous "jobs" include freelance musician/producer, preschool teacher, barista, and stay-at-home dad. I'm a fierce believer in the power of kindness and community. I like pesto, Arcade Fire, indie bookstores, Middle-earth, GARP, Elliott Smith, Christmastime, and all things Sorkin. I don't like olives, liars, or wet socks.

My debut novel, Mosquitoland, will be published by Viking/Penguin on March 3, 2015. My second book, Kids Of Appetite, is tentatively set for a fall 2016 release. (You can read about them here.) I am represented by Dan Lazar at Writers House.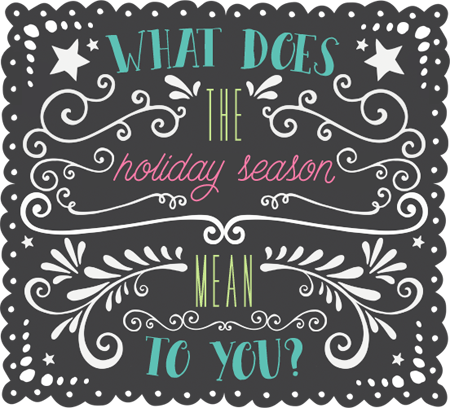 DECK MY HALLS
A Haphazard Compendium of Endlessly Charming Yuletide Memories
by David Arnold
Chapter One:
Santa Is Not Real (Or, How One Young Man's Existential Crisis Put Hair On His Chest and Cheer in His Heart)
I never believed in Santa Claus. Not ever. My parents, for better or worse, felt it inappropriate to lie to me in this regard. Herelooksee…
"Santa is a fun representation of a wonderful time of year," David's Parents told him at a very young age. "Is he an actual living person with blood in his veins, and bones in his body? Does he breathe air? Does he eat your cookies? No. No, he does not do those things. Because he does not exist."
"But I don't understand," said Very Small David, one eyebrow raised. (I was, and am, an ace at opportune eyebrow-raising.) "Who brings my presents?"
David's Parents looked at each other, shrugged, simultaneously said, "We do."
Very Small David was baffled. "You do?"
"So you see," said his parents, "you should be thanking us for your presents. Not Santa."
"Oh," said Very Small David in a very small voice. "Uh. Thanks, I guess."
"You're welcome!" yelled his parents, skipping from the room.
Okay – fine, I'm paraphrasing a smidge, but as you can see, Very Small David was in the middle of a Very Large Existential Crisis. The king of jolly himself, the cultural icon, the symbol of harmony and generosity the world over had been debunked! And if Santa Claus did not exist — if the whole world was intent on lying to its Very Small Inhabitants — what did this say about Christmas itself? Was the whole thing a sham?
Over time, Very Small David grew into Regular Size David (that's me), and he (I) learned a few things. For starters, sure, Santa was a jolly ole fella, a cultural icon and all the rest. But there was no denying the flip side of that coin: the fat old man who, once a year, saddled up his flying fleet of magical horned creatures, took off from the most uninhabitable home on earth, and snuck inside the houses of innocent slumbering children, carrying a velvet sack of toys assembled by an army of tiny green pilgrims who were, at best, scarily enthusiastic about their work, and, at worst, clinically obsessed. The whole thing was really, uh, kind of weird.
But the bigger lesson Regular Size David learned was that Christmas was not contingent on a rosy-cheeked fat man, whether he existed or not.
Deep down, I think even Very Small David understood that.
Chapter Two:
Christmas Guy (Or, Not All Cheer is Created Equal)
Every year, just after Thanksgiving, I make the same bold claim: I am a Christmas Guy. My wife can attest to this. The decorations, the traditions, the movies, the music, the books, the food, the weather, the whole shebang.
I Christmas very, very hard.
Because I…am a Christmas Guy.
Chapter Three:
The Superiority of My Grandmother's Cinnamon Rolls (Or, My Grandmother is Better Than Yours, As Are Her Cinnamon Rolls, and Really, It's Not Even Close)
See chapter title. (And subtitle.)
Chapter Four:
The Year of the Glorious Jeans Jacket (Or, Let Your Nerd Shine Through)
Understand this: growing up, I was beyond nerdy. I was some mutant, uber-nerd in oversized flannel and neon braces. Oftentimes, I thought I understood how Frodo must have felt — small, weak, frail — in the shadow of so many great kings and wizards. I was hopeless. (And no, the Lord of the Rings obsession probably didn't help my cause.) Countless times, I stood in the middle of playgrounds, cafeterias, hallways, places abuzz with the vigor of youth, and wondered, how does anyone ever make friends? Other kids seemed fine. Their skins were thick enough to fend off the acidic tongues of bloodthirsty tweens. I had no such skin.
But hark! A constant. A clue. Upon closer inspection, I noticed all the other kids seemed to be wearing almost identical skins.
"Jeans jackets," I sputtered through my orthodontic rainbow of rubber bands. I turned in a full circle, basking in my revelation. "An armor of denim."
Surely, I thought, such an armor would protect me from the Saurons and Sarumans of middle school.
That year, my Christmas list looked like this:
Dear Mom,
For Christmas this year, all I want is a jeans jacket. That's all. Please. In the name of the largest fortress of Numenor, I beseech thee.
E'er your servant,
David Wesley Arnold
For Christmas, I received my coveted jeans jacket, and on the first day of school after break was over, I wore it with gusto. Flair. Pizzazz. I was confident this would be the end of my nerdy days. I opened the school doors with a little more attitude. I walked down the halls with a little more bounce. And I awaited my inevitable warm welcome into the fold of the cool, a welcome my newly acquired jeans jacket had surely procured.
Yeah, that never happened. Because denim jacket or no, I was still the same nerdy me. Devastatingly me. Me to the bitter end. There was an important lesson in there somewhere about being true to oneself, about not worrying so much what other people think, about devaluing the fold of the cool. But mostly I learned no matter how cool a jacket might be, one's nerd will always shine through.
Chapter Five:
More Traditions (Or, In Addition to My Grandmother's Cinnamon Rolls, Here Are Some Other Ways My Christmas Rules)
When we were kids, my brothers and I were instructed thus: upon waking Christmas morning, we could not, under any circumstances, leave our room until we heard the sweet sounds of Gene Autry's Here Comes Santa Claus. I have to hand it to the adults here, because this rule kept my brothers and me from waking up the house at a perfectly respectable 4:30 A.M. for the glorious unwrapping of gifts. Well played, adults. Well played.
Christmas Eve has some great traditions too. To this day, my grandfather — a retired Methodist minister and WWII hero — reads the same Bible passage, Luke 2:1-20. The rest of us gather around and listen. Sometimes there's a fire going, sometimes not. Sometimes there's cocoa, sometimes not. But there is always an undeniable warmth. We listen to the words, and we listen to my grandfather's voice, and we wonder things. Things about the words, and things about the man reading them. The places he's been, the things he's done — things I'll never be called on to do. It makes me think of days before the written word, and how stories were passed down like this, around a fire, from the tongues of the old to the ears of the new, and it's times like this when I think storytelling is our proudest heritage.
Music has always been a thing in my family. Listening, performing, appreciating. My mother plays flute and piano, and my brothers and I play guitar, and after my grandfather is finished reading, we sing. Christmas songs are the best because no one expects them to be anything other than what they are. They are familiar melodies. Familial melodies. And it doesn't matter if you can "sing" or not. This time of year, everyone can sing.
Giant meals and stretchy pants and Dickens' A Christmas Carol and Muppets Christmas Carol and snow and reading and Sufjan and Bing and the Griswold family and home and did I mention the cinnamon rolls?
'Tis the season.
And oh what a season 'tis.
Chapter Six:
Auld Lang Syne (Or, The Parting of Ways Should Always Include A Gift)

Two more things:
1) You might have guessed this by now, but I am a very nostalgic human. And I think nostalgia lends itself to the holidays. The memories and traditions, the premiums placed on looking back over the year, evaluating who you were against who you are — and then the ball drops in Times Square, and you are left to wonder who you will be. Nostalgia is the perfect alignment between happy and sad, and how strange that we might feel them both at the same time. Man, humans are weird.
2) I am a big believer in gift-giving. It is one of my favorite things about this time of year. And so, in parting, I would like to offer a free download of a few Christmas songs I recorded. Ho, Ho, Ho! (You can find them Here!)
The End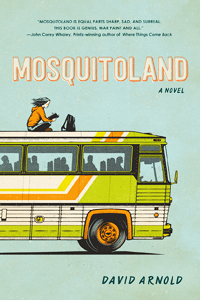 Title Mosquitoland
Author David Arnold
Pages 352 Pages
Genre Young Adult, Contemporary, Realistic Fiction, Road Trip/Travel
Publisher Viking Juvenile
To Be Published March 3rd, 2015
Find It On Goodreads
"I am a collection of oddities, a circus of neurons and electrons: my heart is the ringmaster, my soul is the trapeze artist, and the world is my audience. It sounds strange because it is, and it is, because I am strange."

After the sudden collapse of her family, Mim Malone is dragged from her home in northern Ohio to the "wastelands" of Mississippi, where she lives in a medicated milieu with her dad and new stepmom. Before the dust has a chance to settle, she learns her mother is sick back in Cleveland.

So she ditches her new life and hops aboard a northbound Greyhound bus to her real home and her real mother, meeting a quirky cast of fellow travelers along the way. But when her thousand-mile journey takes a few turns she could never see coming, Mim must confront her own demons, redefining her notions of love, loyalty, and what it means to be sane.