'Tis The Season: Authors Talk Holidays is a special seasonal feature on Pop! Goes The Reader in which some of my favourite authors help me to celebrate the spirit of the season and spread a little holiday cheer. So, pour yourself a cup of hot chocolate and snuggle in by the fireside as they answer the question: "What does the holiday season mean to you?" You can find a complete list of the participants and their scheduled guest post dates Here!
About Emily France

Emily France graduated from Brown University before going on to law school, where she was the editor-in-chief of the law review. She finds creative inspiration in all things spiritual, from sitting with Benedictine monks for 4 a.m. vigils in a Rocky Mountain monastery to trekking to Buddhist and Hindu temples in India. Now she writes full-time and lives with her husband and their fearless Tibetan Spaniel in sunny Colorado — the closest place to Nirvana she's found. Signs Of You is her debut novel.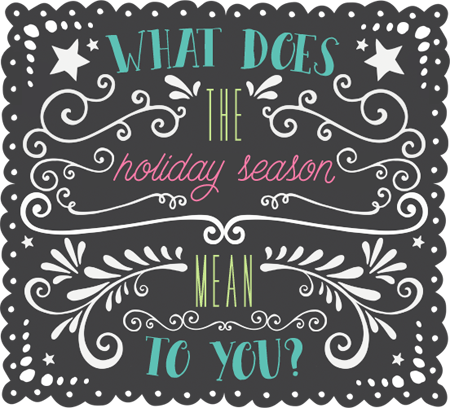 The Great Christmas Tree Battle of Seventh Grade
When I was a kid, I remember adults freaking out about the holidays. They started complaining sometime around October. Just as I was getting jazzed about the upcoming Halloween candy haul, they started to ruin my buzz. For them, November and December loomed like a life-threatening obstacle course. There were the gifts. The cooking. The weird extended family members. Don't get me wrong, I had awesome parents who broke their necks trying to give us great holidays; it's just that I could feel their stress.
And I could sense something else, too. A quietness that came over them. A wistfulness, a chill. It happened when my grandparents' 1940s Big Band Christmas songs started playing. Or when we got out the old-fashioned sled my dad used as a kid. Or when we hung the holiday cross-stitch my great-grandmother made. A sadness blew in, silent and gentle like one of those lovely snow storms that blanket everything with a hush. But still, a storm nonetheless.
I didn't understand this Adult Holiday Sadness at all. Why so blue? I loved heading to my grandparents' house, dancing to those 1940s Big Band songs with my grandfather, careening down a hill on an old-fashioned sled. WHAT'S NOT TO LOVE?
My most poignant memory of the Holiday Sadness is the Great Christmas Tree Battle of Seventh Grade. My father and I began our usual tree-decorating tradition. First, we picked up an order of ribs from a local restaurant called Joey's. Then we went home, blasted classic rock, and ate while untangling lights. We always covered the tree with my dad's favorite Bubblers. They resembled little rocket ships. Each large light was filled with bubbling colored liquid. When we were finished and the lights boiled away, it looked as if the tree would launch.
Just as I was ready to place my first strand, my mom came into the living room and announced that the Bubblers needed to go. Mom was a high school English teacher and she had envisioned a tree based on the Victorian era. She wanted to cover it with small porcelain dolls, strings of pearls, and white ribbons. She was craving a "new tradition," a "change," she said. I could sense the Holiday Sadness and knew it was somehow to blame. My father looked up from his steaming plate of ribs, blinking.
And then I went apoplectic.
A change? Getting rid of the beloved Bubblers? BUT WHY?
I ended up winning. The Victorian Tree did not materialize, and the Bubblers continued their reign. And I felt bad every time I saw the Holiday Sadness in my mother's eyes when she looked at the tree that year. But still, I didn't understand it.
Now, it's over twenty years later. I'm married and have my own home with my own holiday routines. And just a few days ago, as I was trying to cook a recipe that my grandmother is no longer here to ask about, an old 1960s song started playing. Elvis Presley. A song my mother loves. I continued to listen and peel potatoes, but much to my horror, the Holiday Sadness arrived. It was a hush, a silent pang, a cold snow just like my parents used to have. I thought about how much I miss my grandmother's kitchen during the holidays. About my mom and her battle with breast cancer this year. I thought about the Christmas Ribs my dad and I haven't had in a decade. I thought about the family members we've lost, young and old. I found myself wanting to do Christmas on a beach somewhere this year or on a boat — I was craving a "new tradition," a "change."
My mother's voice from the Great Christmas Tree Battle echoed in my mind. I sounded just like her. And suddenly, I understood. The Bubblers were old lights; they probably brought back a memory of someone she was missing, something that had changed, something she wished had stayed the same.
The Elvis song continued to play in my kitchen, and I put down my peeler. What is this Adult Holiday Pox? Should I battle it? Push it down? And worse — is it here to stay?
As I sat with the melancholy yearning for the people who are no longer here, it hit me that this may be the cost of joy. The reality of change. I got to have holidays with the people who are now gone, and in their wake they leave beautiful memories — and snowstorms of grief. And maybe this mixed bag of holiday joy and stress and sadness is the price tag for continuing to love, to be alive, to walk through life wide awake.
The Elvis song finished. I thought of the things I have now that are just as beautiful as the things past: my husband, my new home, my sublime niece and nephew. Holidays still have wonderful moments, but in new ways. And I know they're worth any price.
So this holiday, I'm going to try to be grateful for the Holiday Sadness when it comes, for its evidence of gifts past. And I'm going to call my mom and apologize for protesting her tree. And maybe buy her a Victorian ornament.
Or ten.
Happy Holidays.
Title Signs Of You
Author Emily France
Pages 240 Pages
Target Audience & Genre Young Adult, Contemporary, Realistic Fiction
To Be Published July 19th, 2016 by Soho Teen
Find It On Goodreads ● Amazon.com ● Chapters
Since sixteen-year-old Riley Strout lost her mother two years ago, her saving grace has been her quirky little family in the grief support group she joined as a freshman. Jay, Kate, and Noah understand her pain; each lost a loved one, and they've stuck together in spite of their differences, united by tragedies only they understand.

When Riley thinks she spots her mother shopping in a grocery store, she fears she is suffering some sort of post-traumatic stress. Then Jay and Kate report similar experiences. Only Noah hasn't had some kind of vision, which is perhaps why he's become so skeptical and distant.

When Noah disappears, Riley fears she's lost another loved one. As they frantically search for him, she, Kate, and Jay are drawn into the mystery surrounding a relic that belonged to Jay's dead father and contains clues about the afterlife. Riley finds herself wrestling with her feelings for both Noah and Jay — which have become clear only in Noah's absence. If Riley is to help those she loves, and herself, she must set things right with the one she's lost.