'Tis The Season: Authors Talk Holidays is a special seasonal feature on Pop! Goes The Reader in which some of my favourite authors help me to celebrate the spirit of the season and spread a little holiday cheer. So, pour yourself a cup of hot chocolate and snuggle in by the fireside as they answer the question: "What does the holiday season mean to you?" You can find a complete list of the participants and their scheduled guest post dates Here!
About Julie Murphy

Julie Murphy is the #1 NYT Bestselling author of Dumplin' and Side Effects May Vary. She lives in North Texas with her husband who loves her, her dog who adores her, and her cats who tolerate her. When she's not writing or trying to catch stray cats, she can be found reading, traveling, or watching movies so bad they're good. Her debut contemporary young adult novel, Side Effects May Vary, is out from Balzer + Bray/HarperCollins and has been well-received by Kirkus, School Library Journal, VOYA, Booklist, Seventeen Magazine, and Teen Vogue. Dumplin', Julie's sophomore novel has received glowing reviews including three stars from School Library Journal, Publishers Weekly, and Booklist. Film rights have been optioned by Disney.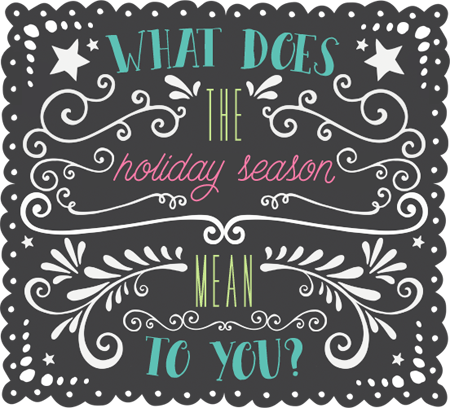 I'm going to be honest: I have tried and failed to write this post at least ten times. Growing up, I didn't connect to the holidays (particularly Christmas) the way that most kids my age did. I didn't believe in Santa Claus, because my mother refused to lie to me about the existence of a fat jolly man who could magically provide the desires of my heart beneath a dead tree on the same day every year. Maybe that sounds sort of cruel, but now as an adult, I can tell you that the real reason my mother wouldn't allow me to believe in Santa Claus was because she and my father could not provide those presents promised to me by the man in red on a regular basis. My father worked (and still does) in a business that is routinely slow from November to January and often left him unemployed for those months every year.
I guess that's why little, chubby Julie (with an honest to God mustache coming in on her upper lip) didn't get into the spirit even during the good years, because let me tell you: my parents gave my sister and I a few truly magnificent and totally picturesque Christmas mornings. Yet, every good Christmas reminded me of what it felt like in past years to wake up and find the space below the tree empty. Of course, part of me was thankful for the presents, but the idea of my parents spending money on things I didn't even need gave me anxiety before I even knew to identify the feeling in that way.
But this isn't a sob story, I promise.
It wasn't until the year I turned sixteen that I truly understood the joy this season could hold. On my sixteenth birthday, the very first thing I did was go to the mall and find a job. I was so ready to work and have money of my own, because for me that spelled F-R-E-E-D-O-M. So I folded t-shirts and nodded at yelling customers for twenty hours every week. When Christmas rolled around, for the first time I was able to purchase presents for the ones I loved most. I slaved over what to buy for each person and spent far too much money on fancy wrapping paper, but I couldn't help myself. Maybe it was working in the mall with that big tree, the endless line to meet Santa, and the constant stream of Christmas music. But whatever it was, I finally felt that jittery high of the holiday season that had always eluded me.
On that Christmas morning, I woke up early for the first time in years. And it wasn't the dread of disappointment that woke me. I can't even remember what I gave my mom, dad, and sister that day. All I can recall is the roller coaster in my chest as they each opened their presents. And that was when I knew. No matter what you celebrate or who you celebrate with, the truest spirit of this season is in giving and not receiving.
Today, I get to define the holidays in the ways that make me most happy. It's something I wish I'd caught onto way before working a crappy minimum job at the mall, but sometimes you've got to take the scenic route.
Title Dumplin'
Author Julie Murphy
Pages 375 Pages
Target Audience & Genre Young Adult, Contemporary, Realistic Fiction, Romance
Published September 15th, 2015 by Balzer + Bray
Find It On Goodreads ● Amazon.com ● Chapters ● The Book Depository
Self-proclaimed fat girl Willowdean Dickson (dubbed "Dumplin'" by her former beauty queen mom) has always been at home in her own skin. Her thoughts on having the ultimate bikini body? Put a bikini on your body. With her all-American beauty best friend, Ellen, by her side, things have always worked…until Will takes a job at Harpy's, the local fast-food joint. There she meets Private School Bo, a hot former jock. Will isn't surprised to find herself attracted to Bo. But she is surprised when he seems to like her back.

Instead of finding new heights of self-assurance in her relationship with Bo, Will starts to doubt herself. So she sets out to take back her confidence by doing the most horrifying thing she can imagine: entering the Miss Clover City beauty pageant — along with several other unlikely candidates — to show the world that she deserves to be up there as much as any twiggy girl does. Along the way, she'll shock the hell out of Clover City — and maybe herself most of all.