'Tis The Season: Authors Talk Holidays is a special seasonal feature on Pop! Goes The Reader in which some of my favourite authors help me to celebrate the spirit of the season and spread a little holiday cheer. So, pour yourself a cup of hot chocolate and snuggle in by the fireside as they answer the question: "What does the holiday season mean to you?" You can find a complete list of the participants and their scheduled guest post dates Here!
About Kerry Winfrey

Kerry Winfrey grew up in Bellville, Ohio, where she spent most of her time reading inappropriate books at the library. Not much has changed. Kerry writes for HelloGiggles and blogs at welcometoladyville.com. She lives in Columbus, Ohio with her husband and their dog, Merlin.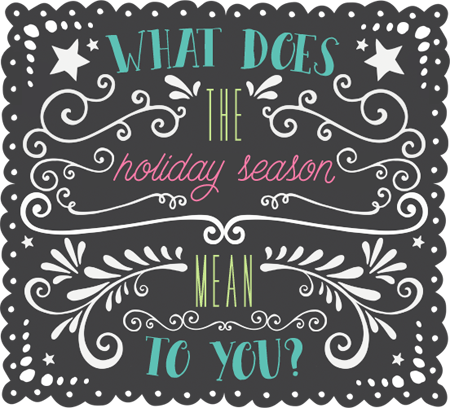 Christmas with my family is filled with lots of traditions I hold dear. Eating the approximately one million cookies my mom bakes. Listening to my dad's extensive Christmas CD collection, because he'll buy literally any album of Christmas music — even one by a pretty awful children's choir that everyone else in the family refuses to listen to. Arranging the SANTA stocking holders on the mantel to spell SATAN, which really enrages my mom when she finds out (sometimes days later!).
But my all-time favorite Christmas tradition doesn't involve cookies or presents or even a children's choir butchering the Bruce Springsteen version of "Santa Claus is Comin' to Town." It involves sitcoms.
If you've ever stumbled across Nick At Nite or any other channel that runs syndicated shows on Christmas Eve, you know what I'm talking about. Almost every sitcom has at least one, if not many, episodes about Santa, holiday parties, and Christmas mishaps. There's the episode of Sanford and Son where Fred, a total Scrooge, is visited by the ghosts of Christmas past, present, and future. There's the episode of The Office where Jim tries to express his feelings for Pam through a terrible Secret Santa gift swap. There's the episode of Full House where they all get stuck in the airport and Stephanie is worried Santa won't find them. There's the other episode of Full House where Mickey Rooney locks Jesse and Michelle in a joke store on Christmas Eve. Clearly the Tanners should just stay home during the holidays.
But the best Christmas sitcom episode, and the only one I have basically memorized, is from The Fresh Prince of Bel-Air. When Will finds out that the Banks family is going to decorate their mansion in boring, understated style, he decides that Ashley needs to experience the true Christmas spirit. So he goes all out and decorates their house in a beautifully tacky fashion that offends all their neighbors and angers Uncle Phil. In the process, Evander Holyfield shows up and a bunch of children sing Christmas carols. It's perfect.
Christmas episodes of sitcoms exaggerate what's so great about sitcoms in the first place: the predictability, the familiarity, the way every conflict will always be wrapped up within 21 minutes, plus commercial breaks. If a child is worried about Santa Claus showing up, don't worry! He'll show up by the end of the episode, probably in a mysterious way that will leave the adults saying something like, "But if that wasn't you in the Santa costume…then who was it?" If someone is being a Scrooge, they'll have a change of heart eventually. If someone's worried about finding or getting the right gift, they'll realize that gifts aren't what's important. And there's a 50% chance things are going to end with Christmas carols.
The older I get, the more I love the predictability and corniness contained in these half hour increments. Because Christmas changes as you get older. Sometimes it's for better, sometimes it's for worse, but nothing gold and sparkly and covered in glittery snowflakes can stay. Kids grow up, people get married, siblings move away, people have babies, relatives die. Some of those changes make Christmas so much fuller and happier, but some of them make it a little bit sadder. Even though I love the Christmases I have now and look forward to this year's more than ever, sometimes I look at pictures of Christmases past and feel a pang of nostalgia as I think, "It will never, ever be that way again."
That's just life. Change happens and time marches forward. But in Sitcomland, nothing ever changes. The Tanners are always stuck in that airport. Fred is always visited by the Christmas ghosts. And Will Smith always decorates the Banks mansion in a gloriously overdone fashion. It never changes and it's always perfect.
Title Love and Other Alien Experiences
Author Kerry Winfrey
Pages N/A
Target Audience & Genre Young Adult, Contemporary, Romance
Published November 10th, 2015 by The Studio
Find It On Goodreads ● Amazon.com ● Chapters
My name is Mallory Sullivan.

My therapist says I have an anxiety disorder.

My brother says I'm an "optimistic recluse."

Everybody else says I'm a freak.

And they kind of have a point, because I haven't left the house in 67 days and only attend class via the webcam on my laptop. The person I talk to the most other than my mom and brother is the completely obnoxious BeamMeUp, and all we do is argue on New Mexico's premiere alien message board.

But after yesterday, I have something: a chance. If I can win the homecoming crown by convincing resident hot popular guy and Friday Night Lights spawn Brad Kirkpatrick to go as my date, then maybe #StayAtHome will never appear next to the name @Mallory_Sullivan ever again.

First, I have to leave my room.