'Tis The Season: Authors Talk Holidays is a special seasonal feature on Pop! Goes The Reader in which some of my favourite authors help me to celebrate the spirit of the season and spread a little holiday cheer. So, pour yourself a cup of hot chocolate and snuggle in by the fireside as they answer the question: "What does the holiday season mean to you?" You can find a complete list of the participants and their scheduled guest post dates Here!
About Kristin Rae

Kristin Rae was born and raised in Texas though her accent would suggest otherwise. She's addicted to books, music, movies, crafty things, and chocolate. A former figure skating coach, LEGO merchandiser, and photographer, she's now happy to create stories while pretending to ignore the carton of gelato in the freezer. Kristin lives in Houston with her husband and their two boxers.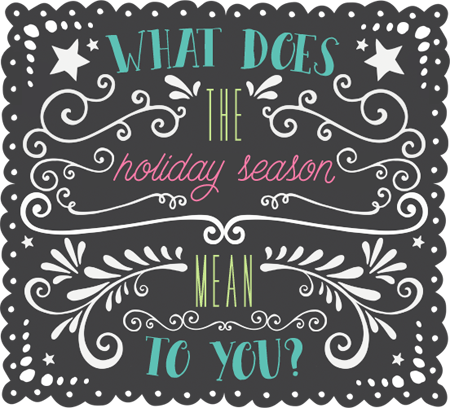 Have you seen the movie called The Holiday? It's one of my favorites that I watch any time of year, not only because I sort of want to be Kate Winslet, but because of the fuzzy feelings the story gives me. There's a part in the movie where Jude Law's character explains how mushy he is, calling himself a "major weeper." The older I get, with each Christmas that comes and goes in a flurry, that's a title I've come to adopt. I'm a major weeper.
Sometimes I'm surprised by what gets a tear out of my eye. A commercial, a smile from my daughter, a beautiful melody with a touching lyric, even the ending of a predictable Hallmark movie — it's all fair game. But there's something about the Christmas season that amps up the feels. And since I'm a weeper now, with a fast-growing kid of my own, I find myself wanting to recreate the things my parents and I did when I was young. Baking my great grandma's lemon sugar cookies, decorating the tree while listening to Bing Crosby and Frank Sinatra (on vinyl, of course), watching It's A Wonderful Life, dancing in the living room to J-I-N-G-L-E Bells, driving around to look at Christmas lights, feasting on cinnamon rolls Christmas morning, and and and.
But some traditions are hard to hang on to, because this thing called CHANGE happens. Change is known to bring on the major weeping. When I got married in November of 2006, the holidays quickly followed. I'm an only child with all extended relatives in another state (and we hadn't made the super long drive to do holidays with them since I was little), so I was used to the three of us going to church then hanging out together at home in our pajamas, watching movies and drinking hot chocolate. But it was easier logistically for me to join in the already established festivities of hubs' family. Not only was I overwhelmed with how large his family was, I also felt horrible for leaving my parents alone. I remember sitting in Christmas Eve service with this huge new family, sobbing into my coat and hoping my new in-laws didn't notice as it truly sunk in that my life had changed more than I was prepared for.
But the first year of doing something different is always the hardest. Now that I've been married nine years, somewhere along the way I embraced the change. Because now it wouldn't feel like Christmas without Christmas Eve dinner and Christmas morning brunch with his side of the family, and a meal and bonfire with my parents. This holiday season brought a couple big changes, and what do you know, I've been crying nearly every day the entire month of December. Two weeks ago we moved from the house we bought when we were first married, and just a few days ago I said goodbye to the house I grew up in as my parents moved too. It's still all so fresh I'm a little teary as I type this (surprise), but I keep reminding myself that I'll always have the memories we made in those places, and I'm blessed to be able to make new memories in new places.
Are you a major weeper? Is change hard for you too?
Title What You Always Wanted
Author Kristin Rae
Pages 320 Pages
Target Audience & Genre Young Adult, Contemporary, Romance
To Be Published March 29th, 2016 by Bloomsbury USA Childrens
Find It On Goodreads ● Amazon.com ● Chapters
Drama girl Maddie Brooks has always had high standards for guys. But she has yet to find one who can live up to the romantic, classic Hollywood heartthrobs, especially the dreamy song-and-dance man Gene Kelly. When Maddie begins to carpool with Jesse Morales, her new neighbor and star pitcher of the baseball team, she's struck by his wit, good looks, and love for his family – but a guy so into sports is definitely not her style. Then Maddie discovers that Jesse was raised as a dancer and still practices in the community theater dance studio to keep in shape. Perhaps her perfect dream guy exists after all! But when it becomes clear that baseball – not dance – is Jessie's passion, can Maddie find a way to let her dream guy go and appreciate the charms of the amazing guy in front of her?