'Tis The Season: Authors Talk Holidays is a special seasonal feature on Pop! Goes The Reader in which some of my favourite authors help me to celebrate the spirit of the season and spread a little holiday cheer. So, pour yourself a cup of hot chocolate and snuggle in by the fireside as they answer the question: "What does the holiday season mean to you?" You can find a complete list of the participants and their scheduled guest post dates Here!
About Laura Langston

By the time she hit grade four, Laura Langston knew she wanted to be a writer. So did the teachers. It was the persistent daydreaming and invisible friends that tipped them off. Since Laura grew up knowing no writers – and consequently didn't know how to be one – she became a journalist instead. The trouble is, journalists are expected to tell the truth, the whole truth, and nothing but the truth.

But making stuff up is way more fun. So eventually Laura traded one notebook for another and today she writes books for tweens, teens, children and sometimes adults.

When she's not writing, reading or walking her Shetland sheepdogs, Laura can be found spying on people in the grocery store or twisting herself into a pretzel in yoga class. Langston lives in Victoria, British Columbia with her family.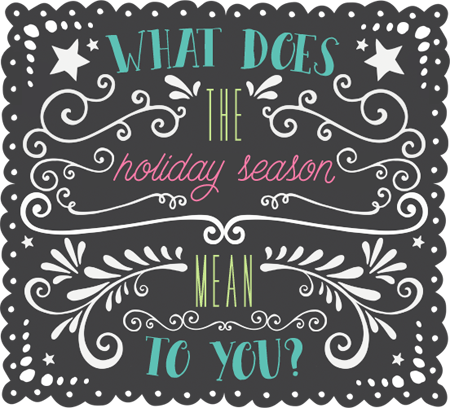 When Jen invited me to participate in the holiday blog round up – and write about what the holiday season means to me – so many thoughts came to mind that it was hard to settle on just one thing. After some thought, I decided to write about Christmas Eve. The night of December 24th is probably the most meaningful part of my holiday celebration. But it wasn't always.
As a child, Christmas Eve was never anything special. If anything, I was impatient for the night to end because my parents always seemed stressed and preoccupied (sometimes downright grumpy), and I just wanted Santa to come. Still I was determined that when I had children of my own, things would be different. Christmas Eve at our house would be loving and relaxed. We'd make a beautiful dinner for friends and family. Take the children to church. Emphasize the spiritual over the commercial.
But in reality, December is a crazy month. Not only is there baking, decorating, and shopping to do, work doesn't stop either. I'm almost always in the middle of edits or facing a book deadline of one kind or another. And our house is holiday central with out of town family members arriving around the 22nd. While it's great to see them, their arrival heralds another element of stress. Extra beds to make up. Dietary issues to consider. It's no wonder my parents were exhausted and cranky by the time December24th came. When my children were small, I was too.
But I was determined not to lose sight of what mattered. I wanted to establish a tradition that would kick off the holiday in a slow, loving and almost sacred way. The answer came by accident.
I had a pile of people to feed, I didn't want to cook (I had several days of cooking ahead of me) and I needed something fast so we could eat and get to an early church service. So I raided the fridge of what I had on hand: veggies and dip, smoked salmon, crackers and cheese, hummus and olives, some homemade antipasto. My two-year-old insisted on chicken fingers (and he was notoriously picky and I needed him to eat something more than a few carrot sticks) so I threw a dozen chicken fingers into the oven. Since it was on anyway, I heated some coconut shrimp I'd set aside for New Year's Eve (I'd figure out New Year's Eve later!) My Ukrainian mother-in-law (as picky an eater as her grandson) wanted perogies so my husband took care of cooking those. With the food laid out buffet style, I put on the carols, dimmed the lights, lit dozens of candles and called everyone to the table.
My eight-year-old daughter christened the Christmas Eve event 'a picky dinner' and we've done it ever since. But what started out as a fast, easy way to get a meal on the table has become a little more complex as more friends have joined the celebration. These days, we're as likely to add French Canadian tourtiere to the spread as we are Indian pakoras or Indonesian satay skewers.
But one thing never changes. We save dessert for later. After church, we come home, light a fire and cut into my mother-in-law's Christmas cakes. We always have a taste off to determine if this year we prefer the light or the dark cake more.
Christmas Eve now epitomizes what the holiday means to me. It's a time of friends and family, wonderful music and candlelight, good food and spiritual fellowship. It's as special and as relaxed as I wanted it to be back when I was a child. Only now I never want the evening to end.
Title The Art Of Getting Stared At
Author Laura Langston
Pages 288 Pages
Genre Young Adult, Contemporary, Realistic Fiction
Publisher Razorbill
To Be Published September 9th, 2014
Find It On Goodreads
Sixteen-year-old Sloane is given the biggest opportunity of her life – a chance for a film school scholarship – but she only has less than two weeks to produce a video. She also has to work with Isaac Alexander, an irresponsible charmer with whom she shares an uneasy history.

Then comes a horrifying discovery: Sloane finds a bald spot on her head. The pink patch, no bigger than a quarter, shouldn't be there. Neither should the bald spots that follow. Horror gives way to devastation when Sloane is diagnosed with alopecia areata. The autoimmune disease has no cause, no cure and no definitive outcome. The spots might grow over tomorrow or they might be there for life. She could become completely bald. No one knows.

Determined to produce her video and keep her condition secret, Sloane finds herself turning into the kind of person she has always mocked: someone obsessed with their looks. She's also forced to confront a painful truth: she is as judgmental as anyone else…but she saves the harshest judgments for herself.