'Tis The Season: Authors Talk Holidays is a special seasonal feature on Pop! Goes The Reader in which some of my favourite authors help me to celebrate the spirit of the season and spread a little holiday cheer. So, pour yourself a cup of hot chocolate and snuggle in by the fireside as they answer the question: "What does the holiday season mean to you?" You can find a complete list of the participants and their scheduled guest post dates Here!
About Laurie Elizabeth Flynn

Laurie Elizabeth Flynn writes contemporary fiction for young adults. Her debut, Firsts, will be published by Thomas Dunne Books/St Martin's Press on January 5, 2016.

Laurie went to school for Journalism, where the most important thing she learned was that she would rather write made-up stories than report the news. She also worked as a model, a job that took her overseas to Tokyo, Athens, and Paris. Laurie now lives in London, Ontario with her husband Steve, who is very understanding when she would rather spend time with the people in her head. Laurie can mostly be found writing happily at her desk, with the world's most spoiled Chihuahua on her lap. Laurie drinks way too much coffee, snorts when she laughs, and times herself when she does crossword puzzles.

Laurie is represented by the amazing Kathleen Rushall of the Marsal Lyon Literary Agency.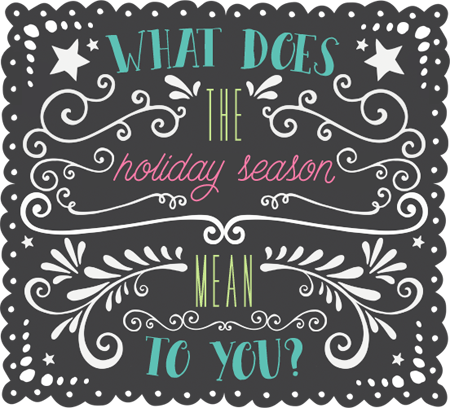 Santa has always been very good to me. Even when I didn't deserve it.
Even the year I flushed my sister's troll doll down the toilet in a fit of jealousy, I still woke up Christmas morning to a mountain of presents under the tree. I still got everything I wanted and more. I reveled in the excitement, the anticipation, the buzz of happy electricity in the air. I loved ripping into gifts and playing with new toys and seeing the goodies poking out of my stocking, which I diligently hung by the chimney with care on Christmas Eve. What could be better than presents, presents, presents? What could be better than getting everything you asked for?
Yes, I was obsessed with Christmas as a wide-eyed kid. I believed in Santa and eagerly awaited his visits. But as an adult, I know that the things I didn't wish for, the items I didn't write down on a piece of paper that my parents mailed off to the North Pole, the little rituals that happened every year, were the real gifts. Looking back at so many Christmases, I can't even come close to naming all the presents that were waiting for me on Christmas morning. But I haven't forgotten a single tradition, and the ones that meant the most to me happened before Santa even arrived.
They happened in the kitchen, where my sister and I would make shortbread and date-filed cookies with our dad. We'd help him measure out the ingredients for our grandma's famous shortbread recipe and we would always eat too much of the dough, but he would never get mad at us. We'd sit on stools at the counter waiting for the batch we put in the oven to be ready so we could add a sliver of maraschino cherry on top and try the first ones while they were still warm. Usually, the cookie tin was empty long before Christmas Day actually arrived.
They happened in the living room, when our family would decorate the tree as soon as it wasn't considered "too" early in the season. My mom would serve eggnog and my dad would pull out boxes and boxes from the "Christmas closet" in the basement because he was the only one who knew where everything was. My sister and I would giddily open the boxes and pull out every Christmas ornament and talk about the memories associated with each one. The collectable carousel horses that I got every year. The birds that over the years, lost wings and feathers but still got perched on the top branches of the tree, ready to take flight. The one-legged bear my sister bought in a Boxing Day sale since she felt sorry for it. The donkeys I made out of dough in kindergarten that eventually fell apart. The Grant Hill figurine my sister and I got for our basketball-loving dad. I adored that our tree was such a mishmash of memories, rather than a theme. Everything went on its branches. All the ornaments had a story. Nothing was left out.
They happened Christmas Eve, when my sister and I would open our new pajamas and our family would nestle in and watch the same trifecta of movies: 'Twas the Night before Christmas, How the Grinch Stole Christmas (the cartoon, not the frightening Jim Carrey version), and the one we most looked forward to, It's a Wonderful Life. When I was a kid, I thought Donna Reed was one of the most beautiful women I'd ever seen. I still do. When I was a kid, I wondered why my parents always cried at the end. I don't anymore, because I cry at the end now too, when Harry Bailey raises a glass to his brother George, the richest man in town.
Yes, Santa has always been very good to me. But my family was so much better. They made Christmas special. They made it magical.  
They still do.

My wonderful family, many Christmases ago. That's me on the bottom left, looking way too excited for presents.
Title Firsts
Author Laurie Elizabeth Flynn
Pages 320 Pages
Target Audience & Genre Young Adult, Contemporary, Realistic Fiction, Romance
To Be Published January 5th 2016 by St. Martin's Griffin
Find It On Goodreads ● Amazon.com ● Goodreads
Seventeen-year-old Mercedes Ayres has an open-door policy when it comes to her bedroom, but only if the guy fulfills a specific criteria: he has to be a virgin. Mercedes lets the boys get their awkward, fumbling first times over with, and all she asks in return is that they give their girlfriends the perfect first time – the kind Mercedes never had herself.

Keeping what goes on in her bedroom a secret has been easy – so far. Her absentee mother isn't home nearly enough to know about Mercedes' extracurricular activities, and her uber-religious best friend, Angela, won't even say the word "sex" until she gets married. But Mercedes doesn't bank on Angela's boyfriend finding out about her services and wanting a turn – or on Zach, who likes her for who she is instead of what she can do in bed.

When Mercedes' perfect system falls apart, she has to find a way to salvage her reputation and figure out where her heart really belongs in the process. Funny, smart, and true-to-life, Firsts is a one-of-a-kind young adult novel about growing up.