'Tis The Season: Authors Talk Holidays is a special seasonal feature on Pop! Goes The Reader in which some of my favourite authors help me to celebrate the spirit of the season and spread a little holiday cheer. So, pour yourself a cup of hot chocolate and snuggle in by the fireside as they answer the question: "What does the holiday season mean to you?" You can find a complete list of the participants and their scheduled guest post dates Here!
About Marcy Beller Paul

Marcy Beller Paul is a young adult author, former editor, and full-time mom who still has all the notes she passed in seventh grade (and knows how to fold them). She graduated from Harvard University and lives in New Jersey with her husband and two children. Underneath Everything will be published by Balzer + Bray, an imprint of HarperCollins, in Fall 2015. It is her first novel.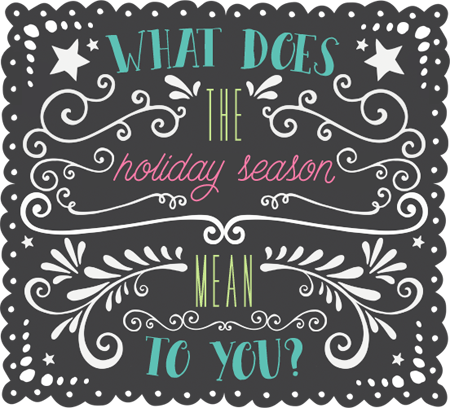 Christmas day was always quiet in my house. My brothers and I would wake up late and stay in our pajamas and our parents wouldn't complain. We'd order Chinese and listen to music and read. Every once in a while I'd look at the clock and try to figure out when it would be cool to call my friends before remembering that the answer was never — they'd be busy the whole day. Eventually the whole family would pile on the couch and put on a movie.
Hannukah isn't one of the most important Jewish holidays, but since it's the one with the presents and it's pretty close to Christmas it's hard not to compare, especially as a kid. Here were the facts of the fall calendar, as I saw them: I got off from school for Rosh Hoshanah and Yom Kippur so that I could go to temple and fast, but I didn't get off for Hannukah, the fun holiday. On the flip side, the non-Jewish kids got days off for Rosh Hoshanah and Yom Kippur so that they could hang out and have sleepovers, and then got an entire week off for a single-day blitz of presents and candy. Christmas was the Superbowl. Hannukah was a regular season NBA game. And let's face it, no one's getting together and making chili to watch the Knicks on a weeknight. Basically, it became pretty clear that the calendar was working against me.
And the radio. And the stores. And the decorations strung on streetlights in town.
I didn't want to be shut out from this thing that seemed as universal as Thanksgiving and New Year's. I wanted lights on our lawn and a tree in our window. I wanted a busy day full of presents and family that I could boast and bitch about to my friends later. I wanted to know what it felt like to believe in Santa Claus.
I got the first two when I met my husband (Sorry, Santa). I joined his family for Christmas and it was everything I'd always dreamed about: a busy holiday with a huge family, a beautiful tree, everybody happy as they went to sleep and thrilled when they woke up in the morning.
Now we have our own family. There are dreidels on the the table. There are lights on our bushes. There is a wreath on our door. There is a stained-glass Jewish star on the top of our tree. We aren't religious so we celebrate by preserving what's most important to us about the season: family and tradition. But celebrating twice means we're twice as busy. December is a blur of wrapping paper and road trips and menorahs and ornaments with homework and ballet and hockey shoved in between. There are lots of days off from school and work, but there isn't much downtime.
One morning in the kitchen my son asked why we don't have off from school for Hannukah. I felt an old pang of anger at the calendar on his behalf. Then I remembered: He isn't me. He doesn't wish for Christmas the way I did. He celebrates it. So what is it he's really asking for? I had to think about it. To think about him. My son is the kind of kid who loves his time off. He never shouts that he's bored as soon as he comes home from an activity like I did. He draws. He reads. He builds. He would have loved the way I used to spend Christmas. Actually I'm pretty sure that's his dream: All of us on the couch, curled up together with a movie. So in honor of family and tradition, this year I'm going to bring a bit of quiet to Christmas. And wish you some, too. May you all be reading this in your pajamas.
Title Underneath Everything
Author Marcy Beller Paul
Pages 304 Pages
Target Audience & Genre Young Adult, Contemporary, Realistic Fiction, Romance
Published October 27th, 2015 by Balzer + Bray
Find It On Goodreads ● Amazon.com ● Chapters
Mattie shouldn't be at the bonfire. She should be finding new maps for her collection, hanging out with Kris, and steering clear of almost everyone else, especially Jolene. After all, Mattie and Kris dropped off the social scene the summer after sophomore year for a reason.

But now Mattie is a senior, and she's sick of missing things. So here she is.

And there's Jolene: Beautiful. Captivating. Just like the stories she wove. Mattie would know; she used to star in them. She and Jolene were best friends. Mattie has the scar on her palm to prove it, and Jolene has everything else, including Hudson.

But when Mattie runs into Hudson and gets a glimpse of what could have been, she decides to take it all back: the boyfriend, the friends, the life she was supposed to live. Problem is, Mattie can't figure out where Jolene ends and she begins.

Because there's something Mattie hasn't told anyone – she walked away from Jolene over a year ago, but she never really left.

Poignant and provocative, Marcy Beller Paul's debut novel tells the story of an intoxicating — and toxic — relationship that blurs the boundary between reality and fantasy, love and loyalty, friendship and obsession.