'Tis The Season: Authors Talk Holidays is a special seasonal feature on Pop! Goes The Reader in which some of my favourite authors help me to celebrate the spirit of the season and spread a little holiday cheer. So, pour yourself a cup of hot chocolate and snuggle in by the fireside as they answer the question: "What does the holiday season mean to you?" You can find a complete list of the participants and their scheduled guest post dates Here!
About Melanie Conklin

Melanie Conklin is a writer, reader, and life-long lover of books and those who create them. She lives in South Orange, New Jersey with her husband and two small maniacs, who are thankfully booklovers, too. Melanie spent a decade as a product designer and approaches her writing with the same three-dimensional thinking and fastidious attention to detail. Counting Thyme  is her debut middle grade novel, coming from G.P. Putnam's Sons on April 12, 2016.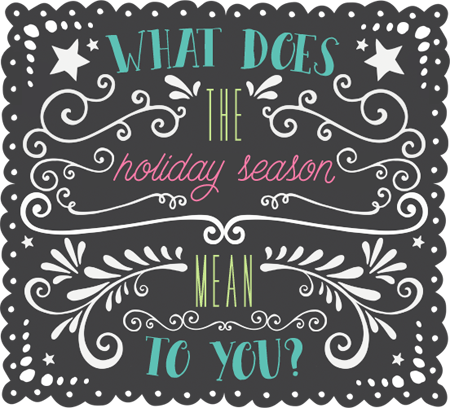 In our house, when the holidays arrive so do the cookies! It's pretty common to relate holidays with food — after all, holidays are a time to gather with family and share a meal. We do that too, but we also bake a ridiculous amount of cookies. It's a ritual that takes weeks, like some kind of annual meditation.
Why?
Cookies are just plain FUN. They make people smile. And if you make enough of them, there's almost ALWAYS a cookie for everyone. We try one new recipe each year, which results in kicking out one of our favorites. This has led to many heated debates in our household. I mean, how does one choose between ginger snaps and spritzes? The answer: You don't. Those are both staples! Have a heart, people!
I grew up baking cookies with my mom, learning how the dough should feel, whether it was scooped or rolled thin, when to ice them and how to store them so they stayed fresh. Now, my boys bake with me. In addition to the spritzes and ginger snaps, we make Russian tea cakes, pecan bars, chocolate burrs (with Corn Flakes), toffee squares, ice box cookies, magic cookie bars, and my favorite…iced and decorated cut-out cookies.
It's no wonder that these cookies make an appearance in Counting Thyme. When Thyme's family moves to New York for her little brother's cancer drug trial, Thyme can't help missing her old life. For Thyme and her mother, Mrs. Owens, even a small thing like baking holiday cookies is a welcome ritual, one filled with hope and love.
Title Counting Thyme
Author Melanie Conklin
Pages 320 Pages
Target Audience & Genre Middle Grade, Contemporary, Realistic Fiction
To Be Published April 12th, 2016 by G.P. Putnam's Sons Books For Young Readers
Find It On Goodreads ● Amazon.com ● Chapters
When eleven-year-old Thyme Owens' little brother, Val, is accepted into a new cancer drug trial, it's just the second chance that he needs. But it also means the Owens family has to move to New York, thousands of miles away from Thyme's best friend and everything she knows and loves. The island of Manhattan doesn't exactly inspire new beginnings, but Thyme tries to embrace the change for what it is: temporary.

After Val's treatment shows real promise and Mr. Owens accepts a full-time position in the city, Thyme has to face the frightening possibility that the move to New York is permanent. Thyme loves her brother, and knows the trial could save his life — she'd give anything for him to be well — but she still wants to go home, although the guilt of not wanting to stay is agonizing. She finds herself even more mixed up when her heart feels the tug of new friends, a first crush, and even a crotchety neighbor and his sweet whistling bird. All Thyme can do is count the minutes, the hours, and days, and hope time can bring both a miracle for Val and a way back home.