'Tis The Season: Authors Talk Holidays is a special seasonal feature on Pop! Goes The Reader in which some of my favourite authors help me to celebrate the spirit of the season and spread a little holiday cheer. So, pour yourself a cup of hot chocolate and snuggle in by the fireside as they answer the question: "What does the holiday season mean to you?" You can find a complete list of the participants and their scheduled guest post dates Here!
About Nicole Castroman

Born in Sandy, Utah, Nicole was lucky enough to come with her very own best friend…she has a twin sister who can read her mind and finish her sentences for her.

At the age of 13, she went to Europe for the first time and it changed her life. She loves learning about different people, languages and cultures and speaks fluent German. She knows enough Spanish to get herself into trouble and can still read the Cyrillic alphabet from when she studied Russian.

She received her B.A. from Brigham Young University and has lived in Germany, Austria and two different places called Georgia. One is located on the Black Sea. The other is the state of Georgia where she now lives with her handsome husband and two beautiful children who continue to amaze her.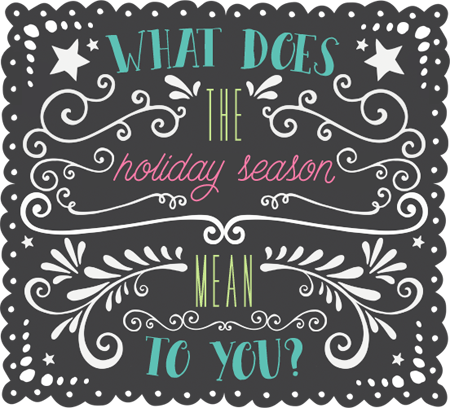 I'm so glad Jen asked me to be a part of the holiday blog round up and share what this time of year means to me. I love the Christmas season. Love. It. For me, it's magical. There's anticipation in the air, an excitement, and I want to soak it all in. (Especially because once January hits, BAM, winter isn't fun anymore.) But in December, it's dreamlike. Cue the wood smoke coming from chimneys, the chilly bite in the air, (depending where you live), the decorations lighting up the yards in the neighborhood. It makes me happy, and I want to share that with others.
Thankfully, my husband and I both feel this way and we want to help our children feel and share this happiness, as well. We like to think we're doing an okay job of it.
When I was younger, I made a Christmas wish list. If my siblings or I wanted something, we needed to wait until the end of the year to see if we were on the naughty or nice list. (Just a side note, I was ALWAYS on the nice list, because I was a very obedient child. Never a rule breaker. I'd break out in hives if a teacher so much as raised a voice at me. I've learned to relax a bit since then.)
Now that I'm a mother with children of my own, I feel like we live in a different time, or at least a different place from where I grew up. If my kids need something during the course of the year, we buy it for them. If they want something, we might wait a few weeks or months to let them earn money to pay towards their goal, but we still will end up purchasing it. (Thankfully my kiddos aren't money hungry terrors. They are very good and don't ask for anything outrageous. I truly love my babies, even though they aren't babies anymore.) I recognize how fortunate we are and I don't want my children to take things for granted. My parents were great at reminding us to think about others, especially those who didn't have as much as we did.
When my husband and I ask our children what they want for Christmas, we pretty much get the same response every year. "Nothing. I don't need anything." And it's true. They don't really need anything. We recognize that we've been blessed, but there are so many who are sad, or depressed, or hurting at this time of year. I want my children to think of those people and see what they can do for them. As my kids get older, I don't want them to remember specific presents they receive. I want them to remember the times we bought some balls and Barbies for a foster child toy drive. I want them to remember us sprinting away from a house where we just dropped off a pile of clothing and gifts to a family in need. (I'd rather they NOT remember the sound of the opossum in the tire well as we sped away, but unfortunately NONE of us will ever forget that sound. If only it had waited a few more seconds to cross the road behind us and not in front of us.) And I want them to remember the look on an elderly woman's smiling face when we dropped off gifts for the Twelve Days of Christmas.
If these are the kinds of memories my children have of Christmas spent with us in our house, then I will be a very happy woman indeed.
Title Blackhearts
Author Nicole Castroman
Pages 384 Pages
Target Audience & Genre Young Adult, Historical Fiction, Retelling, Romance, Fantasy, Adventure
To Be Published February 9th, 2016 by Simon Pulse
Find It On Goodreads ● Amazon.com ● Chapters
Blackbeard the pirate was known for striking fear in the hearts of the bravest of sailors. But once he was just a young man who dreamed of leaving his rigid life behind to chase adventure in faraway lands. Nothing could stop him — until he met the one girl who would change everything.

Edward "Teach" Drummond, son of one of Bristol's richest merchants, has just returned from a year-long journey on the high seas to find his life in shambles. Betrothed to a girl he doesn't love and sick of the high society he was born into, Teach dreams only of returning to the vast ocean he'd begun to call home. There's just one problem: convincing his father to let him leave and never come back.

Following her parents' deaths, Anne Barrett is left penniless and soon to be homeless. Though she's barely worked a day in her life, Anne is forced to take a job as a maid in the home of Master Drummond. Lonely days stretch into weeks, and Anne longs for escape. How will she ever realize her dream of sailing to Curaçao — where her mother was born — when she's stuck in England?

From the moment Teach and Anne meet, they set the world ablaze. Drawn to each other, they're trapped by society and their own circumstances. Faced with an impossible choice, they must decide to chase their dreams and go, or follow their hearts and stay.