February & March
Hi everyone, and welcome to another edition of 'Looking Back On…'! Given the fact that Pop! Goes The Reader was on hiatus for three weeks during the months of February-March and that I've been continually battling a general reading and blogging slump since then, this month's summary post will be a little more sparse than usual. Because my hiatus coincided with the end of February, I wasn't able to do a 'Looking Back On' last month and have decided to cover both Feburary and March in this post instead. Work was unusually busy in both February and March which certainly had a noticeable impact on the rest of my life and left me with little energy for anything else. That said, I do have a holiday coming up in April and I can't wait to use the few days off that I've been given to begin catching up on all of the books and reviews that have been unintentionally pushed to the side in the last couple of weeks or so. Thankfully, it wasn't all bad, however. I did see a number of wonderful films this month, including Frozen, Muppets Most Wanted, and Saving Mr. Banks. (Are we beginning to sense a theme here?) Oh, Disney, you never let me down. Although I didn't review it on the blog, I also became completely engrossed in the wonderful adult, urban fantasy series, Demonica, by Larissa Ione and its companion series, Lords of Deliverance. For whatever reason I've always had a tendency to retreat to the Urban Fantasy genre when I'm feeling stressed or overwhelmed, likely because of how far withdrawn the stories are from my everyday life, and Ione's work did not disappoint. Her world-building is complex and thoughtful and the chemistry between many of the characters was enough to nearly set my Kindle alight.

This Month I Reviewed…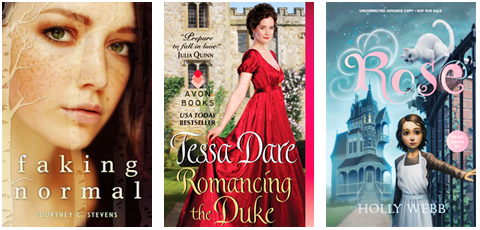 1) Faking Normal by Courtney C. Summer
2) Romancing The Duke by Tessa Dare
3) Rose by Holly Webb

I Feel Pretty, Oh So Pretty: This Month On Do! Judge A Book By Its Cover…
1) Do! Judge A Book By Its Cover – Issue Nineteen: Middle Grade (Part 3)
2) Do! Judge A Book By Its Cover – Issue Twenty: Historical Romance
3) Do! Judge A Book By Its Cover – Issue Twenty-One: Literary Fiction (Part 2)
4) Do! Judge A Book By Its Cover–Issue Twenty-Two: Historical Fiction (Part 3)
5) Do! Judge A Book By Its Cover–Issue Twenty-Three: Contemporary (Part 4)

It's The Final Countdown: This Month On Top Ten Tuesday…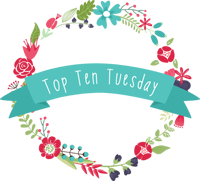 1) Top Ten Books That Made Me Cry
2) Top Ten All Time Favorite Books In The Contemporary Genre
3) Top Ten Books On My Spring To-Be-Read List
3) Top Eight Things On My Bookish Bucket List

This Month I Was Waiting On…
1) On The Road To Find Out by Rachel Toor
2) We Were Liars by E. Lockhart
3) All Four Stars by Tara Dairman
4) Open Road Summer by Emery Lord

Variety Is The Spice Of Life: Elsewhere On The Blog…
1) Cover Reveal: Not In The Script by Amy Finnegan
2) The Literary Shopaholic: Issue Two
I Couldn't Stop Listening To…

Metronomy Love Letters
(Find it on iTunes!)
Favourite Songs: The Upsetter, I'm Aquarius & Love Letters
St. Vincent St. Vincent
(Find it on iTunes!)
Favourite Songs: Birth In Reverse, Prince Johnny & I Prefer Your Love
Sally Seltmann Hey Daydreamer
(Find it on iTunes!)
Favourite Songs: Billy, Needle In The Hay & Catch Of The Day


The Jezabels The Brink
(Find it on iTunes!)
Favourite Songs: Look Of Love, Beat To Beat & No Country
Sam Roberts Band Lo-Fantasy
(Find it on iTunes!)
Favourite Songs: Shapeshifters, We're All In This Together & Metal Skin
Foster The People Supermodel
(Find it on iTunes!)
Favourite Songs: Coming Of Age, Nevermind & Best Friend

Bastille Bad Blood
(Find it on iTunes!)
Favourite Songs: Pompeii, Things We Lost In The Fire & Laura Palmer
Foster The People Torches
(Find it on iTunes!)
Favourite Songs: Pumped Up Kicks, Don't Stop (Colour On The Walls) & Waste
Lowell I Killed Sara V.
(Find it on iTunes!)
Favourite Songs: 88, The Bells & Palm Trees

Don't forget to add me on Instagram to see all my latest updates!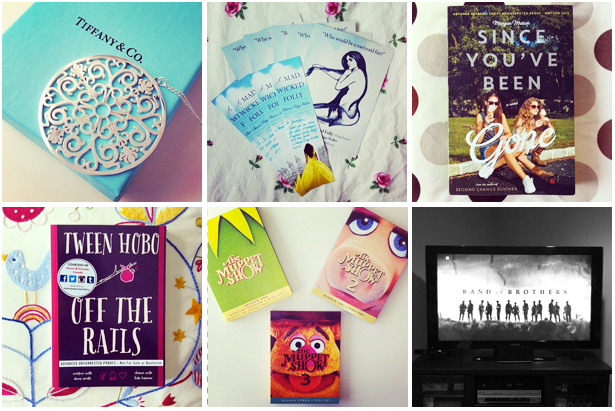 Here are just a few of the things that I enjoyed around the blogosphere this month when I wasn't busy working on Pop! Goes The Reader!
Website Of The Month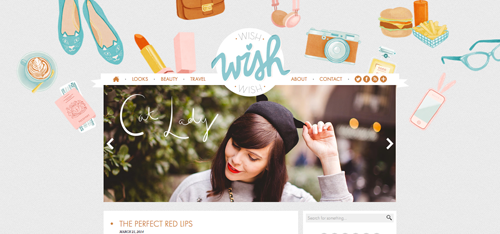 I have to say a big 'Thank you!' once again to Alice-Jane at Crazy Red Pen for introducing me to WishWishWish. This sweet, whimsical blog is an irresistible combination of posts about fashion, food, beauty, travel, and so much more and I simply can't get enough. Carrie's photography is to die for and her sartorial sensibilities even more so. There are few things I enjoy more than sipping a cup of tea as I check her blog every morning.

Pause For Thought: Interesting & Inspiring Discussion Posts & Articles
» 18 Ways to Motivate Yourself in the Moment by Tom Ewer @ Leaving Work Behind
» 27 Productive Things You Can Do in 5 Minutes by Alex Cavoulacos @ The Daily Muse
» 11 Reasons to Date a Bookworm @ The Huffington Post
» 15 Dating Problems Only Book Lovers Understand @ The Huffington Post
» Why You're A Big Deal, No Matter What Your Audience Size May Be by Alexandra @ Alexandra Franzen.com
» Why the Word "Should" Can be Harmful and 3 Empowering Alternatives by Hannah Braime @ Tiny Buddha
» How to Blog Effectively When You're Feeling Overwhelmed by Stacey Roberts @ Pro Blogger
» Five Bookish iPhone Games You Should Be Playing Right Now by Eric Smith @ Quirk Books
» What Kind Of Reader Are You? by Hannah @ So Obsessed With
» What It's Like To Be A Mood Reader by Jamie @ The Perpetual Page-Turner
» Are You Smarter Than An Author? by Betty @ Book Rock Betty
» Venturing Outside Of Your Reading Comfort Zone by Ginger @ GReads!
» Getting Enjoyment Out Of Books by Jenna @ Jenna Does Books
» When Books Make You Angry by Jenna @ Jenna Does Books
Farewell, February & March! So, how did you fare this month? Did you read anything interesting or do anything special? Let me know in the comments – I would love to hear from you!