The Writing's On The Wall is a regular feature on Pop! Goes The Reader in which I create desktop wallpapers inspired by some of my favourite novels.
When I first came up with the idea for The Writing's On The Wall, there was one book I knew I wanted to eventually pay tribute to: Jessi Kirby's Golden. The novel I selected as the 'Best Book of 2013' and the 'Book That Had The Greatest Impact On Me' in my Annual End of Year Survey, Golden was a story that touched me deeply, not only because of how closely I was able to identify with Parker's journey, but because of the sheer power and resonance of Kirby's narrative voice. Of course, the latter should have come as no surprise. I've long been a fan of the author's work, having previously adored both Moonglass and In Honor, and Golden was no exception. Like the novel on which it was based, I knew I wanted whatever wallpaper I created to be understated and elegant, and to focus not on cartoons or gimmicks, but on the sheer loveliness of Kirby's words. Of course, the biggest problem then was deciding which quote out of the hundreds of stunning, inspiring passages to highlight. While the final product can't hope to rival the beauty of the original work in question, I'm happy with the final result, and now can only hope that you might be, too!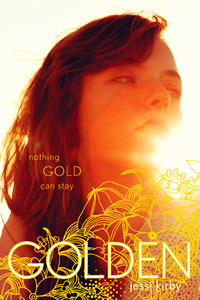 Title Golden
Author Jessi Kirby
Pages 278 Pages
Genre Contemporary, Realistic Fiction, Mystery, Coming of Age, Romance
Publisher Simon & Schuster Books for Young Readers
To Be Published May 14th, 2013
Find It On Goodreads
Seventeen-year-old Parker Frost has never taken the road less traveled. Valedictorian and quintessential good girl, she's about to graduate high school without ever having kissed her crush or broken the rules. So when fate drops a clue in her lap—one that might be the key to unraveling a town mystery—she decides to take a chance.

Julianna Farnetti and Shane Cruz are remembered as the golden couple of Summit Lakes High—perfect in every way, meant to be together forever. But Julianna's journal tells a different story—one of doubts about Shane and a forbidden romance with an older, artistic guy. These are the secrets that were swept away with her the night that Shane's jeep plunged into an icy river, leaving behind a grieving town and no bodies to bury.

Reading Julianna's journal gives Parker the courage to start to really live—and it also gives her reasons to question what really happened the night of the accident. Armed with clues from the past, Parker enlists the help of her best friend, Kat, and Trevor, her longtime crush, to track down some leads. The mystery ends up taking Parker places that she never could have imagined. And she soon finds that taking the road less traveled makes all the difference.

1280×800 » 1440×900 » 1680×1050 » 1920×1200 » 2560×1400
I would like to say a big 'thank you' to Summer Raine and DigiWorkshop whose clipart I purchased, edited and used in the creation of this wallpaper!
What book would you like to see made into a desktop wallpaper next? Let me know in the comments – I would love to hear from you!