The Writing's On The Wall is a regular feature on Pop! Goes The Reader in which I create desktop wallpapers inspired by some of my favourite novels.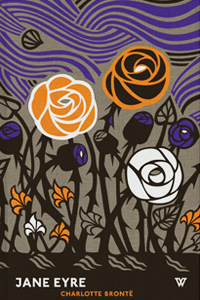 Title Jane Eyre
Author Charlotte Brontë
Pages 521 Pages
Genre Classic Literature, Historical Fiction, Gothic, Romance
Publisher Penguin Classics
To Be Published October 16, 1847
Find It On Goodreads
Orphaned into the household of her Aunt Reed at Gateshead, subject to the cruel regime at Lowood charity school, Jane Eyre nonetheless emerges unbroken in spirit and integrity. She takes up the post of governess at Thornfield, falls in love with Mr. Rochester, and discovers the impediment to their lawful marriage in a story that transcends melodrama to portray a woman's passionate search for a wider and richer life than Victorian society traditionally allowed. With a heroine full of yearning, the dangerous secrets she encounters, and the choices she finally makes, Charlotte Bronte's innovative and enduring romantic novel continues to engage and provoke readers.
1280×800 » 1440×900 » 1680×1050 » 1920×1200 » 2560×1400 » iPhone 5 » iPhone 6 » iPad
I would like to say a big 'thank you' to Webvilla Design, Nicky Laatz Typography & Design and Noe Araujo whose clipart and/or fonts I purchased, edited and used in the creation of this wallpaper!
What book would you like to see made into a desktop wallpaper next? Let me know in the comments – I would love to hear from you!