The Writing's On The Wall is a regular feature on Pop! Goes The Reader in which I create desktop wallpapers inspired by some of my favourite novels.
No, your eyes are not deceiving you – It's a new feature on Pop! Goes The Reader! If there's one thing that I love to do (apart from reading, that is) it's tinkering around in Photoshop. So, it seemed only natural that I combine my two passions. Of course, once I decided to do so, the only logical place to begin was with my favourite book of 2013, The Rosie Project. Since I first read it back in August 2013, I've given over twenty copies of The Rosie Project to family and friends as gifts and have even been known to press a copy into the hands of unsuspecting strangers while perusing the shelves at the local bookstore. It remains one of the sweetest, most romantic, charming, intelligent, and witty novels I've had the pleasure of reading in quite some time and I can hardly wait until the release of the second novel, The Rosie Effect! I can only hope that what I've created does it justice.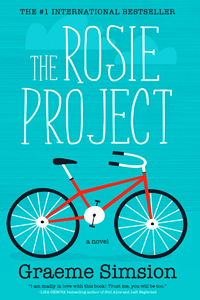 Title The Rosie Project
Author Graeme Simsion
Pages 329 Pages
Genre Realistic Fiction, Contemporary, Romance
Publisher HarperCollins
To Be Published May 21st, 2013
Find It On Goodreads
Don Tillman, professor of genetics, has never been on a second date. He is a man who can count all his friends on the fingers of one hand, whose lifelong difficulty with social rituals has convinced him that he is simply not wired for romance. So when an acquaintance informs him that he would make a "wonderful" husband, his first reaction is shock. Yet he must concede to the statistical probability that there is someone for everyone, and he embarks upon The Wife Project. In the orderly, evidence-based manner with which he approaches all things, Don sets out to find the perfect partner. She will be punctual and logical—most definitely not a barmaid, a smoker, a drinker, or a late-arriver.

Yet Rosie Jarman is all these things. She is also beguiling, fiery, intelligent—and on a quest of her own. She is looking for her biological father, a search that a certain DNA expert might be able to help her with. Don's Wife Project takes a back burner to the Father Project and an unlikely relationship blooms, forcing the scientifically minded geneticist to confront the spontaneous whirlwind that is Rosie—and the realization that love is not always what looks good on paper.

The Rosie Project is a moving and hilarious novel for anyone who has ever tenaciously gone after life or love in the face of overwhelming challenges.

1280×800 » 1440×900 » 1680×1050 » 1920×1200 » 2560×1400
I would like to say a big 'thank you' to Create The Cut and Miss Graphica whose clipart I purchased, edited and used in the creation of this wallpaper!
Would you like to see this feature again in the future? What books would you like to see made into a desktop wallpaper? Let me know in the comments – I would love to hear from you!