"Top Ten Tuesday" is a weekly meme hosted by The Broke and the Bookish!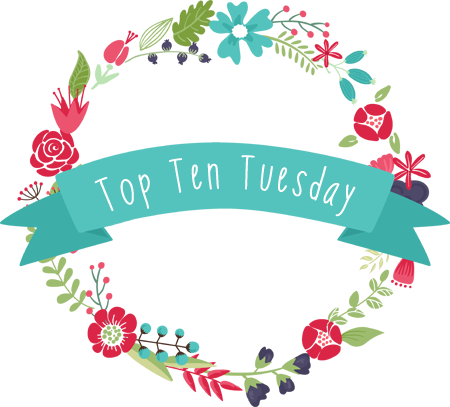 This week's Top Ten Tuesday topic is the Top Forty-Four Most Anticipated 2015 Debut Novels.
So. I might be stretching the limitations of this week's Top Ten Tuesday a little, strictly speaking. Maybe. Possibly. In my defence, however, anyone who has taken more than the most fleeting of glimpses at the list of debuts set to be published in 2015 would feel compelled to do the same. I am absolutely overwhelmed by the wealth, creativity and, most importantly, the diversity of the titles that will be released over the course of the following year. In all honesty, there is nothing that makes me happier or more excited than discovering the work of a new debut author. While the consistency and reliability of a favourite author whose work you're already familiar with is a blessing as well, the prospect of discovering a new voice and a new story that will remain with you for years to come is nothing short of wonderful. As of right now, I've been lucky enough to have been given the opportunity to read two titles on this list – Simon vs. the Homo Sapiens Agenda by Becky Albertalli and Mosquitoland by David Arnold – and if these novels are any indication of what else is to follow, we're in for a very, very special year indeed.
Please Note: When I put this list together several weeks ago, twelve of the books I wanted to include did not yet have finalized covers. Unwilling to leave them out, I instead made little individual banners for each book, all of which can be found at the conclusion of this post.
As always, these choices are listed in no particular order.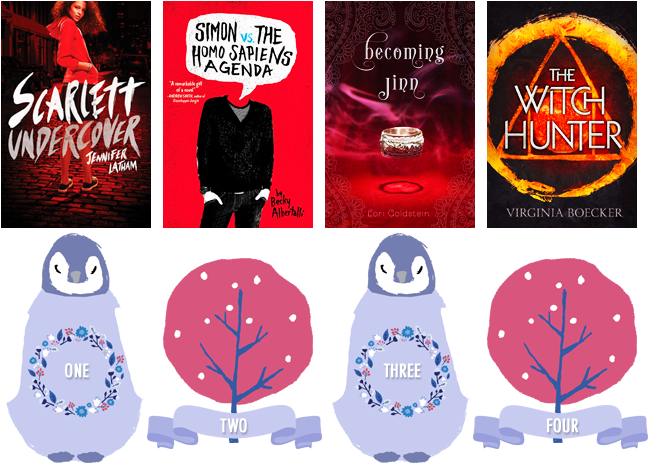 1) Scarlett Undercover by Jennifer Latham
2) Simon vs. the Homo Sapiens Agenda by Becky Albertalli
3) Becoming Jinn by Lori Goldstein
4) The Witch Hunter by Virginia Boecker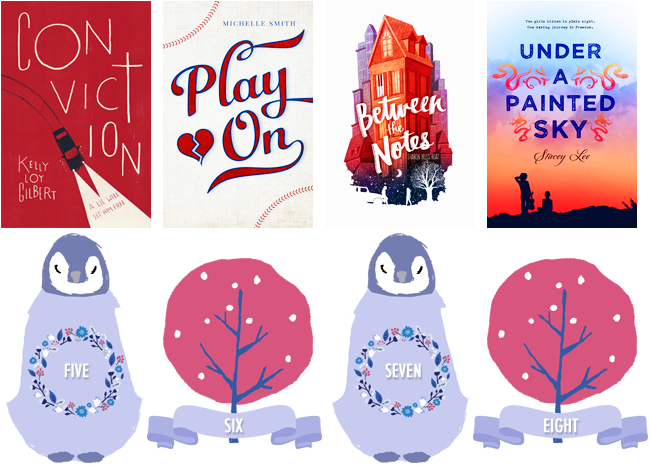 5) Conviction by Kelly Loy Gilbert
6) Play On by Michelle Smith
7) Between The Notes by Sharon Huss Roat
8) Under A Painted Sky by Stacey Lee
9) When Reason Breaks by Cindy L. Rodriguez
10) Written In The Stars by Aisha Saeed
11) Valiant by Sarah McGuire
12) I Am Drums by Mike Grosso
13) More Happy Than Not by Adam Silvera
14) The Sound Of Life and Everything by Krista Van Dolzer
15) Unusual Chickens For The Exceptional Poultry Farmer by Kelly Jones
16) The Night We Said Yes by Lauren Gibaldi
17) Dead To Me by Mary McCoy
18) Mothman's Curse by Christine Hayes
19) Mosquitoland by David Arnold
20) The Water and the Wild by K.E. Ormsbee
21) Denton Little's Deathdate by Lance Rubin
22) Monstrous by MarcyKate Connolly
23) Hello, I Love You by Katie M. Stout
24) Playlist For The Dead by Michelle Falkoff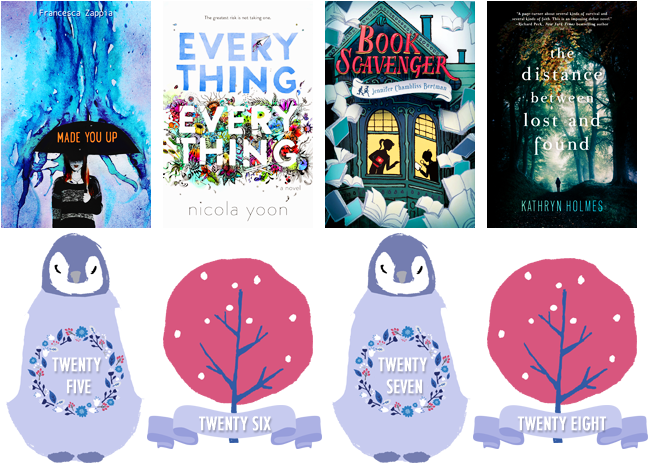 25) Made You Up by Francesca Zappia
26) Everything, Everything by Nicola Yoon
27) Book Scavenger by Jennifer Chambliss Bertman
28) The Distance Between Lost and Found by Kathryn Holmes
29) Tangled Webs by Lee Bross
30) Anne & Henry by Dawn Ius
31) We All Looked Up by Tommy Wallach
32) My Heart and Other Black Holes by Jasmine Warga
33) The One Thing by Marci Lyn Curtis
34) Prom Bitch by Ami Allen-Vath
35) The Yearbook by Carol Masciola
36) Lock & Mori by Heather Petty
37) Bookishly Ever After by Isabel Bandeira
38) This Monstrous Thing by Mackenzi Lee

39) The Weight Of Feathers by Anna-Marie McLemore
40) Last In A Long Line Of Rebels by Lisa Lewis Tyre
41) Underneath Everything by Marcy Beller Paul
42) What Happens In Water by Diana Gallagher
43) For The Record by Charlotte Huang
44) Finding Audrey by Sophie Kinsella