"Top Ten Tuesday" is a weekly meme hosted by The Broke and the Bookish!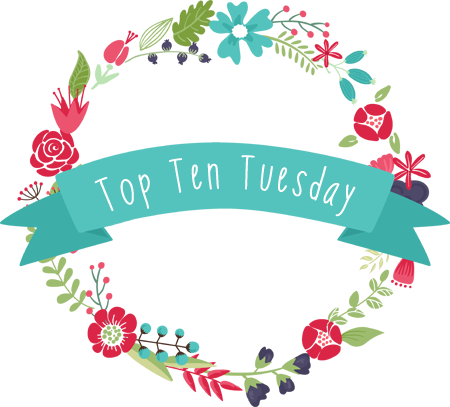 This week's Top Ten Tuesday topic is the Top Ten Books To Read If You Love Mad Men.
For those of you who don't know, I'm a big fan of AMC's series, Mad Men. Huge, really. I've watched the series since the first episode premiered on July 19, 2007 and I have never missed an episode. For me, the community that surrounds Mad Men is as fascinating as the show itself. I love the rampant speculation and viewer theories about the future of current plotlines and generally reading other people's thoughts on the show I adore. So, it should come as little surprise that I quickly began to seek out other sources of information after watching the first season. These are just a few of the books that I found along the way! Pull up a chair, pour a martini and relax as these ten books take you deeper inside the period and the world that is Mad Men.
Please Note: I have not read every single book on this week's list. That said, those I have read, including Mad Men Unbuttoned, Mad Men: The Illustrated World, Mad Women, The Fashion File and Mid-Century Ads: Advertising From The Mad Men Era I highly recommend for fans of the show based on my own personal experience. Those I haven't yet read have been quickly added to my to-be-read list.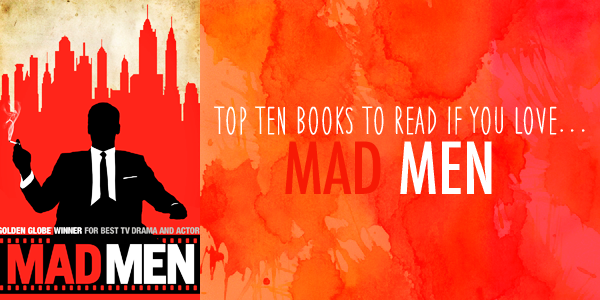 As always, these choices are listed in no particular order.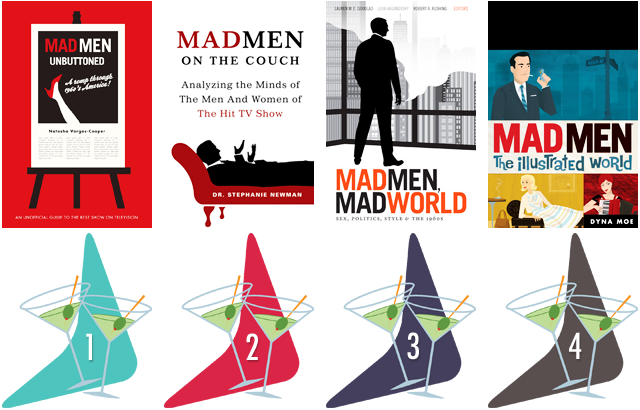 1) Mad Men Unbuttoned by Natasha Vargas-Cooper
2) Mad Men on the Couch by Stephanie Newman
3) Mad Men, Mad World by Lauren M. E. Goodlad, Lilya Kaganovsky & Robert A. Rushing
4) Mad Men: The Illustrated World by Dyna Moe
5) Mad Women by Jane Maas
6) The Fashion File by Janie Bryant
7) Mid-Century Ads: Advertising From The Mad Men Era by Jim Heimann & Steven Heller
8) Soap, Sex, and Cigarettes: A Cultural History of American Advertising by Juliann Sivulka
9) The Real Mad Men by Andrew Cracknell
10) The Unofficial Mad Men Cookbook by Judy Gelman & Peter Zheutlin
Let's celebrate the wonder that is Mad Men with a GIF of my favourite scene! Oh, Pete Campbell. There will never be another character quite like you. Be still my heart.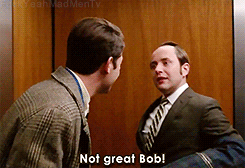 (©)