"Top Ten Tuesday" is a weekly meme hosted by The Broke and the Bookish!

This week's Top Ten Tuesday topic is the Top Ten Most Memorable Secondary Characters.
As always, these choices are listed in no particular order.
The book boyfriend to end all book boyfriends. There, I said it. Creative, witty, intelligent, and undeniably thoughtful with just a touch of rebellion, Marcus Flutie is the epitome of what I want in a man. While Marcus was not always the centre of the universe in either Jessica Darling's or Megan McCafferty's fictional world, there was never a moment when I wasn't absolutely in love with him. Although many have tried, I have still yet to read about a romantic lead male character who could have usurped Marcus' place in my affections in the ensuing twelve years since I first read Sloppy Firsts. I think that says it all.

Let's just say that he could pull my hair and call me 'Carrots' anytime.

As much as I adore Mr. Darcy and think he's the cat's meow, I've always had a bit of a secret love affair with Mr. Darcy's cousin, Colonel Fitzwilliam. A kind, gentle man always willing to lend a sympathetic ear, I relished any opportunity we were given to a little learn more about him and thought he was one of the more compelling and interesting of Austen's secondary characters. This was never more true than after viewing Anthony Calf's portrayal of the character in the 1995 BBC production of Pride and Prejudice, as I felt that Calf brilliantly captured the pure kindness and understanding of the character. If I'm being entirely honest, there was always a small part of me that thought that he and Elizabeth would suit well together. Don't hit me!

Known for his striking resemblance to Friday Night Light's resident heartthrob, Tim Riggins, Rusty is easily my favourite of Jessi Kirby's love interests, although Trevor from Golden certainly gave him a run for his money! A real man who is unafraid of getting his hands dirty and who's a little rough around the edges, Rusty was an absolute dreamboat and made Honor's journey for peace and acceptance in the wake of her brother's death infinitely more enjoyable. While one of the things I typically appreciate about Kirby's writing is the fact that the romantic subplots never overwhelm the story or detract from the protagonist's personal journey, I looked forward to every moment spent with Rusty and would have happily read an entire novel based on his character alone.

Who knew that one little house elf could steal my heart so completely? Loyal and caring to a fault, Dobby was easily one of the sweetest and most special of the numerous creatures that populated J.K. Rowling's magical world. Whether he was attempting to stave off Harry's arrival at Hogwarts for his own good with often disastrous results or selflessly helping Harry and company when they needed it most, it's safe to say that Dobby, The Free Elf, will always hold a very special place in my heart.


From Marilla and Matthew Cuthbert to Diana Barry and Ruby Gillis, Lucy Maud Montgomery's classic novel Anne of Green Gables is filled with a plethora of loveable, memorable secondary characters, none more so than Rachel Lynde. The tough-as-nails local busybody with a tendency toward gossip and moral prosthelytizing, Rachel is one of those select characters who you want to hug and throttle in equal measure. While she initially makes life quite difficult for Anne in Avonlea, it's not long before the reader is allowed to see the more sensitive, caring woman within (Deep, deep down). An endless source of entertainment both for the other characters and for the readers, Rachel Lynde has the distinction of being one of the most colourful secondary characters I've ever read about.

I do seem to have a weakness for assertive, meddlesome older women with a penchant for gossip, don't I? Whether she's reigning over Rosings Park like a despotic and eccentric Queen or berating Elizabeth in the humble gardens at Longbourn, I couldn't help but love Lady Catherine de Bourgh all the same. I also must add that there will never be a better portrayal of one of Austen's most colourful and strangely-beloved characters than that of Barbara Leigh-Hunt's performance in the 1995 BBC adaptation. So fiercesome that she made Maria Lucas want to re-pack her luggage out of fear from miles away, Lady Catherine de Bourgh is one woman you simply don't want to trifle with.


While I hesitate to classify Hermione as a 'secondary' character given the pivotal role she played in the Harry Potter series, there is little doubt that Harry is the primary protagonist in the series and therefore I feel justified in eking by with this technicality. An intelligent, logical, driven overachiever with a fondness for house elves, Hermione was easily one of my favourite characters in J.K. Rowling's now universally-beloved series. Although perhaps a little difficult to like initially, I always had a soft spot for Hermione, likely because I'm very much like her. One of the first female characters I read about as a child who took pride in her intelligence and was not afraid to strive for what she wanted most, Hermione taught me to take pride in my accomplishments and that there is no shame in being an uptight, type-A personality. And remember: It's Leviosa, not Leviosar!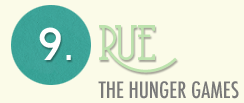 Despite her diminutive stature and relatively small role in Suzanne Collins' The Hunger Games, twelve-year-old Rue from District 11 made a distinct impression on me and remains one of the most memorable secondary characters I've ever had the pleasure to read about. Agile and crafty, Rue was often underestimated by her peers, and her sweet, quiet nature was a constant reminder of the purity and innocence that the Hunger Games sought to eradicate by the very nature of its existence. I don't think there was a dry eye in the house as readers read about Rue's cruel fate, and for that reason alone, she will forever remain one of the most memorable characters from the series, and from the genre as a whole.

While this final choice could have just as easily have been Jonah, James, or even Audrey's parents from Robin Benway's delightful, sparkling contemporary, Audrey, Wait!, I chose Victoria because she's the best friend that you always wished you had. Few authors are able to write secondary characters as well as Benway, and nowhere is this more evident than in the creation of Victoria Rodriguez. Loyal, outspoken, vivacious and laugh-out-loud hilarious, she's always there for Audrey when she needs it most. In a genre where positive female friendship is often overlooked, Victoria is special not only because she's a rarity, but also because of the heart and soul that Benway infuses into her.