"Top Ten Tuesday" is a weekly meme hosted by The Broke and the Bookish!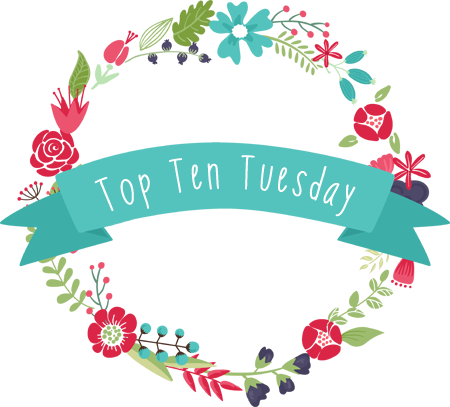 This week's Top Ten Tuesday topic is the Top Ten Series I Would Like To Start.
This week's Top Ten Tuesday topic was all too easy for me to complete. Seriously. Is there such a thing as too much choice? Because that's precisely the problem I faced when I sat down to choose only ten series I've missed out on thus far. And I think – Okay, I know! – that some people might find a few of my final selections shocking. No, I have never read Stephanie Perkins' universally beloved Anna and the French Kiss series (Please don't kill me, Andi!), or J.R. Ward's steamy Black Dagger Brotherhood series, despite hearing nothing but wonderful things about it from both Alexa and Kelly. I know, I know. I'm the worst. But that's all about to change (Hopefully? Maybe?) because I'm tired of feeling like I'm missing out. Want to lend a hand? Let me know in the comments which of these ten series I just have to begin first!
As always, these choices are listed in no particular order.
1) Splintered by A.G. Howard (The Splintered series)
2) Catching Jordan by Miranda Kenneally (The Hundred Oaks series)
3) Not A Drop To Drink by Mindy McGinnis (The Not A Drop To Drink series)
4) Alice In Zombieland by Gena Showalter (The White Rabbit Chronicles series)
5) Vampire Academy by Richelle Mead (The Vampire Academy series)
6) Dark Lover by J.R. Ward (The Black Dagger Brotherhood series)
7) Shadow and Bone by Leigh Bardugo (The Grisha series)
8) Throne Of Glass by Sarah J. Maas (The Throne Of Glass series)
9) Anna and the French Kiss by Stephanie Perkins (The Anna and the French Kiss series)
10) Burn For Burn by Jenny Han & Siobhan Vivian (The Burn For Burn series)