"Top Ten Tuesday" is a weekly meme hosted by The Broke and the Bookish!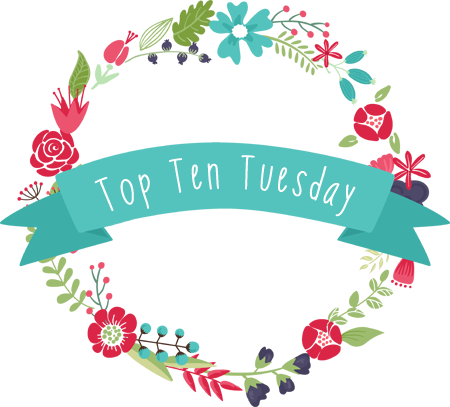 This week's Top Ten Tuesday topic is the Top Twelve Favourite Television Dramas.
Believe me when I tell you that this week's Top Ten Tuesday prompts was one of the most difficult I've encountered yet. I spent far longer than any reasonably sane individual would mulling over my choices (See: Hours) and in the end decided to go with a very specific interpretation so that my list wasn't closer to a 'Top One Hundred' instead. (You're welcome) For those of you who don't know, I'm a self-proclaimed television addict. During an average TV season I likely watch at least twelve-fourteen hours of television a week. Yes, really.
Please note that this is not a complete list of my favourite television dramas. Even after increasing the number to twelve rather than ten, there are a number of glaring omissions. Some, like Band of Brothers and True Detective, I consider to be 'mini-series' as opposed to a traditional television series, and were therefore disqualified due to a technicality. Others, like Deadwood and Friday Night Lights, simply did not make the cut through no fault of their own. While I love them, I'm not as passionate about them as the twelve shows I finally chose. Now, that isn't to say that I believe that any of the television series below are perfect. One only need look at Dexter's final season to dispute that. But even at their very worst, these twelve shows were still better than 95% of what was airing at that time. I consider these series standouts in their field and have re-watched each of them more times than I could possibly count. Thank you for episodes like 'Hush', 'Not Pictured', 'Pine Barrens', 'Margate Sands' and 'Everyone's Waiting'. Thank you for characters like Carrie Mathison, Buffy Summers, Veronica Mars, Omar Little and Richard Harrow. Thank you for couples like Buffy/Spike, Logan/Veronica, Luther/Alice and Pete/Peggy. In short? I tip my proverbial hat to each and every one of these shows and only hope that you too have been lucky enough to experience them firsthand. If not, what are you waiting for?
As always, these choices are listed in no particular order.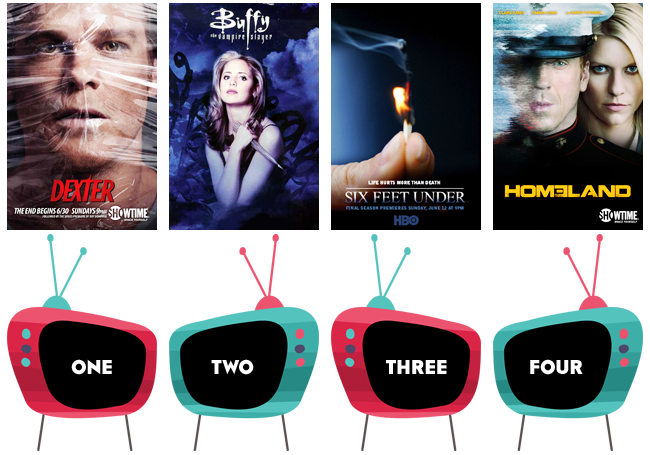 1) Dexter (2006-2013)
Starring: Michael C. Hall, Jennifer Carpenter, James Remar, et al.
2) Buffy The Vampire Slayer (1997-2003)
Starring: Sarah Michelle Gellar, Anthony Head, Alyson Hannigan, Nicholas Brendon, et al.
3) Six Feet Under (2001-2005)
Starring: Peter Krause, Michael C. Hall, Lauren Ambrose, Frances Conroy, et al.
4) Homeland (2011-Present)
Starring: Claire Danes, Damian Lewis, Mandy Patinkin, et al.
5) Veronica Mars (2004-2007)
Starring: Kristen Bell, Jason Dohring, Enrico Colantoni, Percy Daggs III, et al.
6) Justified (2010-Present)
Starring: Timothy Olyphant, Walton Goggins, Nick Searcy, Joelle Carter, et al.
7) Southland (2009-2013)
Starring: Ben McKenzie, Michael Cudlitz, Shawn Hatosy, Regina King, et al.
8) The Wire (2002-2008)
Starring: Dominic West, Wendell Pierce, Lance Reddick, Michael K. Williams, Idris Elba, et al.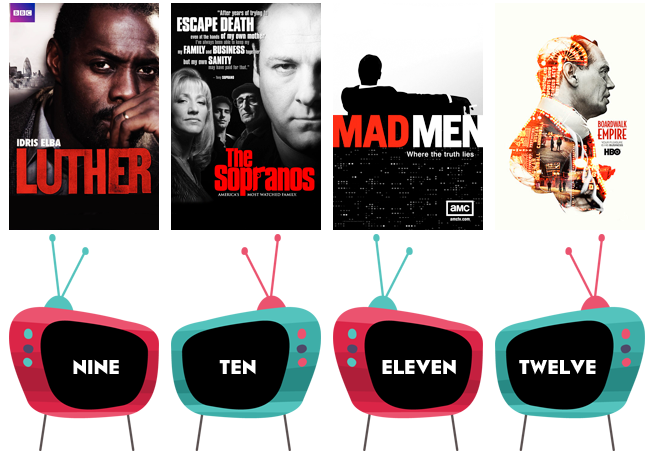 9) Luther (2010-2013)
Starring: Idris Elba, Ruth Wilson, Warren Brown, et al.
10) The Sopranos (1999-2007)
Starring: James Gandolfini, Edie Falco, Lorraine Bracco, Michael Imperioli, et al.
11) Mad Men (2007-Present)
Starring: Jon Hamm, Elisabeth Moss, Vincent Kartheiser, January Jones, Christina Hendricks, et al.
12) Boardwalk Empire (2010-Present)
Starring: Steve Buscemi, Michael K. Williams, Vincent Piazza, Stephen Graham, Kelly Macdonald, et al.