"Top Ten Tuesday" is a weekly meme hosted by The Broke and the Bookish!

This week's Top Ten Tuesday topic is the Top Twelve Sequels I Have Yet To Read.
When I saw this week's Top Ten Tuesday prompt (Top Ten Best and/or Worst Series Enders), I knew I was in trouble. As someone who has completed maybe five or six series total over the course of her entire lifetime, it would not be unfair to say I'm pathologically incapable of doing so. As much as I hated the idea, I had planned on skipping this week's Top Ten Tuesday entirely until Jamie, who was also struggling with the prompt, told me her own innovative twist on the topic – The Top Ten Sequels She Has Yet To Read. With her gracious permission, I've decided to follow suit, in the vain hope that if nothing else, this will somehow shame me into beginning to make a dent in the mountain of sequels or series-enders I have yet to read! Because there were so many to choose from, I've also listed my top twelve as opposed to ten.
So, I started compiling a list of the sequels I have yet to read. Keep in mind that these are all books I already own, and in most cases, went out of my way to procure on the day of, or close to, their release. I was super excited to read each and every one of them, but for whatever reason lost my motivation and excitement somewhere along the way. This is only a small selection of the sequels I have yet to read. Brace yourself, people. This is not a drill. It's bad, folks. It's really, really bad. I'm honestly a little embarrassed to see it all compiled in such a list, especially when I know this is only the tip of the iceberg.
As always, these choices are listed in no particular order.
1) Scarlet by Marissa Meyer
2) Star Cursed by Jessica Spotswood
3) Endless Knight by Kresley Cole
4) Unravel Me by Tahereh Mafi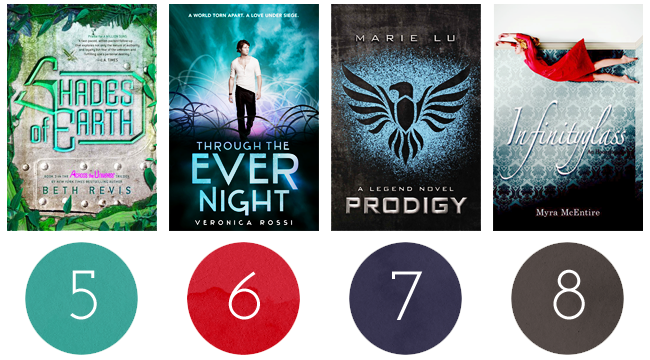 5) Shades of Earth by Beth Revis
6) Through The Ever Night by Veronica Rossi
7) Prodigy by Marie Lu
8) Infinityglass by Myra McEntire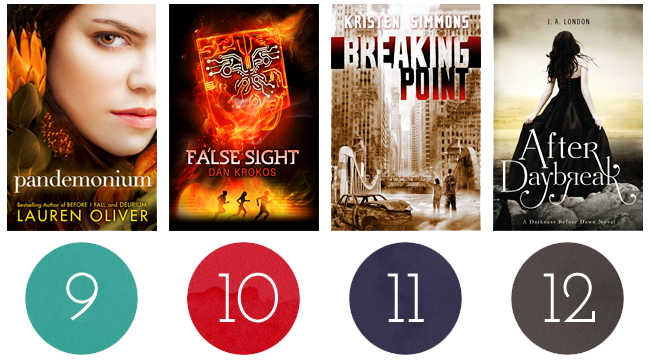 9) Pandemonium by Lauren Oliver
10) False Sight by Dan Krokos
11) Breaking Point by Kristen Simmons
12) After Daybreak by J.A. London