"Waiting on Wednesday" is a weekly meme hosted by Jill at Breaking The Spine!
This week I'm waiting on…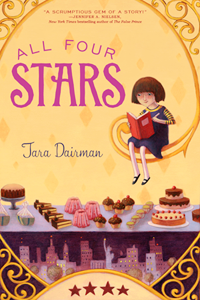 Title All Four Stars
Author Tara Dairman
Pages 288 Pages
Genre Middle Grade, Realistic Fiction
Publisher Putnam Juvenile
To Be Published July 10th, 2014
Find It On Goodreads
Meet Gladys Gatsby: New York's toughest restaurant critic. (Just don't tell anyone that she's in sixth grade.)

Gladys Gatsby has been cooking gourmet dishes since the age of seven, only her fast-food-loving parents have no idea! Now she's eleven, and after a crème brûlée accident (just a small fire), Gladys is cut off from the kitchen (and her allowance). She's devastated but soon finds just the right opportunity to pay her parents back when she's mistakenly contacted to write a restaurant review for one of the largest newspapers in the world.

But in order to meet her deadline and keep her dream job, Gladys must cook her way into the heart of her sixth-grade archenemy and sneak into New York City — All while keeping her identity a secret! Easy as pie, right?
I love food. It's really that simple. I'm not above spending a little more for a truly decadent, transcendent bite. From Top Chef to Ratatouille, I love watching television shows and films that centre around it. Most of all? I love reading about it. Admittedly, I don't read books in the middle grade genre as often as I would like, but when I stumbled upon Tara Dairman's upcoming 2014 debut, All Four Stars, on Goodreads, I knew that this was one that I could not miss. Everything about this book's concept is absolutely delightful. I love the fact that the novel centres around a critic (Go figure, eh?), particularly given the protagonist's rather unusual circumstances. When you combine this with secret identities and an unlikely partnership with one's archenemy, you have a recipe for a positively delicious novel. Oh, don't look at me like that. You know I had to do it!
This week's Waiting on Wednesday post has been brought to you by Ratatouille – Because I'll use any excuse to make a Disney reference.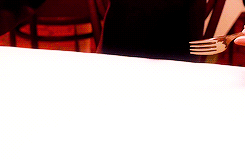 (©)