"Waiting on Wednesday" is a weekly meme hosted by Jill at Breaking The Spine!

This week I'm waiting on…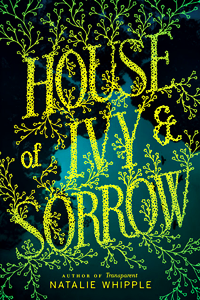 Title House of Ivy & Sorrow
Author Natalie Whipple
Pages 352 Pages
Genre Young Adult, Paranormal, Fantasy, Witches
Publisher Harper Teen
To Be Published April 15th, 2014
Find It On Goodreads
Josephine Hemlock has spent the last 10 years hiding from the Curse that killed her mother. But when a mysterious man arrives at her ivy-covered, magic-fortified home, it's clear her mother's killer has finally come to destroy the rest of the Hemlock bloodline. Before Jo can even think about fighting back, she must figure out who she's fighting in the first place. The more truth Jo uncovers, the deeper she falls into witchcraft darker than she ever imagined. Trapped and running out of time, she begins to wonder if the very Curse that killed her mother is the only way to save everyone she loves.
If there's one thing we've learned by now, it's that I have an admitted weakness for a great book cover. So, it should come as little surprise that my interest was immediately captured by the beautiful, fantastical cover that is House of Ivy & Sorrow. I'm not ashamed to admit that the cover alone was enough to catch my attention, but I was even more excited when I took the time to learn a little more about the novel itself.
Beautiful cover aside, I've had a fascination with witches and witchcraft since I first picked up Roald Dahl's The Witches as a small child, and my obsession has only grown from there. From Glinda, the Good Witch to Hermione Granger, the White Witch to Cate Cahill, my love for these powerful, magical beings has been long-lived and well-founded. Now I can only hope I'll fall as much in love with Jo as with her hundreds of other mystical literary predecessors 🙂 I have very high hopes for this novel!