"Waiting on Wednesday" is a weekly meme hosted by Jill at Breaking The Spine!

This week I'm waiting on…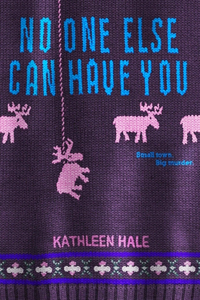 Title No One Else Can Have You
Author Kathleen Hale
Pages 384 Pages
Genre Contemporary, Mystery, Thriller
Publisher HarperTeen
To Be Published January 7th, 2014
Find It On Goodreads ● Amazon.com
Small towns are nothing if not friendly. Friendship, Wisconsin (Population: 688) is no different. Around here, everyone wears a smile. And no one ever locks their doors. Until, that is, high school sweetheart Ruth Fried is found murdered. Strung up like a scarecrow in the middle of a cornfield.

Unfortunately, Friendship's police are more adept at looking for lost pets than catching killers. So Ruth's best friend, Kippy Bushman, armed with only her tenacious Midwestern spirit and Ruth's secret diary (Which Ruth's mother had asked her to read in order to redact any, you know, sex parts), sets out to find the murderer. But in a quiet town like Friendship — where no one is a suspect — anyone could be the killer.
Marketed as a young adult version of the Coen brothers' iconic crime dramedy Fargo, Kathleen Hale's quirky contemporary thriller, No One Else Can Have You, sounds like the sort of book I would greatly enjoy. With one of the most adorable covers I've seen in recent memory and an inventive premise that immediately makes you sit up and take notice, No One Else Can Have You promises to be one of the most unique books I read next year. Is it 2014 yet?