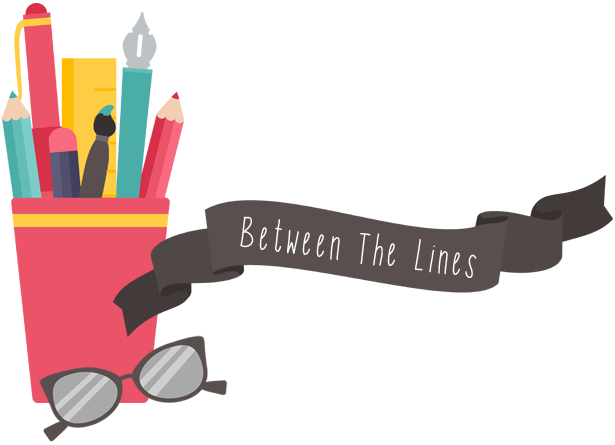 "Between The Lines" is a sporadic feature on Pop! Goes The Reader in which authors and other industry professionals provide further insight into the writing and publishing process, whether it be in the form of interviews, guest posts, etc. So, sit back, relax, and enjoy as we read between the lines.
Hi everyone! Today I am very excited to welcome author Kathryn Holmes to Pop! Goes The Reader! Holmes' 2015 debut, The Distance Between Lost And Found, explores complex themes of faith, friendship, bullying and survival and is available in stores now. Today, the author reflects on her debut publishing experience in a post aptly titled "The Distance Between Then and Now".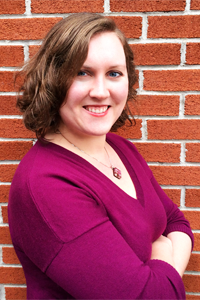 About Kathryn Holmes

Kathryn Holmes grew up in Maryville, Tennessee, where she was an avid reader and an aspiring writer from an early age. She now lives in Brooklyn, New York, with her husband and piles upon piles of books. A graduate of The New School's MFA in Creative Writing program, Kathryn works as a freelance dance journalist, among other writing gigs. The Distance Between Lost and Found is her debut novel.

Kathryn is represented by Alyssa Eisner Henkin of Trident Media Group.
There was a time, not too long ago, when I didn't think I would ever get a novel published. There was a time, not too long before that, when I was certain a book deal was just a few emails away. There was a time before that when I wasn't writing fiction at all, and a time before that when I was studying literature in college and struggling to figure out where I fit in in the literary world. And long before all of that, I was simply a reader. Someone who loved stories. Who liked to make things up and write them down.
The distance between then and now seems so vast, but at the same time, not that much has changed. I'm still a reader, and I still love stories, and I still like making things up and writing them down. And this week, for the first time, something I made up and wrote down is on actual bookshelves in actual bookstores. It's surreal, to say the least.
The Distance Between Lost And Found is about a girl, Hallelujah "Hallie" Calhoun, who is on a journey. Two of them, actually. In the physical sense, she has to find her way back to civilization after getting lost in the mountains with two other teens — a former friend and a girl she barely knows. In the emotional sense, she has to find herself and her voice again after an incident with the preacher's son six months ago left her a social outcast, bullied and withdrawn.
In writing the book, I went on a journey, too. I started it after finally, reluctantly putting aside a previous project that I'd been revising for years. That book felt so close, getting full requests and R&Rs from agents, but no offers. I'd reached the point where I needed to work on something else. To move forward and take my mind off of all of the (totally understandable, in retrospect!) rejection.
And so I started writing a new story. In many ways, it was the opposite of the previous book. The manuscript I was setting aside was told in first person, past tense. It took place over a period of weeks or even months, depending on the draft. It had a fantasy element, and I'd spent tons of time on world-building. The new book, I decided up front, would be told in third person, present tense. It would take place over seven days, and it would be fully realistic — the only world-building involved would be making the mountains where my characters got lost as vivid and real as possible. If anything could distract me from dwelling on putting a book I'd loved in the drawer, this challenge would do it.
And then I fell head over heels in love with the new book. I felt completely inspired. I understood Hallie and her motivations from the start. I just had to figure out how to do her story and her journey justice. I wrote feverishly, not showing a word to anyone until I'd finished a draft and done a full revision on my own. When my first few readers sent their feedback, I experienced the sweet relief of discovering I'd gotten a lot of things right. (And, luckily, I could fix the things I hadn't…)
Flash forward to now, with my book officially out in the world. I recently commented to Becky Albertalli (author of the wonderful Simon vs. The Homo Sapiens Agenda) that the debut experience is basically realizing, over and over, that I don't know anything about anything. The learning curve for the publication process — marketing, social media, book event planning, yadda yadda yadda — feels incredibly steep. But each time I come back to the book itself, I feel grounded again. I remember that I wrote the book I needed to write, and that I'm telling a story that needed me to tell it.
Just like Hallie finds her voice in The Distance Between Lost And Found, I found my voice as a writer through the book's creation. And at the end of the day, whatever happens from here on out, that's a pretty amazing thing.
Title The Distance Between Lost and Found
Author Kathryn Holmes
Pages 304 Pages
Genre Young Adult, Contemporary, Realistic Fiction, Mystery
Publisher HarperTeen
To Be Published February 17th, 2015
Find It On Goodreads
Ever since the night of the incident with Luke Willis, the preacher's son, sophomore Hallelujah Calhoun has been silent. When the rumors swirled around school, she was silent. When her parents grounded her, she was silent. When her friends abandoned her…silent.

Now, six months later, on a youth group retreat in the Smoky Mountains, Hallie still can't find a voice to answer the taunting. Shame and embarrassment haunt her, while Luke keeps coming up with new ways to humiliate her. Not even meeting Rachel, an outgoing newcomer who isn't aware of her past, can pull Hallie out of her shell. Being on the defensive for so long has left her raw, and she doesn't know who to trust.

On a group hike, the incessant bullying pushes Hallie to her limit. When Hallie, Rachel, and Hallie's former friend Jonah get separated from the rest of the group, the situation quickly turns dire. Stranded in the wilderness, the three have no choice but to band together.

With past betrayals and harrowing obstacles in their way, Hallie fears they'll never reach safety. Could speaking up about the night that changed everything close the distance between being lost and found? Or has she traveled too far to come back?
As an added bonus, Kathryn has been kind enough to offer a giveaway to help celebrate the release of The Distance Between Lost and Found! Enter below for a chance to win a signed hardcover of the novel along with accompanying swag. This contest is open to residents of the U.S. and Canada.