'Tis The Season: Authors Talk Holidays is a special seasonal feature on Pop! Goes The Reader in which some of my favourite authors help me to celebrate the spirit of the season and spread a little holiday cheer. So, pour yourself a cup of hot chocolate and snuggle in by the fireside as they answer the question: "What does the holiday season mean to you?" You can find a complete list of the participants and their scheduled guest post dates Here!
About Anna-Marie McLemore

Anna-Marie McLemore was born in the foothills of the San Gabriel Mountains and grew up in a Mexican-American family. She attended University of Southern California on a Trustee Scholarship. A Lambda Literary Fellow, she has had work featured by the Huntington-USC Institute on California and the West, CRATE Literary Magazine's cratelit, Camera Obscura's Bridge the Gap Series, and The Portland Review. The Weight Of Feathers is her first novel.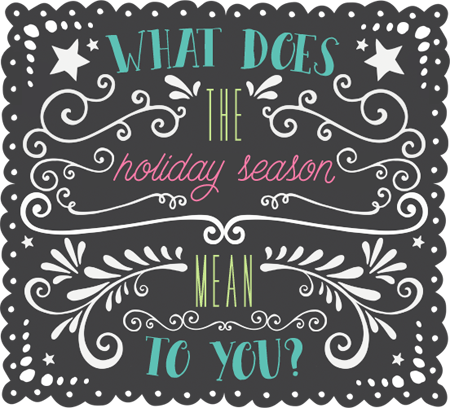 A year after I'd eloped with the Transboy, my family still did not approve. But they didn't cut me out of their lives, as, sadly, many families of queer children do. I was thinking of this as my mother and I walked through a craft store on the first day of winter, and came across a display of enormous tinsel trees.
But it was a little one that caught both my eye and my mother's. It was about eighteen inches tall, made of berry-pink tinsel, and glowing with built-in pink fairy lights. A display model, a little banged up, but perfect.
"Anna-Marie," my mother declared. "It's you."
My husband and I didn't have a Christmas tree, and didn't have room in our budget that year for one. So my mother brought the pink sparkle tree to the front counter, bargained the price down to four dollars, and bought it for me.
When I look back, I have to consider the possibility that my mother smirked thinking of me beaming as I plugged it in and it lit up pink, and my jeans-and-t-shirt husband recoiled from all that sparkle. And he did. His response was a hard swallow, and a slipping of his hands into his pockets; he was not going to veto something this small that made me this happy.
Is it possible this was my mother's act of passive aggression toward the boy I'd eloped with? Maybe. My mother has enough of a mischievous streak that I imagine she enjoyed the idea of the sparkle tree making my flannel-shirted husband cringe.
But I think it was more than that. I love pink and glitter and sparkle and fairy lights, and I think my mother didn't want me to lose that. She didn't want me to lose me. I was barely into my twenties, and married, and I think my mother might have been a little afraid that I was about to get lost in the wide forest of building a life with another person. The sparkle tree was her way of giving me a glowing light in the middle of that forest.
Over the next couple years, that pink sparkle tree grew on my husband. We left it out past Christmas, and in February we strung garlands of paper hearts on the boughs. There were so many small things that went into the process of my family welcoming my husband as one of their own; I'm happy to say that now, we all spend the holidays together. But I think the pink sparkle tree, and how well the Transboy took its presence in his denim-and-flannel life, had something small to do with it, at least for my mother.
The winter solstice used to be one of the hardest days of the year for me. My husband and I were usually apart on the first day of winter, spending time with our respective relatives. And that darkest night of the year was a reminder of the distance between us. Now I'm thankful we spend the holidays together, both of us visiting his family, and mine.
Now, the winter solstice is a sign of another season the Transboy and I will spend together. And when I see the pink sparkle tree glittering in our living room, I remember that on the first day of winter, my mother bought one of the small things that would lead to my husband becoming part of the family I grew up in. Him welcoming that fuchsia tinsel tree into our apartment helped open the door to my family welcoming him. And because of that, the little pink tree's light reaches further than anyone can see.
Title The Weight Of Feathers
Author Anna-Marie McLemore
Pages 320 Pages
Target Audience & Genre Young Adult, Magical Realism, Romance
Published September 15th, 2015 by A Thomas Dunne Book for St. Martin's Griffin
Find It On Goodreads ● Amazon.com ● Chapters
For twenty years, the Palomas and the Corbeaus have been rivals and enemies, locked in an escalating feud for over a generation. Both families make their living as traveling performers in competing shows — the Palomas swimming in mermaid exhibitions, the Corbeaus, former tightrope walkers, performing in the tallest trees they can find.

Lace Paloma may be new to her family's show, but she knows as well as anyone that the Corbeaus are pure magia negra, black magic from the devil himself. Simply touching one could mean death, and she's been taught from birth to keep away. But when disaster strikes the small town where both families are performing, it's a Corbeau boy, Cluck, who saves Lace's life. And his touch immerses her in the world of the Corbeaus, where falling for him could turn his own family against him, and one misstep can be just as dangerous on the ground as it is in the trees.

Beautifully written, and richly imaginative, The Weight of Feathers is an utterly captivating young adult novel by a talented new voice.