'Tis The Season: Authors Talk Holidays is a special seasonal feature on Pop! Goes The Reader in which some of my favourite authors help me to celebrate the spirit of the season and spread a little holiday cheer. So, pour yourself a cup of hot chocolate and snuggle in by the fireside as they answer the question: "What does the holiday season mean to you?" You can find a complete list of the participants and their scheduled guest post dates Here!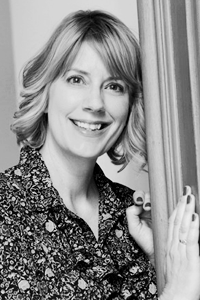 About Sharon Biggs Waller

Sharon Biggs Waller grew up around artists and developed a passion for Edwardian history and the Pre-Raphaelites when she moved to England in 2000. She did extensive research on the British suffragettes for her novel, A Mad, Wicked Folly when she wasn't working as a riding instructor at the Royal Mews in Buckingham Palace and as a freelance magazine writer. She also writes non-fiction books about horses under her maiden name, Sharon Biggs. She is a dressage rider and trainer and lives on a 10-acre sustainable farm in Northwest Indiana with her British husband, Mark.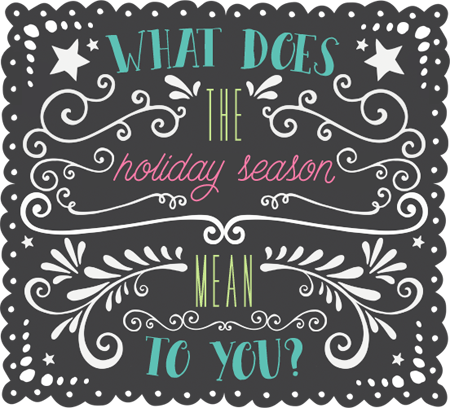 For me, Christmas means holiday cheer, the annual aunt/niece Nutcracker ballet at the Joffrey, a little bit of exhaustion caused from cooking for 20 people, and for the past four years now, sorrow. Last year, adding to the mix, was a teensy shot of dread. My debut novel, A Mad, Wicked Folly, was due to drop in early January, the novel that had taken me three years to write and a year to revise with my editor. Four years of my life spent living with Vicky and Will and all the other characters I had come to care about. I was filled with trepidation. What if people hated it? What if the reviews were bad? What if my book got lost amongst the hundreds of other books coming out in 2014? All of these things were, of course, out of my hands (as friends and family kept telling me) but the one thing that kept me from dwelling too much on the negative was my best friend Moira.
Moira was my very first professional editor. I met her in 1996 when I began writing for a horse magazine called Horse Illustrated. We instantly bonded over our shared love of Seinfeld and all things British, became fast friends, and Moira helped to shape my career, encouraging me to sharpen my skills and hone my voice. She cheered me on when I did well, and never failed to chastise me when I dropped the ball. Most of all, she saw me through some very tough personal times. We were co-authors on a horse book called The Original Horse Bible, and it was my privilege and honor to share that byline with her.
But Moira never saw the book published. In 2010, shortly before the Horse Bible went into editing, Moira passed away from breast cancer. To be more precise, she passed away on Christmas Eve. She never got to see our book; and she never knew that I'd found an agent and a publisher for my little suffragette story I had been working so hard on. So Christmas has always held a note of grief for me.
But last Christmas Eve something happened that made the day less sorrowful. I had a special delivery, and although my editor, Leila Sales, planned it, I like to think that maybe Moira made sure it happened. About 4 PM on Christmas Eve, the UPS truck arrived and the driver handed me a package – a book-shaped package. It was from Viking, and as I opened it with my niece and my husband looking on, out fell a newly minted copy of A Mad, Wicked Folly. It was incredible to hold in my hands something that I had worked so hard on for so many years, and I knew that Moira would have been so proud of me.
So, now Christmas is full of both sad and happy memories, but I can live with that. I'm sure that is the case of the holidays with most of us. And there's one more thing I'd like to say. Because Moira's body wouldn't let her continue on with her life, I'm determined to live it for her. I try not to complain, try to see the positive in everything, try to understand that we never know how long we have with one another. Most of all I try not to take my friends and family for granted, especially on the holidays. There will always be a hole in my life where Moira once stood, and I'll never, ever forget her. Every Christmas Eve I wake up and my first thoughts are of her. And I'm grateful to have known her.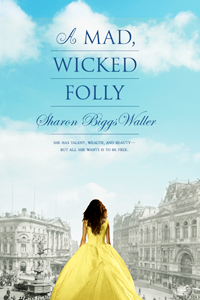 Title A Mad, Wicked Folly
Author Sharon Biggs Waller
Pages 448 Pages
Genre Young Adult, Historical Fiction, Romance
Publisher Viking Juvenile
To Be Published January 23rd, 2014
Find It On Goodreads
Welcome to the world of the fabulously wealthy in London, 1909, where dresses and houses are overwhelmingly opulent, social class means everything, and women are taught to be nothing more than wives and mothers. Into this world comes seventeen-year-old Victoria Darling, who wants only to be an artist — a nearly impossible dream for a girl.

After Vicky poses nude for her illicit art class, she is expelled from her French finishing school. Shamed and scandalized, her parents try to marry her off to the wealthy Edmund Carrick-Humphrey. But Vicky has other things on her mind: her clandestine application to the Royal College of Art; her participation in the suffragette movement; and her growing attraction to a working-class boy who may be her muse — or may be the love of her life. As the world of debutante balls, corsets, and high society obligations closes in around her, Vicky must figure out: just how much is she willing to sacrifice to pursue her dreams?