April
April was a relatively quiet month for me. In fact, I can hardly believe that it's already May! Apart from my birthday, April was blissfully restful in large part because I spent much of it on holiday as work was unexpectedly quiet. Unfortunately, as I sit here now I'm wrapped in three blankets and suffering from one of the worst bouts of stomach flu in recent memory. Since I haven't eaten in two days and doubt my ability to recite even the alphabet right now, I'm going to keep this short and sweet.
I would, however, like to take a moment to thank everyone who was kind enough to send me lovely birthday wishes on the 27th. You absolutely made my day and I can remember few other times in my life when I felt as loved and as blessed. Thank you. Sincerely. Your kindness meant the world to me 🙂 On a related note, it's not too late to enter my Birthday Giveaway! Enter to win a bundle of eight of my favourite contemporary novels including, but not limited to, Sloppy Firsts, Golden, Amy & Roger's Epic Detour, Fangirl, This Song Will Save Your Life and more!

This Month I Reviewed…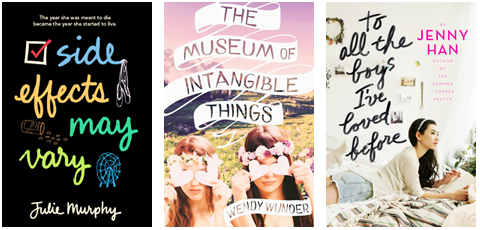 1) Side Effects May Vary by Julie Murphy
2) The Museum of Intangible Things by Wendy Wunder
3) To All The Boys I've Loved Before by Jenny Han

I Feel Pretty, Oh So Pretty: This Month On Do! Judge A Book By Its Cover…
1) Do! Judge A Book By Its Cover–Issue Twenty-Four: Non-Fiction (Part 3)
2) Do! Judge A Book By Its Cover–Issue Twenty-Five: Science Fiction (Part 2)
3) Do! Judge A Book By Its Cover–Issue Twenty-Six: Middle Grade (Part 4)
4) Do! Judge A Book By Its Cover – Issue Twenty-Seven: Mystery & Thriller (Part 2)

It's The Final Countdown: This Month On Top Ten Tuesday…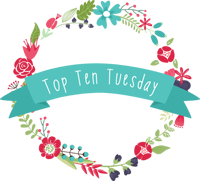 1) Top Ten Most Unique Books I've Read
2) Top Eight Bookish and Non-Bookish Things I'd Love To Own
3) Top Ten Books To Read If You Love Mad Men

This Month I Was Waiting On…

1) Then And Always by Dani Atkins
2) Stitching Snow by R.C. Lewis
3) For Real by Alison Cherry
4) The Swap by Megan Shull

Variety Is The Spice Of Life: Elsewhere On The Blog…
1) The Literary Shopaholic: Issue Three
2) The Price Is Right: Issue One
3) Pass The Cake: Happy 26th Birthday To Me! Celebratory Giveaway Included!
I Couldn't Stop Listening To…

The Colourist The Colourist
(Find it on iTunes!)
Favourite Songs: Wishing Wells, We Won't Go Home & Yes Yes
Nickel Creek A Dotted Line
(Find it on iTunes!)
Favourite Songs: Destination, Hayloft & Love Of Mine
Ingrid Michaelson Lights Out
(Find it on iTunes!)
Favourite Songs: Girls Chase Boys, Warpath & Afterlife

Don't forget to add me on Instagram to see all my latest updates!

Here are just a few of the things that I enjoyed around the blogosphere this month when I wasn't busy working on Pop! Goes The Reader!
Website Of The Month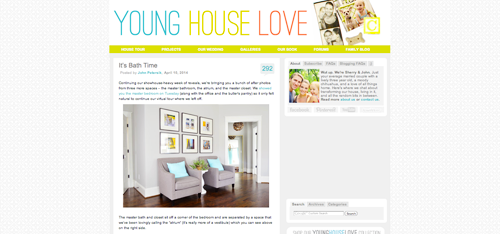 While owning my own home is still a long way off at this point, I've found myself dreaming more and more of what projects I'd like to undertake when I do. I've always been fascinated with the idea of creating a space that is entirely my own and have become increasingly fascinated with home renovation and decor blogs as a result. Young House Love is undoubtedly my favourite. Putting aside how wonderfully readable and easy-to-navigate the blog itself is, Sherry and John's numerous home renovations over the years are nothing short of marvellous. If you ever have a few spare minutes, I recommend you take a look at their three house tours. Their work is so creative and inspiring. It's amazing to see that even the smallest of changes can make all the difference in the world. Whether you rent, own, or still live at home, Young House Love is an absolute delight to read.

Pause For Thought: Interesting & Inspiring Discussion Posts & Articles
» What Does Your Preferred Reading Position Say About You? by Rick Chillot @ Quirk Books
» Eleven Recipes For Bookworms Who Love To Eat by Stephanie @ Buzzfeed
» My Too-Practical Maybe-Blunt Advice To Writers by Natalie Whipple @ Between Fact and Fiction
» On Expectations for Girls in YA Fiction, Misleading Reviews, and Sexuality by Kelly J. @ Stacked
» The Ten Worst Pieces of Writing Advice You Will Ever Hear (And Probably Already Have) by Susan DeFreitas @ Lit Reactor
» Twenty-One Questions To Ask When You're In A Blogging Slump by Stormy @ Book. Blog. Bake.
» Self, Do Not Succumb To It! (On Expectations, Pressure and Anxiety) by Jamie @ The Perpetual Page-Turner
» Conquering a Reading/Blogging Slump by Kelly @ Pretty Little Reader
» Putting Twitter In Time Out by Hannah @ So Obsessed With
» Thoughts On Diversity In YA by Jamie @ The Perpetual Page-Turner
Farewell, April! So, how did you fare this month? Did you read anything interesting or do anything special? Let me know in the comments – I would love to hear from you!