"Top Ten Tuesday" is a weekly meme hosted by The Broke and the Bookish!
This week's Top Ten Tuesday topic is the Top Twelve Books I'm Looking Forward To In 2015.
This was one of, if not the most, difficult Top Ten Tuesday post I've ever had to complete. Anyone who has taken even the most fleeting glimpse at the list of books set to be published in 2015 will tell you that it's a veritable treasure trove of promising titles full of diverse, exciting and powerful perspectives. To make things a little easier on myself, today I've decided to focus exclusively on non-debut releases. Instead, the books I've listed below are from authors whose work I have read (and loved) before and who I trust implicitly. I will purchase (and ordinarily pre-order) absolutely anything they write because I've had such success with their books in the past. From Jessi Kirby's Golden and In Honor to Leila Sales' This Song Will Save Your Life, from Corey Ann Haydu's Life By Committee to Julie Murphy's Side Effects May Vary, these are authors whose prior work has touched and changed me in innumerable, unimaginable ways and I can hardly wait to see what they next have in store for their readers! Is it 2015 yet?
Blogger's Note 1) I've made a conscious decision not to include any 2015 debut novels on this list. Instead, I'll be dedicating an entire post to the 2015 debuts I'm most looking forward to in January!
Blogger's Note 2) Three of the books I'm most looking forward to, Dumplin' by Julie Murphy, P.S. I Still Love You by Jenny Han and The Pirate's Code by Heidi Schulz do no yet have finalized covers. I couldn't bear to exclude them from today's list, so instead I've created my own little banners and included them at the conclusion of this post.
As always, these choices are listed in no particular order.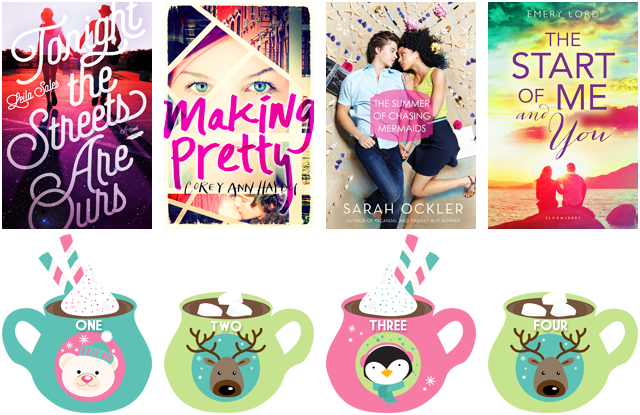 1) Tonight The Streets Are Ours by Leila Sales
2) Making Pretty by Corey Ann Haydu
3) The Summer Of Chasing Mermaids by Sarah Ockler
4) The Start Of Me And You by Emery Lord
5) The Devil You Know by Trish Doller
6) Things We Know By Heart by Jessi Kirby
7) I'll Meet You There by Heather Demetrios
8) Emmy & Oliver by Robin Benway
9) Revenge, Ice Cream, and Other Things Best Served Cold by Katie Finn
10) The Stars Of Summer by Tara Dairman
11) P.S. I Still Love You by Jenny Han
12) Dumplin' by Julie Murphy
13) The Pirate Code by Heidi Schulz