"Waiting on Wednesday" is a weekly meme hosted by Jill at Breaking The Spine!

This week I'm waiting on…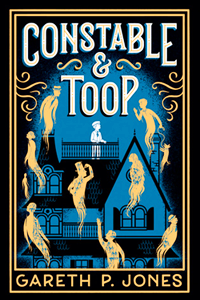 Title Constable & Toop
Author Gareth P. Jones
Pages 416 Pages
Genre Middle Grade, Historical Fiction, Mystery, Paranormal
Publisher Amulet Books
To Be Published October 1st, 2013
Find It On Goodreads ● Amazon.com
Something mysterious and terrible is happening throughout Victorian London: Ghosts are disap­pearing. When this reaches the attention of the Ghost Bureau, the diligent but clueless Mr. Lapsewood, a paranormal paper-pusher, is sent to investigate, and what he discovers is grave. The Black Rot has arrived — a voracious spiritual infestation whereby empty haunted houses suck in unsuspecting ghosts and imprison them. Lapsewood's investigation weaves through the plotlines of several other memorable characters — both living and dead — including an undertaker's son who can see ghosts, a serial throat-slasher reminiscent of Jack the Ripper, an evangelical exorcist, and many more. The living and dead must work together if they hope to destroy the Black Rot — before it destroys both the ghost and human worlds.
I've always had a soft spot for middle grade fiction – Whether it's fanciful like Lauren Oliver's The Spindlers, dark and disquieting like Nikki Loftin's The Sinister Sweetness of Splendid Academy or more firmly grounded in reality like Rebecca Stead's Liar & Spy, I often find myself picking up novels aimed at this age group when I'm looking for a change of pace. So, when I read the synopsis for Constable & Toop by Gareth P. Jones, I knew I had to read it. I absolutely love books set during the Victorian period and while I don't believe in them myself, I've always found the idea of ghosts and the spiritualism movement fascinating. This is one novel that has earned a firm place on my 'to-be-read' pile!