"Waiting on Wednesday" is a weekly meme hosted by Jill at Breaking The Spine!

This week I'm waiting on…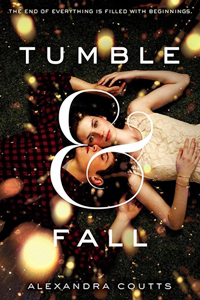 Title Tumble & Fall
Author Alexandra Coutts
Pages 384 Pages
Genre Science Fiction, Apocalyptic, Romance
Publisher Farrar, Straus and Giroux
To Be Published September 17th, 2013
Find It On Goodreads ● Amazon.com ● Chapters
The world is living in the shadow of oncoming disaster. An asteroid is set to strike the earth in just one week's time; catastrophe is unavoidable. The question isn't how to save the world—the question is, what to do with the time that's left? Against this stark backdrop, three island teens wrestle with intertwining stories of love, friendship and family — all with the ultimate stakes at hand.

Alexandra Coutts's Tumble & Fall is a powerful story of courage, love, and hope at the end of the world.
First of all, I think I'd be remiss if I didn't mention this book's absolutely stunning cover. It took my breath away the first time I saw it and I still find it absolutely beautiful. Who says you can't judge a book by it's cover?
On a more serious (and substantial) note, I think the concept for Coutts' debut novel sounds extremely promising. I love the fact that it takes place before an impending disaster as opposed to after during the immediate fall-out as so many young adult novels are want to do. The concept raises a number of important questions. I think we've all secretely questioned what we would do if we knew we had a limited amount of time left in this world. Tumble & Fall certainly sounds like it has the potential to be one of the most exciting and riveting novels I'll have the opportunity to read all year.