'Tis The Season: Authors Talk Holidays is a special seasonal feature on Pop! Goes The Reader in which some of my favourite authors help me to celebrate the spirit of the season and spread a little holiday cheer. So, pour yourself a cup of hot chocolate and snuggle in by the fireside as they answer the question: "What does the holiday season mean to you?" You can find a complete list of the participants and their scheduled guest post dates Here!
About Becky Albertalli

Becky Albertalli is a clinical psychologist who has had the privilege of conducting therapy with dozens of smart, weird, irresistible teenagers. She also served for seven years as co-leader of a support group for gender nonconforming children in Washington, DC. She now lives with her family in Atlanta. Simon vs. the Homo Sapiens Agenda is her first novel.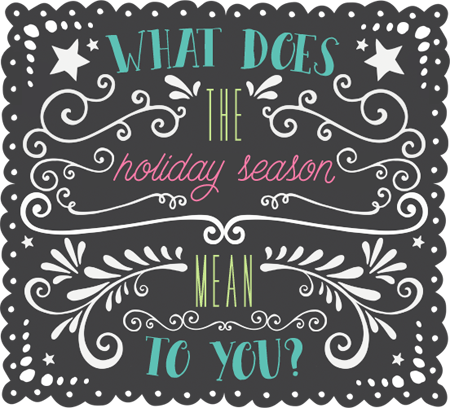 My earliest Chanukah memory is the night I set the dining room on fire. I can picture it burning – flames licking the table, crackling noises, the entire room glowing orange.
Here's what actually happened: I was three. I nudged a piece of tissue paper onto our lit menorah. The paper caught fire. My mom put it out. It didn't even singe the diaper on my brand new Magic Nursery baby doll.
But there's something larger than life about the holidays when you're a kid. Memories have a way of getting mixed up with movies and dreams and imagination. My early December memories are mostly a blur: mesh bags of gelt and piles of presents, wrapped in dreidel paper with sticky printed labels. At my dad's house: overstuffed Christmas stockings and homemade ornaments. A Chanukah craft bazaar at the synagogue, and folders full of printed carols at school.
Mostly, I remember this hazy, perfect feeling – kind of a warmly lit mash-up of Love Actually and Hogsmeade. There was a sacredness about the holidays, even in my blended family, with its muddle of Jewish and Christian traditions. I didn't believe in Santa Claus, and I never did learn the Hebrew that comes after "melech haolam," but it didn't matter, because everything felt right – I felt right. Until I started feeling like things weren't exactly right after all.
There's a Christmas scene in Simon Vs. The Homo Sapiens Agenda, where Simon can't shake the sense that something feels off. Not bad, necessarily, but off-kilter. There's a feeling he associates with Christmas, and he can't quite find it, and he doesn't know why. But he desperately wants it back.
I can't explain where this lost feeling comes from, but I know I've felt it, and I still feel it. I think of it as a growing pain. Nothing burns as brightly as our most cherished memories. They're impossible to recapture – and, of course, so much of memory is shaded and distorted. Our minds edit out the tiny disappointments. We forget the bittersweetness we felt, even then. We wonder why we feel so bittersweet now.
But it's better, I've found, when I try to create instead of recreate. I'm discovering new incarnations of the Hogsmeade feeling, and new sacred moments: my two-year-old charging through rows of Christmas trees. My nephew's morning of regret after eating a giant chocolate dreidel. My two-month-old in Christmas pajamas.
And I think we can lean into the bittersweetness. Grieve a little for the ways time never lets us loop backward. But let the new fires catch, and always keep creating. Have a holiday so happy you ache for it later.
Title Simon Vs. The Homo Sapiens Agenda
Author Becky Albertalli
Pages 320 Pages
Genre Contemporary, Realistic Fiction, LGBTQ
Publisher Balzer + Bray
To Be Published April 7th, 2015
Find It On Goodreads
Sixteen-year-old and not-so-openly gay Simon Spier prefers to save his drama for the school musical. But when an email falls into the wrong hands, his secret is at risk of being thrust into the spotlight. Now Simon is actually being blackmailed: if he doesn't play wingman for class clown Martin, his sexual identity will become everyone's business. Worse, the privacy of Blue, the pen name of the boy he's been emailing, will be compromised.

With some messy dynamics emerging in his once tight-knit group of friends, and his email correspondence with Blue growing more flirtatious every day, Simon's junior year has suddenly gotten all kinds of complicated. Now, change-averse Simon has to find a way to step out of his comfort zone before he's pushed out—without alienating his friends, compromising himself, or fumbling a shot at happiness with the most confusing, adorable guy he's never met.