'Tis The Season: Authors Talk Holidays is a special seasonal feature on Pop! Goes The Reader in which some of my favourite authors help me to celebrate the spirit of the season and spread a little holiday cheer. So, pour yourself a cup of hot chocolate and snuggle in by the fireside as they answer the question: "What does the holiday season mean to you?" You can find a complete list of the participants and their scheduled guest post dates Here!
About Janet B. Taylor

Janet Taylor lives in such a small town in Arkansas that if you happen to sneeze when you pass by, you'll totally miss it. (Cause, you know, you can't sneeze with your eyes open. For real – try it – it's impossible) Her debut novel, Into The Dim (coming 3/1/2016 from Houghton Mifflin Harcourt) is about a 16 year old girl who travels through time. Totally on purpose and stuff. She's a reader/fan first and a writer second. She lives with her fantastic husband, two hilarious sons, and Dorda the diabetic dog who won't win any beauty contests, but has a "nice personality".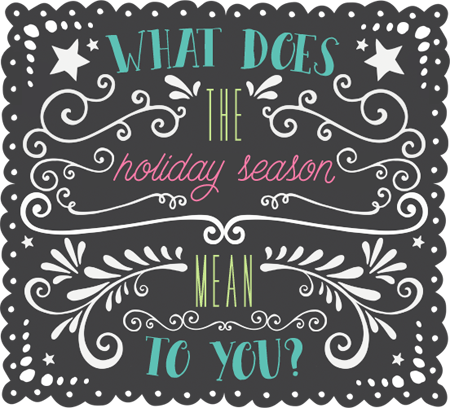 I assume most everyone — in the U.S., at least — has seen the movie A Christmas Story, at least once or thirty times, right?
While watching, did you ever experience a little envious nostalgia thinking…"Man, the people in that town knew how to celebrate the holidays. I wish I'd grown up in a place like that."
Well, you can lay all that jealousy on me, cause it just so happens that in the teensy Southern town where I grew up, we experienced our own version of that iconic film.
That's right ya'll. During my childhood, I lived the setting of A Christmas Story.
Of course, to imagine it for yourself, one simply needs to replace the classic, dresses-with-pearls and fedora hats of the early 1940s with lots and LOTS of groovy, pea-green polyester. (Huge collars a must.)
Second, instead of fictional characters like Mickey, Minnie, and the Wicked Witch of the West, who flies about scaring little kids half to dead, (I mean, Elphaba at Christmas? What the hell was that about? It makes no sense. She's terrifying. I had nightmares for years after watching The Wizard of Oz), our parade was a peaceful five minutes long, and consisted mainly of:
A. The Watermelon Queen and her seed-spitting court, each one sweating and doing her best to keep that sky-high hair from wilting in the December humidity.
B. People in Western shirts and cowboy boots clip-clopping down Main Street on horses who always left charming little gifts on the pavement.
C. Tiny cars in which fez-sporting, older gentlemen waved and threw candy to all us over-excited kids.
D. And exactly four floats. The Boy Scouts. The Girl Scouts. The High School Cheerleaders. And some random business that you had no idea who they were. At least each of these carefully-crafted contraptions did provide the only snow our deep-South town usually saw, by shedding hundreds of white Kleenex wads that blew over town for days afterward.
We had a Santa, too, though ours hung out at the bank, not a four-story department store. And our St. Nick's Winter Wonderland consisted of a few cotton balls glued onto some black poster board.
And you know what? It was dadgum magical. To an eight year old girl, whose only wish in life was to wake up Christmas morning with the Nancy Drew collection and a pink Easy Bake Oven waiting under the tree…well, that parade, that Santa, hanging out by Grandma's aluminum tree, and that damn ceramic decorative tree that every mom set on a lace doily in those days…now THAT was the epitome of glamour.
Every November, when my mom brought in the annual, twelve-pound, Christmas edition, JC Penney catalogue and I knew that Christmas was coming at last…this small town girl's dreams didn't fly any higher than that.
Things are different now. Stores begin putting up their holiday displays in September Four year olds text their moms links to their holiday gift choices. Because it's all about being first. About being bigger, better, faster. Who has the newest electronics. Where can you get the biggest discounts. Which house has the most lights. Why, you can even drive through some neighborhoods and actually sync your radio with the gazillion lights on cookie-cutter McMansion's professionally-mounted displays.
And you know, that's cool. I admit, I like the lights and I totally love the sales. But there is such an urgency to it all now, that it seems like maybe we've lost something along the way. That maybe we're starting to miss what's really important about this season.
Hope. Love. Generosity. Spending time with family and friends over a cup of spiced cider instead of at the mall. I don't know if things are better now. But they're definitely faster and infinitely more complex.
But sometimes, I have to admit I miss those easy, uncomplicated days of tinsel and tacky parades and waking up to the cardboard smell of an Easy Bake oven.
Title Into The Dim
Author Janet B. Taylor
Pages 432 Pages
Target Audience & Genre Young Adult, Historical Fiction, Science Fiction, Time Travel
To Be Published March 1st, 2016 by HMH Books for Young Readers
Find It On Goodreads ● Amazon.com ● Chapters
When fragile, sixteen-year-old Hope Walton loses her mom to an earthquake overseas, her secluded world crumbles. Agreeing to spend the summer in Scotland, Hope discovers that her mother was more than a brilliant academic. She's also a member of a secret society of time travelers, and is now trapped in the twelfth century during the age of King Henry II and Eleanor of Aquitaine. Now Hope must conquer her numerous fears and travel back in time to help rescue her mother before she's lost for good. Along the way, Hope will discover more family secrets, and meet a mysterious boy who could be vital to setting her mother free…or the key to Hope's undoing.