'Tis The Season: Authors Talk Holidays is a special seasonal feature on Pop! Goes The Reader in which some of my favourite authors help me to celebrate the spirit of the season and spread a little holiday cheer. So, pour yourself a cup of hot chocolate and snuggle in by the fireside as they answer the question: "What does the holiday season mean to you?" You can find a complete list of the participants and their scheduled guest post dates Here!
About Jasmine Warga

Hi, I'm Jasmine. I live and write in a small town (technically a village, but that sounds so medieval) that is a few miles outside of Cincinnati, Ohio.

Since I find it exceedingly uncomfortable to write about myself, I will keep this short. My Heart and Other Black Holes is my first novel and will be published by Balzer + Bray/HarperCollins in Winter 2015. My second novel, which is currently untitled, will most likely be published in 2016. You can read more about my books Here.

Things I like: Animals (of all sorts!), especially my cat, Salvador, and my puppy, Scout. Surrealist sketches. Iced coffee. The night sky. Old swing sets. Lemonade. Rainy mornings. (This list could get obnoxiously long so I will stop here.)

Things I do not like: Talking about things I dislike.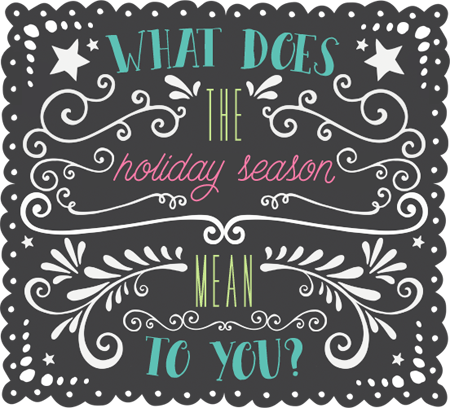 It's taken me a while to figure out what I should write about for this post — jumping around from topics as varied as Christmas Eve dinner at my grandparents' house (a tradition that has now moved to my own parents' house), making Maqluba on Christmas Day (which means "upside down" in Arabic and is a traditional Jordanian dish), or playing several rounds of fiercely competitive Taboo. But none of these traditions seem to fully capture what I find to be the most precious ingredient of the holiday season: magic.
Perhaps it's because I grew up in a non-religious but Christmas celebrating family — a family that blended together my father from Jordan who had never celebrated Christmas until my first one, and my mother's homegrown Indiana family who was way more into baking exquisite pies than any religious tradition — but I grew up to be obsessed with the origin story of Santa Claus. The North Pole! The elves! The reindeer!
When I was younger, I constantly fantasized about this snowy perfect place up north. A place where magic was real, where fantastical creatures existed whose sole purpose was to make things that would make others happy, where chocolate flowed from fountains and the rooftops were made with candy canes (I'm not sure what book that last detail came from, but I really clung onto it). The North Pole and all of its magic totally captivated my little brain.
I spent hours and hours thinking about the logistics of things — did the elves have to rush toymaking in late November if someone's Christmas wish list changed? Were the reindeer immortal or was Santa constantly breeding new ones? If so, did any of those new reindeers have a red nose? And had Rudolph's hard-won esteem paved the way for the new red nosed-reindeers not to get bullied? I would scribble down my questions and possible answers. I guess you could say I wrote holiday fan-fiction, if such a thing exists.
The height of my North Pole obsession happened when I was seven. I got it in my head that all I wanted for Christmas was a reindeer. And when I say all I wanted, I really mean ALL. I wrote Santa Claus several letters, all detailing the immaculate care I would take of the reindeer. I laid out my proposed feeding schedule, where I would house him (in my backyard, obviously — reindeers can handle the cold, yes?), and how often I would play with him (always, always, always). I offered to give away all my other toys that I'd collected over the years to charity, even stating that I would be willing to part with my Tinkerbell-patterned pajama pants, which was the height of sacrifice for seven-year-old me. (I didn't offer to part with my two cats though, which should tell you something about my devotion to the late Frisky and Sparky.) Anyway, I wrote letter after letter, and come Christmas morning, I could hardly contain my excitement.
I bounded into my living room, fully expecting to see a reindeer sitting underneath the Christmas tree. But there was no reindeer. My little heart sank. I looked all around, thinking it must be a mistake. But it wasn't. I'll spare you the details of the drama that unfolded, but needless to say, my childhood self was beyond disappointed.
Later that night when I sat down by the tree and the normal Christmas night melancholy came over me, I began to think about what I would ask for next year. Maybe I would ask for a new cat tree so Frisky could have a better view out the window. Maybe I would ask for a microscope so I could study my found object collection in greater detail. Maybe I'd ask for an American Girl doll. Perhaps this eager urge to start brainstorming what I would ask for is indicative of my selfish and greedy seven-year-old heart, but I also think it's indicative of what I've come to love about the holidays — it's the time of year when we all come together to collectively believe in magic. To wish for things. And it doesn't matter that we don't always get what we ask for, that our wishes don't always come true; sometimes the anticipation is more fun than the actualization. Sometimes the wish is magic enough.
Title My Heart and Other Black Holes
Author Jasmine Warga
Pages 320 Pages
Genre Young Adult, Contemporary, Realistic Fiction, Romance
Publisher Balzer & Bray/Harperteen
To Be Published February 10th, 2015
Find It On Goodreads
Sixteen-year-old physics nerd Aysel is obsessed with plotting her own death. With a mother who can barely look at her without wincing, classmates who whisper behind her back, and a father whose violent crime rocked her small town, Aysel is ready to turn her potential energy into nothingness.

There's only one problem: She's not sure she has the courage to do it alone. But once she discovers a website with a section called Suicide Partners, Aysel's convinced she's found her solution – Roman, a teenage boy who's haunted by a family tragedy, is looking for a partner. Even though Aysel and Roman have nothing in common, they slowly start to fill in each other's broken lives. But as their suicide pact becomes more concrete, Aysel begins to question whether she really wants to go through with it. Ultimately, she must choose between wanting to die or trying to convince Roman to live so they can discover the potential of their energy together.