'Tis The Season: Authors Talk Holidays is a special seasonal feature on Pop! Goes The Reader in which some of my favourite authors help me to celebrate the spirit of the season and spread a little holiday cheer. So, pour yourself a cup of hot chocolate and snuggle in by the fireside as they answer the question: "What does the holiday season mean to you?" You can find a complete list of the participants and their scheduled guest post dates Here!
About Kathryn Holmes

Kathryn Holmes grew up in Maryville, Tennessee, where she was an avid reader and an aspiring writer from an early age. She now lives in Brooklyn, New York, with her husband and piles upon piles of books. A graduate of The New School's MFA in Creative Writing program, Kathryn works as a freelance dance journalist, among other writing gigs. The Distance Between Lost and Found is her debut novel.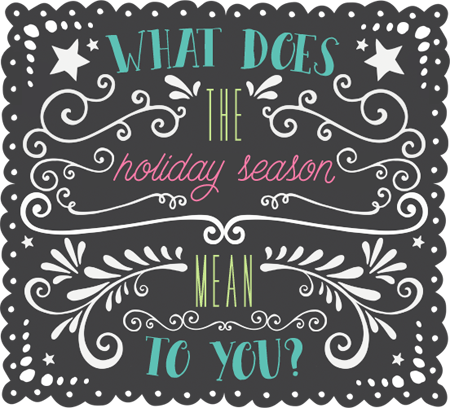 The first time my husband (who was, at that point, my boyfriend of ten months) came home with me for the holidays, my dad picked us up at the airport and solemnly handed him the Official Holmes Family Christmas Hat and Christmas Scarf.
It wasn't Justin's first time meeting my folks. It was his first Tennessee Christmas. But my Jewish boyfriend had assured me he was ready for whatever holiday traditions my Christmas-loving family could throw at him. He would help decorate sugar cookies and listen to Christmas CDs. He'd eat egg casserole and sausage balls while we went through our stockings on Christmas morning. He'd even brought his suit to wear to church on Sunday. So when Dad handed him a tacky Christmas scarf — all patchwork Santas and snowflakes and snowmen and jingle bells — and plopped a cowboy-style hat on his head, Justin didn't bat an eye.
We didn't tell him until he'd worn both for about an hour that he'd been had. The Official Holmes Family Christmas Hat and Christmas Scarf were a practical joke my dad had thought up just before leaving for the airport. Justin took it in stride, even posing for a mock-grumpy photo session in his festive gear. And thus, an actual Holmes Family Christmas Tradition was born: every year, at some point during the holiday season, my dad brings up "Justin's Christmas scarf." And every year, remembering how nervous we'd both been about that first holiday visit — and how well it ended up going — I smile.
● ● ● ● ● ● ● ● ● ●
I think a lot about being in an interfaith relationship during the holiday season. It's partly that I used to celebrate only one holiday at this time of year, and now I have two. We spend Hanukkah with his family, our nephews delighting in my consistently terrible dreidel luck. We do Christmas with my family, with Justin joining in on White Christmas-watching and tree-trimming. On both sides, our holiday rituals have shifted to include each other, and that's a beautiful thing.
But each year, my thoughts drift toward the future. What will our traditions be? Do we blend the holidays into one joyous celebration, à la The OC's Chrismukkuh, or do we keep them separate? Once kids are in the picture, should we do the whole Santa Claus thing, or eight days of Hanukkah presents, or both — or neither? I'm a practicing Christian; Justin is a mostly nonpracticing Reform Jew who nonetheless cares deeply about his culture. As a couple, what do we want the holiday season to look like and to represent?
Hanukkah commemorates the Maccabees' victory over the Syrians, who had outlawed Judaism. The Festival of Lights also honors the miraculous way God made a single jar of oil last eight nights, protecting his people when they needed him most. Christmas, meanwhile, celebrates the arrival of God's son on earth. Those stories are important to us, and they'll always play a role in our holiday celebrations.
But the holiday season is more than the stories. It's also about being with loved ones. It's about giving gifts and eating delicious food and looking back on the year that's past and forward to the one ahead. Those things transcend religion.
And then there's the rest of it. The red-and-green and blue-and-white decorations. The pine trees and the menorahs. The Elves on Shelves and the Mensches on Benches. Santa and Rudolph and sleigh bells and Nutcrackers and snowflakes and…here's where I always get tripped up, because — to be completely honest — I never realized just how much Christmas overshadows everything else at this time of year until I started seeing it through the eyes of someone I love.
It's in retail stores, where the Christmas aisles overflow and you're lucky if you can find a few Hanukkah tchotchkes. It's in music, where the Christmas Pandora station can go hours without repeating once while the Hanukkah station keeps playing Adam Sandler and variations on The Dreidel Song. I grew up with Christmas blinders on, but my perspective has changed. And that is what I go over and over in my mind as I look toward the future. Beyond the religious aspects and beyond the family togetherness, what does it mean to celebrate Christmas — a holiday I truly adore — without dimming the light of other traditions?
● ● ● ● ● ● ● ● ● ●
My parents' Christmas tree is covered with ornaments that are memories mingled together. The delicate snowflakes my mom crocheted when she and my dad were newlyweds hang alongside the macaroni stars and bread-dough handprints my siblings and I made as children. There are fragile china angels and soft cross-stitched stockings. There's even a "Justin's 1st Christmas" ornament, a souvenir from the first holiday he spent in Tennessee.
In 2011, I asked Justin to help me pick out a tiny tree for our Brooklyn apartment. As we carried it home, I jokingly asked if he wanted to name it. "Shrugbert," he said without hesitation — and a new tradition was born.
This year, we brought home Shrugbert the Fifth. His branches hold the memories Justin and I are making together. A Murano glass star, bought in Venice on our honeymoon. Hand-crocheted "K" and "J" hearts a friend gave us. Wall-E and Eve, purchased on an anniversary trip to Disney World. An olive-wood angel from our visit to Israel in 2013. Superman soaring and Han Solo shooting Greedo in the Cantina — Justin's Hallmark picks. Beaded snowflakes and flying reindeer — Mine.
The newest addition is a Star of David tree-topper my mom picked out. With the menorah behind him in the windowsill and the glowing blue-and-white star perched on his head, Shrugbert feels every bit ours. It's not a perfect representation of everything the season means to us, not yet…but it's a start.
Title How It Feels To Fly
Author Kathryn Holmes
Pages 368 Pages
Target Audience & Genre Young Adult, Contemporary, Realistic Fiction
Published June 14th, 2016 by HarperTeen
Find It On Goodreads ● Amazon.com ● Chapters
A struggle with body dysmorphia forces one girl to decide if letting go of her insecurity also means turning her back on her dreams.

Sam has always known she'd be a professional dancer — but that was before her body betrayed her, developing unmanageable curves in all the wrong places. Lately, the girl staring back at Sam in the mirror is unrecognizable. Dieting doesn't work, ignoring the whispers is pointless, and her overbearing mother just makes it worse.

Following a series of crippling anxiety attacks, Sam is sent to a treatment camp for teens struggling with mental and emotional obstacles. Forced to open up to complete strangers, Sam must get through the program if she wants to attend a crucial ballet intensive later in the summer. It seems hopeless until she starts confiding in a camp counselor who sparks a confidence she was sure she'd never feel again. But when she's faced with disappointing setbacks, will Sam succumb to the insecurity that imprisons her?