'Tis The Season: Authors Talk Holidays is a special seasonal feature on Pop! Goes The Reader in which some of my favourite authors help me to celebrate the spirit of the season and spread a little holiday cheer. So, pour yourself a cup of hot chocolate and snuggle in by the fireside as they answer the question: "What does the holiday season mean to you?" You can find a complete list of the participants and their scheduled guest post dates Here!
About Morgan Matson

Morgan Matson is the author of Since You've Been Gone, Amy & Roger's Epic Detour, and Second Chance Summer, which was the winner of the California State Book Award. She received her MFA from the New School. She lives in Los Angeles. Visit her at MorganMatson.com.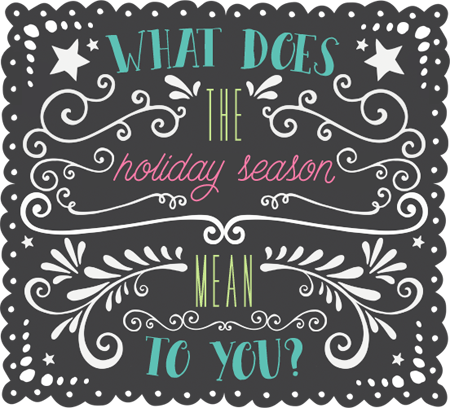 Popcorn and Candy Canes
For me, a huge part of Christmas has always meant movies. The holiday means much more than that, of course – Christmas is family and spending time together and eating delicious things and sitting around for hours in your pajamas in front of a fire with a mug of tea and the great new book that was in your stocking. Christmas is twinkle lights and finding someone just the right gift and baking cookies and Christmas dinner and coming home.
But also, it's about movies.
I mean two things by that – that it's about Christmas movies, and it's about going to the movies on Christmas. I'll start with the second one.
We see movies a lot on holidays in my family. As soon as it becomes November, the question we all text or email back and forth becomes – what movie are we going to see on Thanksgiving? We used to go post-dinner, but lately our dinners have been stretching on late, so if we can't make one once all the Thanksgiving guests have finally left, we see one that Friday. And then usually one on Sunday too, a matinee. But we always, always see a movie on Christmas. After the stockings, after the presents, after we've had Christmas brunch, everyone either hangs out by the fire with their gifts, or we take a walk, or decide to eat the leftover cookie dough (that's usually me). But around 1 or 2, we all put on shoes and coats and head out to see a movie, all of us together. It's one of the undisputed traditions in my family. After we've seen the movie, we come back home, and start getting Christmas dinner ready. But a movie is part of Christmas day. It's in the very fabric of the thing. Years when we're not at home – we occasionally do a far-flung Christmas – there always seems to be something missing, something at around 1 or 2 that bugs me, like the feeling I've forgotten to do something, until I realize…it's Christmas. And I'm not at a movie.
The other part of this is Christmas movies. We almost never see a Christmas movie as our Christmas movie. Usually, it's one of the Oscar contenders that have just come out that day, or a Pixar if one's available. But I love love love Christmas movies. There are some Christmas movies I can watch when it's not the season, but most I save up until, oh, mid-October. And then all bets are off.
In my pantheon of All Time Favorite Movies Ever, Christmas movies rank high. I truly think Home Alone is one of the finest films to be made in the last few decades (and I have a film degree so I can say that with some degree of authority). Home Alone is one of my all-time, top-five favorites. And Home Alone 2 has its merits, particularly the stuff in the Plaza. It's not Christmas if I haven't seen It's A Wonderful Life and the original Miracle on 34th Street.
The of course, there's Love Actually. And Elf. Then, after that, I have to shake things up a little, and watch Die Hard and Kiss Kiss Bang Bang and Iron Man 3, for the action/funny/action trifecta (not to mention a double dose of Robert Downey Jr. and Shane Black). Go is always a good one to have in rotation, especially when I'm in LA and not feeling so Christmassy. Sleepless In Seattle is not technically a Christmas movie, but I love the Christmas scenes in it so I'm including it anyway. Same with Little Women, the 1994 version – the Christmas scenes are so strong that they carry through even the non-Christmassy parts. Prancer, mostly for the nostalgia element of it. (I had major envy of the lead's double French braids. Still do, actually.)
And it was such a wonderful surprise when, a few years ago, a new movie entered the pantheon – The Family Stone. I love this movie. Probably beyond any logical sense, but I love it. It's such a great film, and the big-house-lots of kids-chaos of it all makes me so happy. I always wrap my presents to this movie every year, and this is one of the few Christmas movies I'll watch at any time of the year.
Between going to see movies on Christmas, and loving Christmas movies beyond all sense, they've always been an important part of the holiday to me. I hope that you all have safe, merry, and cinematic Christmases!
Xoxo
Morgan
Title The Unexpected Everything
Author Morgan Matson
Pages 496 Pages
Target Audience & Genre Young Adult, Contemporary, Romance
To Be Published May 3rd, 2016 by Simon & Schuster
Find It On Goodreads ● Amazon.com ● Chapters
Andie had it all planned out.

When you are a politician's daughter who's pretty much raised yourself, you learn everything can be planned or spun, or both. Especially your future.

Important internship? Check.
Amazing friends? Check.
Guys? Check (as long as we're talking no more than three weeks).

But that was before the scandal. Before having to be in the same house with her dad. Before walking an insane number of dogs. That was before Clark and those few months that might change her whole life.

Because here's the thing – if everything's planned out, you can never find the unexpected.

And where's the fun in that?