'Tis The Season: Authors Talk Holidays is a special seasonal feature on Pop! Goes The Reader in which some of my favourite authors help me to celebrate the spirit of the season and spread a little holiday cheer. So, pour yourself a cup of hot chocolate and snuggle in by the fireside as they answer the question: "What does the holiday season mean to you?" You can find a complete list of the participants and their scheduled guest post dates Here!
About Shannon M. Parker

S.M. Parker lives on the coast of Maine with her husband and sons. As a young adult, restlessness drove her to backpack throughout dozens of countries, adventures she found far less intimidating than high school. She has since devoted her life to education and holds degrees from three New England universities. She can usually be found rescuing dogs, chickens, old houses and wooden boats. Shannon has a weakness for chocolate chip cookies and ridiculous laughter, ideally, at the same time. The Girl Who Fell is her first novel.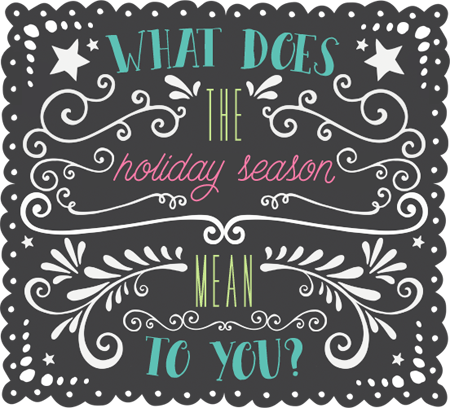 Two Trees
Our family lives by a tradition of two trees each December.
One tree is made of pine needles, fat with fragrance.
The other, a giant cardboard cut-out of a tree.
The tree from the woods is carried into our home, made to stand as straight as she once did when rooted to the forest floor.
The cardboard tree is propped up at the local department store, on display near the entrance.
In our home, the pine tree gets a makeover. My husband weaves the tiny white lights around the tree's limbs. He has a specific and layered approach and we all know to stand back. Give him room. He is an engineer and perfect lighting is his thing. He makes our small universe brighter while the kids and I listen to holiday songs and stories from the 1940s a la Bing Crosby and Frank Sinatra.
In town, the cardboard tree grows heavy with slips of pink paper. Slips of blue paper. Each tag holds the name of a child. The age of a child. Their wish.
Bing's honey smooth voice fills our house as our children hang bobbles on our tree's pine boughs. Every December they are able to reach higher, stamping a year's growth into our holiday in this unique way. And as our homemade ornaments straighten to muscle through another holiday season, the adorned tree becomes familiar, ours.
In town, the cardboard tree begins to shed its decorations, one by one as the pink and blue stickers are plucked by holiday shoppers.
Our tree grows fat with gifts mailed from grandparents, far-away loved ones. But, here…within our family of four, we don't buy gifts for one another.
Instead, we visit the cardboard tree. My oldest son, now fourteen, studies the tree for a very long time, reading every tag carefully. He has a process for deciding which slips of paper to choose. It is his private algorithm and I give him his space as my eyes wander over the children's wish lists:
Pink slip: "Girl, Age 5, Wants: Underwear"
Blue slip: "Boy, Age 3, Wants: Superman toy"
Pink slip: "Girl, Age 7, Wants: A stuffed bunny"
Blue slip: "Boy, Age 15, Wants: Jeans"
My son chooses two slips of paper. We buy each child their one requested item and fill a cart with books, toys, learning games, additional clothing, surprises – creating sacks as fat as Santa's. The salesperson rings up our order and staples the pink and blue slip to the bulging bags.
After shopping, we stop at the old pharmacy's soda fountain to have a root beer float because we live in the kind of town where there is still a genuine soda fountain that serves root beer floats. My son's eyes light as he talks about how happy the kids will be when they wake up on Christmas morning and see all of their loot. His smile is almost too enormous for his face to contain.
I want to believe that our overflowing donation is delivered in a wondrous heap to each child, but I know better. I know the volunteers who work tirelessly to sort the gifts will divide up the books, the toys, the clothes. They will make sure that every boy and girl — even those who are never chosen — finds a surprise in the morning, as it should be.
I don't tell my son this. Just like I don't tell him that I live in constant awareness that my children could have had their holiday wish lists distilled down to one item on a piece of blue paper. If they hadn't been adopted. If they hadn't found their forever home. But maybe my son thinks the same thing. Maybe he sees an alternate version of himself when he studies those slips of paper. Maybe our unspoken thoughts meet in the quiet space that sits between us.
My son was seven when he asked if he could stop buying a holiday gift for his dad and me. He wanted to use his allowance to buy one more gift for a child on the cardboard tree.
My son shouldn't have asked this.
He should have been greedy. Filled with selfishness and anger.
He should have chewed on bitterness.
Because his early years were darker than the darkest day of the year, devoid of gifts or tenderness or the most basic elements of care. And yet somehow his tender heart survived. Somehow, it triumphed. Through some miracle, my son wanted to give instead of take. Even after everything.
As we sit in the hushed quiet of Christmas morning each year, our tree dripping with light, I try to be fully present in the moment. But my mind wanders. And wonders. About the alternate path my children might have carved if they were not my children. About the alternate paths we would all walk were it not for the kindness of strangers, the serendipitous attention of mentors, the sharing of humanity.
Circled around our Christmas tree, its arms long and gathering love, I can't help but think about two other trees altogether. How maybe there are two women standing in front of these two other trees. These women, these two biological mothers to my two sons. In the swirl of Christmas magic, I forgive these women their cruelty. I forgive them their neglect. I honor them for the beautiful and bold act they each performed: giving birth to my sons. And I thank them. For giving me my family. My greatest gifts.
And it is within these layered moments of holiday joy and reflection that I can faintly experience the bigness of my oldest son's heart.
How he creates joy.
Chooses forgiveness.
And it is this kindness — this goodness that my son spreads without hesitation or prejudice — that is the true miracle of all of our seasons.
Title The Girl Who Fell
Author Shannon M. Parker
Pages 368 Pages
Genre Contemporary, Realistic Fiction
To Be Published March 1st, 2016 by Simon Pulse
Find It On Goodreads ● Amazon.com ● Chapters
His obsession.
Her fall.

Zephyr Doyle is focused. Focused on leading her team to the field hockey state championship and leaving her small town for her dream school, Boston College.

But love has a way of changing things.

Enter the new boy in school: the hockey team's starting goal­tender, Alec. He's cute, charming, and — most importantly — Alec doesn't judge Zephyr. He understands her fears and insecurities — he even shares them. Soon, their relationship becomes something bigger than Zephyr, something she can't control, something she doesn't want to control.

Zephyr swears it must be love. Because love is powerful, and overwhelming, and…

Terrifying?

But love shouldn't make you abandon your dreams, or push your friends away. And love shouldn't make you feel guilty, or worse, ashamed.

So when Zephyr finally begins to see Alec for who he really is, she knows it's time to take back control of her life.

If she waits any longer, it may be too late.