"Waiting on Wednesday" is a weekly meme hosted by Jill at Breaking The Spine!

This week I'm waiting on…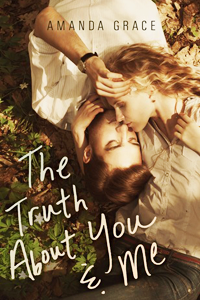 Title The Truth About You & Me
Author Amanda Grace (Otherwise known as Mandy Hubbard)
Pages 264 Pages
Genre Young Adult, Contemporary, Romance
Publisher Flux
To Be Published September 8th, 2013
Find It On Goodreads ● Amazon.com ● Chapters
Smart girls aren't supposed to do stupid things.

Madelyn Hawkins is super smart. At sixteen, she's so gifted that she can attend college through a special program at her high school. On her first day, she meets Bennett. He's cute, funny, and kind. He understands Madelyn and what she's endured – and missed out on – in order to excel academically and please her parents. Now, for the first time in her life, she's falling in love.

There's only one problem. Bennett is Madelyn's college professor, and he thinks she's eighteen – because she hasn't told him the truth.

The story of their forbidden romance is told in letters that Madelyn writes to Bennett – both a heart-searing ode to their ill-fated love and an apology.
While I'll be the first to admit that the sound of Madelyn and Bennett's rather unconventional romance initially gave me pause when I first heard of it, if I've learnt anything from my recent experience with Tracey Garvis-Graves' On The Island, it's to remain open-minded about even the most unusual or unexpected concepts until I've experienced them for myself. My heart absolutely aches for Madelyn and the position she's thrust into, and I'm extremely curious to see how the relationship will play out between the two leads, even if the descriptor of 'ill-fated' makes me a little nervous!